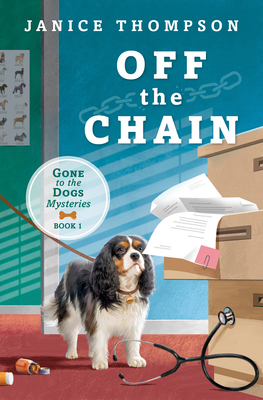 Off the Chain
Book One - Gone to the Dogs series
Paperback

* Individual store prices may vary.
Other Editions of This Title:
Digital Audiobook (6/30/2022)
Description
The Town of Brenham, Texas, Has Gone to the Dogs!
 
Curl up with your pup and sink into a delightful small-town mystery as riddles and rescues stack up in book one of a new cozy mystery series.
 
Marigold Evans' first attempt at rescuing an abandoned pooch lands her in a drainage pipe in Brenham Texas. . .and almost in jail, until Parker Jenson comes to her rescue. Then a bad day only gets worse as the Lone Star Vet Clinic, where they both work, is vandalized and the list of suspects starts to climb. With the help of her fellow employees, Marigold sets out to simultaneously solve the crime, rehab the rescued dog, and help more dogs in crisis. But why would anyone continue to work against all their good efforts?

More in the Gone to the Dogs Series:
Book 1 - Off the Chain by Janice Thompson
Book 2 - Dog Days of Summer by Kathleen Y'Barbo
Book 3 - Barking Up the Wrong Tree by Janice Thompson
Praise For Off the Chain: Book One - Gone to the Dogs series…
Off the Chain is pure escapism to small-town America with a lively, lovable heroine and a warm cast of characters in a warm-hearted community. You'll want to curl up in front of the fire with this humorous, face-paced mystery that offers intrigue, romance and of course, adorable puppies. Janice Thompson offers the perfect read to turn off the outside world.  
- Kristin Billerbeck, author of "Room at the Top."
Off the Chain is a delightful 'tail' of a young woman with big goals, a big heart, and a big penchant for trouble! Full of humor that leaves every dog-lover face-palming and saying "me too", this hilarious, relatable story of puppy love (of both the human and fur variety!) is an off the chain kind of read! 
- Betsy St. Amant, award-winning author of Tacos for Two. 
Janice Thompson does it again! This delightful book is another example of Janice's ability to pull readers into the story, making them feel as though they're right there with the characters on a lighthearted jaunt through life and love. Whether you're a dog-lover or simply appreciate a fun read, you'll thoroughly enjoy Off the Chain! I can't wait for the next book in this series! 
- Debby Mayne - author of the Bucklin Family Reunion series and blogger at Southern Home Express
Marigold Evans is a vet tech with a heart of gold and a love for animals, especially dogs. Her passion is to rescue, and rehab lost or abandoned dogs and nurse them back to health. And when she's not working at the veterinary clinic, she's following up on dog sightings, scouting vacant lots and drainage pipes with her best friend Cassidy at her side. But there is more to Marigold's life than wayward pooches. There are handsome hunky guys, lots of pies, a mysterious burglary, and romances blossoming. I refused to paws through this fast-paced story. In fact, I couldn't stop wondering what was going to happen next! Love the characters, Corgis, chihuahuas, and all the other canines. Furry fun throughout! Warning…when you read Janice Thompson's, Off the Chain it is likely to start a chain reaction. You'll want to read all the books in the Gone to the Dogs series!
- Linda Kozar, author of Sunshine For The Soul-Morning Devotions to Warm the Heart, a 2021 First Place Selah Award winner and 2021 Nonfiction Book of the Year.

Janice Thompson writes a doggone good cozy mystery and lighthearted romance! She can make you laugh with her quirky characters and tug at your heartstrings with adorable furry sidekicks.
- Leanna Ellis, award-winning author of Elvis Takes a Backseat
This feel-good story balances mystery and romance with a humorous touch and a cast of endearing characters. Dog lovers will find this a treat.
— Publishers Weekly
Barbour Fiction, 9781636093130, 256pp.
Publication Date: July 1, 2022
About the Author
Janice Thompson, who lives in the Houston area, writes romantic comedies, cozy mysteries, nonfiction devotionals, and musical comedies for the stage. She is the mother of four daughters and nine feisty grandchildren. When she's not writing books or taking care of foster dogs you'll find her in the kitchen, baking up specialty cakes and cookies.