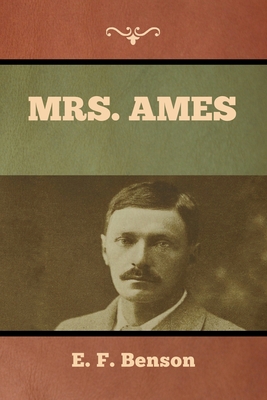 Mrs. Ames
Paperback

* Individual store prices may vary.
Other Editions of This Title:
Paperback (3/30/2021)
Paperback (6/3/2014)
Hardcover (7/27/2021)
Hardcover (6/1/1912)
Paperback (12/21/2010)
Paperback (1/2/2020)
Paperback (1/2/2020)
Paperback (2/1/2007)
Paperback (5/1/2020)
Description
E. F. Benson's subject is always the petty concerns of petty people, but his talent is to make those concerns nearly as important to us as they are to his characters. For us, what happens to Benson's people is also much funnier than it is to them.
As with the Mapp and Lucia books Benson began to write in the 1920s, Mrs. Ames (1912) deals with the struggle of two women to be the dominant social maven in their little town. Millie Evans and Amy Ames are cousins and rivals for the title of supreme hostess of Riseborough, and an additional frisson is added to the plot by the dalliance of Millie and Major Ames, Amy's husband. Mrs. Ames dares to invite only one member of each prominent Riseborough couple to a dinner party. Mrs. Evans counters with a fancy dress ball with a Shakespearean theme, and Benson makes hilarious use of the ball's glut of Cleopatras and paucity of Antonys. Then Mrs. Ames begins to read suffragette tracts, and as Benson writes, "the fumes of an idea, to one who had practically never tasted one, intoxicated her as new wine mounts to the head of a teetotaler." (Michael Cohen)
Bibliotech Press, 9781636373522, 210pp.
Publication Date: June 1, 1912