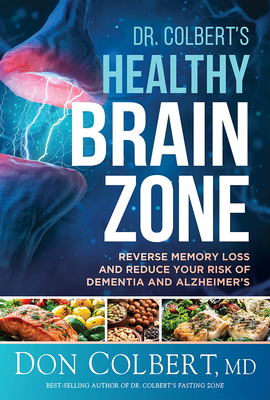 Dr. Colbert's Healthy Brain Zone
Reverse Memory Loss and Reduce Your Risk of Dementia and Alzheimer's
Hardcover

* Individual store prices may vary.
Siloam Press, 9781636411095, 256pp.
Publication Date: January 3, 2023
About the Author
Don Colbert, MD, has been a board-certified family practice doctor for over twenty-five years in Orlando, Florida, and most recently in Dallas, Texas. He is also board-certified in antiaging medicine through the American Academy of Anti-Aging Medicine and has received extensive training in nutritional and preventive medicine. He is the author of three New York Times best-selling books: Dr. Colbert's Keto Zone Diet, The Seven Pillars of Health, and Dr. Colbert's "I Can Do This" Diet, along with best sellers Toxic Relief, the Bible Cure series, Living in Divine Health, and Stress Less. He has sold more than ten million books and treated more than fifty thousand patients in his years of practicing medicine.