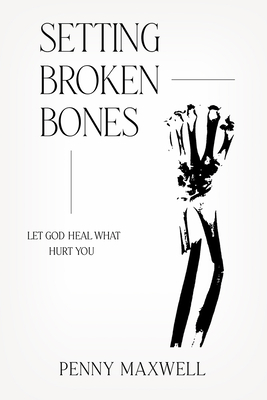 Setting Broken Bones
Let God Heal What Hurt You
Paperback

* Individual store prices may vary.
Description
How long will you limp through life before deciding it's worth the discomfort and outright pain to heal the way Jesus intended you to heal?
After a childhood marked by abuse and dysfunction, Penny Maxwell knows how challenging the journey to healing can be. Healing hurts, and Maxwell knows how enticing it is to walk with wounds and dysfunction rather than endure the pain it takes to truly be free. In
Setting Broken Bones
, Maxwell shares hard truths she learned through her own healing journey and challenges readers to trust God with their hurts. Using the analogy of a person walking around with broken physical bones that never healed properly, Maxwell confronts readers with the truth: we can either walk around in pain with bones that were never healed or experience temporary pain to have them set properly so healing can occur. Sharing from her personal story, Maxwell provides:
Powerful teachings from God's Word
Practical ways to walk free from a painful past no matter what your personal struggles have been
Guidance to face the pain you've been hiding to experience healing and freedom
Sometimes Christians wrap bandages around their pain with more church, more good works, more Bible reading plans, and other seemingly spiritual activities to distract themselves from the pain. This book will help you face the pain you have been hiding from so it can be healed once and for all. Whether you have come from a painful past yourself, have a loved one who is still trapped in that pain, or desire to minister to people who are on the path to healing from pain, this book will reveal God's heart toward that pain, and show you how He
will
heal it when you surrender it to Him.
This book will help you find healing from past pain rather than focusing on blame, becoming bitter, and asking why. You will lean into God to gather strength and healing so that you can minister freedom to others who have faced pain themselves.
Charisma House, 9781636411132, 192pp.
Publication Date: October 5, 2021
About the Author
Penny Maxwell is a dynamic, bold, forward-thinking leader who uses her voice for good. She brings clarity and unflinching truth at a time when many find it easier to stay silent. She has expanded her influence and raised her platform because she tells it like it is. After surviving a very broken childhood filled with trauma and abuse, she has learned to thrive no matter what the circumstances. In 1992 she married Troy Maxwell, and they immediately devoted their lives to serving God together. In 2002, they packed up their family and moved to Charlotte, North Carolina, with their three children to start Freedom House Church, a multisite church. Freedom House continues to expand and thrive under the Maxwells' leadership. Penny has a passion for delivering truth to people without apology or compromise. Her engaging communication gift draws people to her, and they find an authentic connection with a woman who loves God and people. She has given her life to help others find the healing she has. With raw, gritty, tell-it-all style, and a side of humor and sass, Penny Maxwell weaves truth and compassion into her message of hope and healing.