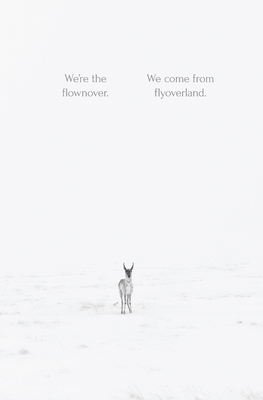 We're the flownover. We come from flyoverland.
Paperback

* Individual store prices may vary.
Description
We're The Flowover. We Come From Flyoverland. introduces a roving, Baudelarian speaker seeking to "translate pigeon into English" (the bird's music, or grammatically simplified language), among the streets of "bone and ash," post-empire USA: home to "The Longest Winter on Record." Amid "mirrors not made of metal amalgam and glass," and indexical signs replacing reality ("food we want to eat via pointing"), he mourns the tendency to kill "not the enemy but the messenger," in a world where what's sacred is unprotected: a "a temple where the door is never locked." But this speaker is not dissuaded by simulacra nor the steady thrum ("wrong, goddamnit") that "grows into what I hear" instead, he tunes into a "species forgotten," a "small print none have ever bothered to read." The title delivers its promise: the flownover (disregarded) from flyoverland (transcendent) arrive at a Carpe Diem not rapacious but ecstatic, as tourists of the body, in "climax," become those of the mind.
-Virginia Konchan, author of Any God Will Do and The End of Spectacle
Reading Mauch's work, I'm reminded over and over of Stanley Kunitz's statement that "The first task of the poet is to create the person who will write the poems." Here we have the kind of shimmering lyric insights that can come only from a mind and heart far along the path of enlightenment. What a great gift Mauch has given us by inviting us to share in the journey, offering us no less than "a temple where the door is never locked."
-Melissa Studdard, author of Like a Bird with a Thousand Wings and I Ate the Cosmos for Breakfast
Gold Wake Press Collective, 9781636495613, 140pp.
Publication Date: February 15, 2021