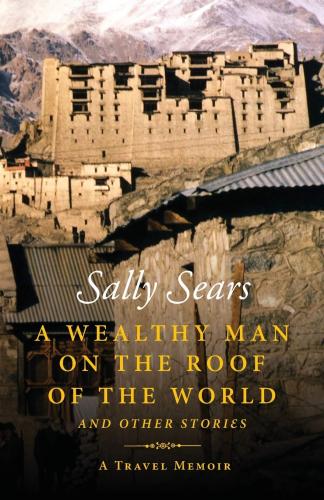 A Wealthy Man on the Roof of the World and Other Stories
Paperback

* Individual store prices may vary.
Description
Sally Sears left a promising career in television news to explore the world and herself. From Moscow to Tahiti, starting on the Trans-Siberian Railway, she found adventures and unforgettable characters in Beijing, Kathmandu, Ladakh, and the islands of the Pacific.
As China began opening to tourists, she discovered ways around Communist rules. She found apricots and wool an unlikely source of a high-altitude fortune. In a South Pacific bar, she learned how vote fraud toppled a Knight of the British Empire.
Decades later stories from her freewheeling trip rekindle the desire to travel and savor every new journey.
The surprising life of the wealthiest man in a Tibetan kingdom.
How Mao and Lenin compare up close in death.
How Fijian cannibals measure their meals.
As the world recovers from the pandemic, journalist Sally Sears questioned when she could travel again, and if traveling would ever be the same. The questions led her to journals of her own global travel. In those hand-written pages, she re-discovered stories of people and places worth recalling.
Her exploration asks what makes us want to travel? Do we follow a path or strike out on our own? Do we engage the exotic or seek the familiar? Struck with moments of awe and bouts of homesickness, her journey details the contrasts that heighten the adventure of traveling.
This book sheds new light on old questions about the worth of travel. It asks if the world-wide travel shutdown can make us better travelers even if only for the moment from socially distanced arm-chairs.
Praise For A Wealthy Man on the Roof of the World and Other Stories…
Now more than ever, we need to be reminded of the joys of travel. Sally Sears's postcards from the past recount a marvelous expedition to such lost worlds as Soviet Russia and China in its communist heyday, making them both a delight to read and genuine historical documents. Charming, humane, and genuinely inspiring.

Tony Perrottet author of Pagan Holiday and ¡Cuba Libre!



In her travel memoir, A Wealthy Man on the Roof of the World and Other Stories, Sally Sears dances alone down the aisle of a Russian train while singing Willie Nelson tunes. And she describes a waitress at a roadside restaurant in Australia as looking as tired as the food she serves. Making Sears the kind of traveler who returns home with stories I want to hear.

Bob Payne author of Escape Clauses



Of course "seeing the world" changes you. Just reading about Sally Sears seeing the world practically changed me. The chapter titles alone leave you feeling windswept, and then the far-off places and the meals and the people and the animals and the good times and the sad times offer an almost-incomprehensible abundance. I have to admit I'd kind of forgotten about travel writing as a genre I enjoyed. A Wealthy Man on the Roof of the World has forcefully reminded me of the joys of being what used to be called "an armchair traveler." I will now gladly turn again to travel literature and intend to start right away by rereading Sally Sears's remarkable and beautiful book.

Melissa Fay Greene author of National Book Award finalist Praying for Sheetrock



"...the Trans-Siberian was a rare ticket into the long-gone and utterly foreign world of the communist Soviet Union; when touching base with home meant tissue-thin air letters rather than email. It was solo travelers like Sears who paved the way for today's selfie- stick-toting "influencers," and A Wealthy Man on the Roof of the World and Other Stories is a sharply etched porthole to those days and places that made me hungry again for the smell of foreign cities and the clickety clack of long train journeys. The perfect appetizer for waiting out a pandemic.

Carl Hoffman author of Liar's Circus and The Last Wild Men of Borneo
Good Water Press, 9781637324851, 210pp.
Publication Date: February 20, 2021
About the Author
Sally Sears is an award-winning news reporter and environmentalist. She is a native of Montevallo, Alabama, and a magna cum laude graduate of Princeton University. She lives in Atlanta with her husband, Richard.