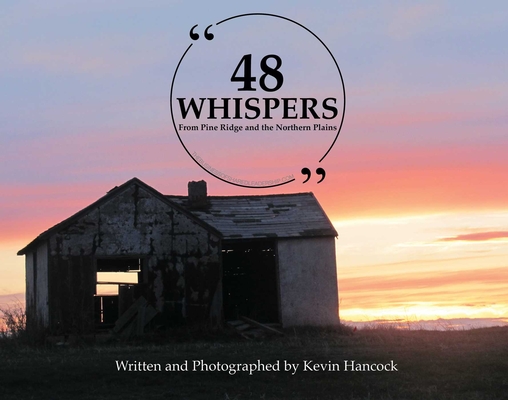 48 Whispers
From Pine Ridge and the Northern Plains
Hardcover

* Individual store prices may vary.
Description
48 Whispers is a unique photojournalism collection of short meditations, accompanied by full-page color photographs spanning ten years of visits to the Pine Ridge Indian Reservation and the northern plains.

Author, photographer, and CEO, Kevin Hancock acquired a rare neurological voice disorder (spasmodic dysphonia/ SD) in 2010. From his home in Maine, he set out on a series of travel adventures to the Pine Ridge Indian Reservation and the surrounding northern plains in search of voice recovery through self-reflection and immersion in nature. On the Reservation, Kevin encountered an entire community—the Oglala Sioux Tribe—that felt a piece of their authentic voice had been taken or stolen from them. From this experience, Kevin came to see life as a quest for self-actualization. He then wrote a series of short meditations designed to advance the concepts of shared leaders, dispersed power, and respect for all voices. Kevin's full-page color photos and writings span a decade of over twenty visits to the region—during which time he builds a series of deep friendships on the reservation and takes two Lakota names.
Post Hill Press, 9781637580622, 76pp.
Publication Date: June 8, 2021
About the Author
Kevin Hancock is an award-winning author, speaker, and CEO. Established in 1848, Hancock Lumber Company operates ten retail stores, three sawmills, and a truss plant. The company also grows trees on 12,000 acres of timberland in Southern Maine and is led by its 550 employees.

Hancock Lumber is a six-time recipient of the "Best Places to Work in Maine" award. The company is also the recipient of the "Maine Family Business of the Year" award, the "Governor's Award for Business Excellence," the MITC "Exporter of the Year" award, and the Pro-Sales national "Dealer of the Year."

Kevin is a past chairman of the National Lumber and Building Materials Dealers Association. Kevin is also a recipient of the Ed Muskie "Access to Justice" award, the Habitat for Humanity "Spirit of Humanity" award, the Boy Scouts of America "Distinguished Citizen" award, and Timber Processing magazine's "Man of the Year" award.

Kevin's first book, Not For Sale: Finding Center in the Land of Crazy Horse won three national book awards. His second book, The Seventh Power: One CEO's Journey Into the Business of Shared Leadership was released on February 25, 2020, and is being distributed by Simon & Schuster.

Kevin is a frequent visitor to the Pine Ridge Indian Reservation in South Dakota and an advocate of strengthening the voices of all individuals—within a company or a community—through listening, empowering, and shared leadership.

Kevin is a graduate of Lake Region High School and Bowdoin College. He lives in Maine with his wife Alison.