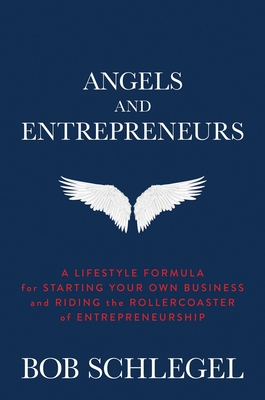 Angels and Entrepreneurs
A Lifestyle Formula for Starting Your Own Business and Riding the Rollercoaster of Entrepreneurship
Hardcover

* Individual store prices may vary.
Other Editions of This Title:
Digital Audiobook (3/7/2022)
Description
Wall Street Journal bestseller!

Get inspired to start your own successful business!

Bob Schlegel grew up on a struggling family farm, and like his entrepreneurial father, he took charge of his destiny by starting his own businesses—often more than one at a time. He and his wife Myrna partnered together in their early endeavors and raised a family of entrepreneurs. Their diverse startups included a chain of fifteen superior nursing and retirement centers, as well as the nation's leading manufacturer of paving stones and landscaping materials. Though they faced substantial challenges and even near-bankruptcy, they persevered and built highly profitable enterprises with the help of "angels"—both earthly and heavenly. Bob shares his experiences—his failures as well as his successes—with the goal of inspiring others to start their own businesses.
Praise For Angels and Entrepreneurs: A Lifestyle Formula for Starting Your Own Business and Riding the Rollercoaster of Entrepreneurship…
"My wife and I have been dear friends with Bob and Myrna Schlegel for more than twenty-five years, dating back to my days filming the Walker, Texas Ranger television series in Dallas. In fact, our twins were ring bearers at his oldest daughter's wedding. Although Bob has yet to master my signature roundhouse kick, he has many other talents. I've watched him grow his very successful companies over the years and he is truly a natural born entrepreneur. And so, this book is a great resource for others nourishing an entrepreneurial spirit as well as a philanthropic heart and the desire to use their God-given talents to serve others. Angels and Entrepreneurs will inspire you and light the way for you!"
— Chuck Norris

"Angels and Entrepreneurs is an inspiring book sharing the lessons learned and ups and downs all entrepreneurs will inevitably face while navigating business, relationships, and life. A must read not only to learn how to make money and be successful in business, but also how to build a life filled with gratitude and healthy relationships."
— Jim Treliving, member of Dragon's Den and owner of Boston Pizza North American Franchisor

"A must read inspirational journey on the road of life. A story of love, passion, and perseverance…and the American Dream!"
— Jeffrey A. Rich, former CEO of Affiliated Computer Systems (ACS)

"My friend Bob Schlegel tells it like it is. If you've ever thought of becoming an entrepreneur or if you are just curious about what makes entrepreneurs do what they do, this is a must read. If you are already an entrepreneur, you can take Bob's hard-earned lessons to the bank."
— Craig Hall, Real Estate and Wine Entrepreneur and New York Times bestselling author

"I may be biased because I count Bob and Myrna among my closest friends, but Bob's life story of drive, tenacity, and self-reliance is a wonderful story. Entrepreneurs are a fascinating breed, and I never tire of hearing their inspiring examples of hard work and determination. It is incumbent upon all of us to cultivate and nurture the entrepreneurial drive in others, for they are our future."
— Trisha Wilson, Founder and retired CEO of Wilson Associates Hospitality Design Firm, and the Wilson Foundation

"Angels and Entrepreneurs is the perfect title for a Bob Schlegel book…because he is both! The consummate angel and entrepreneur, Bob has never known a stranger or a failure. Every stranger is turned into a friend, and every failure into a learning experience. Bob has served as an inspiration to me and will be a guiding light, both personally and professionally, for all who read the book."
— Jim Keyes, Jim Keyes, Retired CEO 7-Eleven Corporation and founder, Education is Freedom Foundation

"For more than two decades, I have watched Bob successfully balance the integrated aspects of faith, family, and business. This book is inspiring in that it captures the essence of the building blocks of his success including his roots, his perseverance, and his indomitable spirit."
— Brian Derksen, CPA Retired Deputy CEO, Deloitte

"Growing hugely successful companies while always putting his family first, Bob Schlegel's entrepreneurial journey and well-rounded lifestyle has long been an inspiration to me. Bob has given me valuable advice in business, relationships, family, and more. This book filled with his and Myrna's stories and lessons will help readers pave the path of successful and meaningful entrepreneurship."
— Jeff Sinelli, Founder and Chief Vibe Officer, Which Wich Superior Sandwiches

"I know talent when I see it. Talent is great. But what really separates talent from success is perseverance, determination, and hard work. Bob is the perfect example of that. He took his God-given strengths and worked hard, never giving up when things were challenging. In this book, Bob coaches you through some tough plays and shares what he has learned through his wins and losses. He is a man of great character, strength, and generosity as evidenced in the stories throughout this book. This book is a WIN!"
— Jerry Jones, Owner, President and General Manager of the Dallas Cowboys
Savio Republic, 9781637581513, 256pp.
Publication Date: March 8, 2022
About the Author
Bob Schlegel was raised on a small farm in rural Ontario. Resources were limited, but his loving parents were always quick to share with others in need. Despite at least two near-death experiences as a child, including a broken neck and being mauled by two Great Danes, he proved to be a natural-born entrepreneur at a young age.

Although he wasn't a top student, he excelled at mathematics and graduated from Wilfrid Laurier University with a bachelor's degree in economics. He later became a CPA and married his high school sweetheart and registered nurse, Myrna. Together, they launched their first family business, a chain of fifteen high-end senior living centers in Texas.

In 1980, Schlegel and a partner launched Pavestone Company, a manufacturer of concrete landscape products, which struggled in the late '80s due to a recession, but rebounded and became the nation's leading supplier of concrete landscaping products for big box and commercial customers.

The Schlegels sold both of those businesses for substantial profits and today are involved in a myriad of new enterprises and philanthropic endeavors. Their four entrepreneurial children are also involved in some of those business, as well as their own