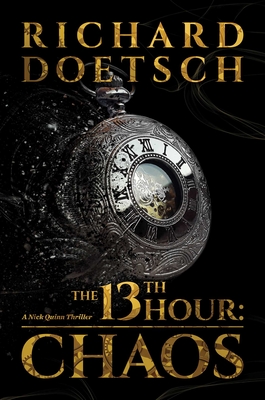 The 13th Hour
Chaos (The Nick Quinn Thriller Series #2)
Hardcover

* Individual store prices may vary.
Description
A Mesmerizing Thriller Told in Reverse

Richard Doetsch returns with a stand-alone sequel to his international bestseller, The 13th Hour, published in twenty-two countries.

On a warm Fourth of July in the quiet town of Byram Hills, Nick Quinn watches as his wife and daughter die in an unprecedented terrorist attack.

Amid the disaster, Nick is approached by a dying friend who hands Nick an antique pocket watch.

Emotionally shattered and desperate, Nick takes the watch and is shocked to find himself propelled back in time to where he was an hour ago, before the attack on his town. Quickly stopping the course of events, his relief is shattered as life spirals in an even more tragic direction.

At the top of each hour, the watch sends Nick back two hours to live one hour again, a backwards march to relive each hour of his day. A twelve-hour journey providing precious but limited time to protect Julia and Katy and uncover the source of the ever growing threat.

But each time Nick thinks he's solved the crime and secured the future, he uncovers new levels of deception, agony, and betrayal, ultimately revealing a far more sinister plot with unexpected players and grim, global consequences.

If Nick hasn't set things right by the 13th hour, not only will his wife and daughter be lost forever to the chaos, but an even greater catastrophe will be unleashed upon the world.
Praise For The 13th Hour: Chaos (The Nick Quinn Thriller Series #2)…
"Times flies—only backward—in this riveting new thriller! And the pages fly by, too! The story starts with a bang—literally—and hurtles in reverse toward a climax as clever as it is shocking."
— Robert Masello, author of "The Haunting of H.G. Wells"

"Time does not stop for any man—unless it's Nick Quinn. At long last, Richard Doetsch returns to the clock-spinning world of The 13th Hour. Its ingenious sequel, The 13th Hour: Chaos, is a jigsaw puzzle in book form—but that's not all. It's a love story, a political potboiler, and a thriller that upends expectations with every turn of the page. It carried me from heartbreaking opening to the razor edge of its ending in one sitting. My foot is already tapping as I wait impatiently for a third installment!"
— James Rollins, #1 New York Times bestselling author of "The Last Odyssey"

"A clever story, cleverly told, by a master storyteller."
— Steve Berry, New York Times bestselling author of "The Kaiser's Web"

"Doetsch delivers another compelling and complex thriller: a "stand-alone sequel" to The 13th Hour…The twists and turns are nonstop, and knowledge of the previous book is not necessary to enjoy this thrill ride. Doetsch's previous novels have been both high concept and imaginative, and this one is no exception. Nothing in the novel is predictable, and readers who enjoy the work of Blake Crouch will find a new favorite author."
— Jeff Ayers
Permuted Press, 9781637583067, 384pp.
Publication Date: May 3, 2022
About the Author
Richard Doetsch is the author of six international bestsellers published in twenty-eight countries, with several acquired for film and television. He is an adrenaline junkie with a passion for kitesurfing, skydiving, SCUBA diving, triathlons, and defying gravity in Zero G aircraft. He has served as CEO, president, and director in the real-estate industry, managing, creating, and preserving more than 50,000 units of affordable housing with an emphasis on social and community programs.

He is married to his childhood sweetheart, Virginia, who is the impetus and inspiration behind everything he writes.