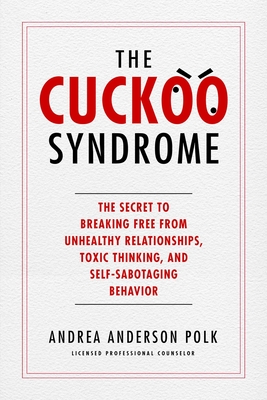 The Cuckoo Syndrome
The Secret to Breaking Free from Unhealthy Relationships, Toxic Thinking, and Self-Sabotaging Behavior
Hardcover

* Individual store prices may vary.
Description
Is there someone in your life who tries to monopolize your time and consume your energy? Or someone who leaves you feeling confused or misunderstood, but you cannot put your finger on exactly how or why? Is there someone with whom you are unable to have a rational conversation and things seem very complicated? Maybe this person is never satisfied, no matter how much you try to love, help, and please them. Are you the one doing all the work in a relationship?

In The Cuckoo Syndrome, Andrea Anderson Polk, a licensed professional counselor, helps us fend off the cuckoos—unhealthy relationships, toxic thinking, and self-sabotaging behavior—in order to find our identity in God and discover new purpose, vision, and meaning in our lives.

We know the cuckoo bird as a colorful wooden figurine that pops out of a clock and chirps the hours of the day to the delight of children and adults alike. In reality, the cuckoo bird is a parasite—invading the nest of other birds, destroying the eggs already present, and fooling the family into raising an ever-demanding, never-satisfied cuckoo chick.

Polk, a licensed professional counselor, compares cuckoo birds—nature's infamous imposter—to the human experience, situations, and relationships demonstrating haunting confusion and unnecessary suffering. Cuckoos can invisibly sabotage our most intimate relationships, our ministries, and our careers—our deepest desires.

In The Cuckoo Syndrome, Polk gives us new insight and ways to fend off these cuckoos that invade our "nests" with their devious disguises. Cuckoos can take many forms. There is the cuckoo of avoiding emotion, the fear cuckoo, the stress cuckoo, the shame cuckoo, the unresolved grief cuckoo, the perfectionism cuckoo, the counselor cuckoo, and probably the most insidious cuckoo of all: the religion cuckoo.

Drawing from a depth of study in scripture, science, and psychology, Polk breaks us free from the cuckoo's snare by teaching us to embrace the desires of our heart as we uncover the truth of who we are, who others are, and who God is. We can learn to establish great joy in our identity by committing ourselves to discover meaning in suffering and understanding how our pain is the genuine catalyst for purpose.
Praise For The Cuckoo Syndrome: The Secret to Breaking Free from Unhealthy Relationships, Toxic Thinking, and Self-Sabotaging Behavior…
"Andrea intimately understands the human heart and the heart of God. As a follower of Jesus and with over a decade of clinical experience counseling hurting people, she powerfully integrates Scripture, science, and psychology. Andrea's words, equally elegant and surprisingly provocative, demonstrate that by facing our deepest heartaches and identifying the lies we believe, transformation and healing happen. You will be welcomed into an honest conversation with yourself, God, and others about your wants, needs, and desires. You'll discover what or who is keeping you stuck is not what you think it is. The Cuckoo Syndrome is driven by the truth of John 8:32 that the truth will set you free."
— Mark Batterson, lead pastor of National Community Church and New York Times best-selling author of nineteen books including The Circle Maker, In a Pit with a Lion on a Snowy Day, and Wild Goose Chase

"Andrea Anderson Polk's The Cuckoo Syndrome is a very personal story about overcoming toxic relationships and self-sabotaging behaviors to find the courage to be ourselves. Taking vignettes both from her therapy practice and her own life, Andrea uses the cuckoo bird metaphor to describe both the people in our lives who prey on our vulnerabilities as well as the unconscious ways we can prevent ourselves from acting upon our own best interests. This book is also a very accessible primer on emotion theory, providing the reader with many examples of how accessing core feelings provides a compass for living our lives. To find our true desires and life's purpose, Andrea suggests that we must address the psychological defenses (the various disguises of the cuckoo) that we developed in childhood to protect ourselves from difficult relationships and experiences. These internalized cuckoo tendencies allowed us to survive traumatic and overwhelming experiences but result in a variety of destructive behaviors. Such a journey of the soul can be harrowing, and Andrea suggests that we can find resolve and courage by tapping into the unconditional love of past caregivers and by developing an open and deeply personal relationship with Christ."
— Stuart Andrews, Ph.D., Faculty Chair, The Intensive Shortterm Dynamic Psychotherapy Program at the Washington School of Psychiatry, and coauthor of Treating Affect Phobia: A Manual for Short-Term Dynamic Psychotherapy

"One of the true blessings I have experienced as a professor is to see students grow and thrive in their calling. Through hard work and personal struggle, Andrea stands out among her peers as a gifted professional counselor, speaker, and writer. Andrea writes with compassion, empathy, and transparency. The Cuckoo Syndrome will help readers overcome false thinking and enable them to learn how to challenge their thinking, listen to their hearts, and trust their emotions to live fully and joyfully in the present."
— Kathleen Arveson, Ph.D., Senior Lecturer, Department of Psychology and Counseling, Regent University
Forefront Books, 9781637630419, 288pp.
Publication Date: May 3, 2022
About the Author
A respected, professional counselor, published author, and keynote speaker, Andrea Anderson Polk leverages more than a decade of clinical experience, illuminating storytelling, and deep compassion to help people uncover truths, break free of harmful behavior and relationships, and celebrate a newfound freedom.

She is a Licensed Professional Counselor, is Nationally Board Certified, and has served as president and vice president of the Northern Virginia Licensed Professional Counselors (NVLPC). She is a registered supervisor for the Virginia Board of Counseling, where she works with counseling candidates pursuing their professional licenses. Additionally, Andrea holds a ministerial diploma and has a deep understanding of theology.

More than a decade ago, Andrea started a private practice, Andrea Anderson LPC, LLC & Associates, counseling individuals and couples. It was her clients who encouraged her to bring her thoughts about the cuckoo bird syndrome into print because of the difference it has made in their lives.

Andrea lives in McLean, Virginia with her husband and best friend, Dan.

Visit Andrea online at andreaandersonpolk.com and connect with her on Facebook @AndreaAndersonPolk, Instagram @andreaandersonpolk / @thecuckoosyndrome and Twitter @AndreaAPolk #thecuckoosyndrome #thecuckoosyndromebook