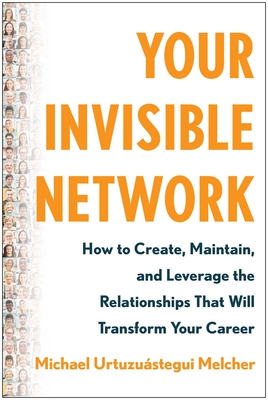 Your Invisible Network
How to Create, Maintain, and Leverage the Relationships That Will Transform Your Career
Hardcover

* Individual store prices may vary.
Description
Meaningful relationships are a must-have to sustain and further your career, yet networking remains a rarely taught art. Your Invisible Network is your guide to building, maintaining, and effectively leveraging professional relationships with both nuance and integrity—and in only twenty minutes a day.

A network built on reciprocity, depth, and trust isn't merely helpful to your career growth; it is absolutely necessary. And your network can't consist merely of people you are drawn to. You need practical ways to engage with all the people who are crucial to your career.
Relationships are the key to activating all your other career assets. Your skills, work ethic, education, lived experience, passions—all of these will only achieve their full potential when paired with meaningful relationships. But how are you supposed to do this? And how can you do it in a way that is authentic to who you actually are?

Your Invisible Network provides a practical, actionable plan for building and sustaining a network that is crucial for your growth—brought to you by Michael Urtuzuástegui Melcher, an internationally acclaimed executive coach and leadership expert who has worked with professionals in nearly every field for decades. Melcher provides nuance, subtle truths, and clear suggestions that go well beyond the pablum of business gurus and Instagram influencers. Every chapter of Your Invisible Network contains a series of quick lessons and manageable practice exercises that even the busiest of professionals can fit into their schedules.

As you build up your network, you'll learn:


The seven types of relationships critical for your career success
How to foster meaningful connections with people with whom you have little in common
How to find mentors and sponsors
How to reach out to people despite discomfort—and what to do if they don't respond
How to be a resource to others
How to have a happier and more fulfilled work life

Relationships are a form of wealth that is under your control. You can build this wealth from nothing, and once you have it, no one can take it away from you. No matter what career stage you're in, it's time to reevaluate your network and equip yourself with the tools to boost its power—your secret weapon for career success.

Matt Holt, 9781637742914, 304pp.

Publication Date: April 4, 2023
About the Author
Michael Urtuzuástegui Melcher is an internationally known executive coach and leadership expert. Over the past 20 years, he has helped entrepreneurs, attorneys, investment bankers, White House appointees, tech wizards, healthcare leaders, community activists, board chairs, parents returning to the workforce, and young people just starting out. He has delivered keynotes and workshops at Camp David, at Google, at leading universities around the U.S., and in a dozen countries on five continents. Melcher was raised by a Mexican-American single mother who was the first Hispanic woman in America to earn a doctorate in accounting. He is a gay dad to his twin sons, Nicolás and Mateo.