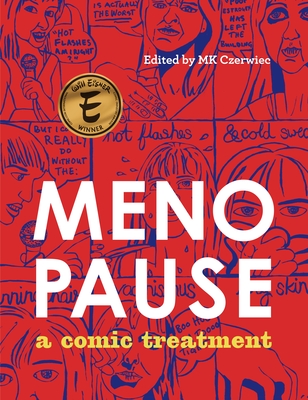 Menopause
A Comic Treatment
Hardcover

* Individual store prices may vary.
Other Editions of This Title:
Hardcover (8/17/2020)
Description
Eisner Award Winner for Best Anthology and Best Short Story New York Times best graphic novel of 2020 Booklist best graphic novel for adults of 2020 Hot flashes. Vaginal atrophy. Social stigma. The comics in this unapologetic anthology prove that when it comes to menopause and its attendant symptoms, no one needs to sweat it alone. Featuring works by comics luminaries such as Lynda Barry, Joyce Farmer, Ellen Forney, and Carol Tyler, Menopause is the perfect antidote to the simplistic, cheap-joke approach that treats menopause as a cultural taboo. This anthology challenges stereotypes with perspectives from a range of life experiences, ages, gender identities, ethnicities, and health conditions.
Other contributors include Maureen Burdock, Jennifer Camper, KC Councilor, MK Czerwiec, Leslie Ewing, Ann M. Fox, Keet Geniza, Roberta Gregory, Teva Harrison, Rachael House, Leah Jones, Monica Lalanda, Cathy Leamy, Ajuan Mance, Jessica Moran, Mimi Pond, Sharon Rosenzweig, Joyce Schachter, Susan Merrill Squier, Emily Steinberg, Nicola Streeten, A. K. Summers, Kimiko Tobimatsu, Shelley L. Wall, and Dana Walrath.

Graphic Mundi - Psu Press, 9781637790106, 144pp.
Publication Date: January 4, 2022
About the Author
MK Czerwiec is a nurse, cartoonist, educator, and co-founder of the field of Graphic Medicine. She is the creator of Taking Turns: Stories from HIV/AIDS Care Unit 371 and a co-author of Graphic Medicine Manifesto. MK is also the comics editor for the journal Literature & Medicine. MK regularly teaches graphic medicine at Northwestern University's Feinberg Medical School and the University of Chicago. She has served as a Senior Fellow of the George Washington School of Nursing Center for Health Policy and Media Engagement as well as a Will Eisner Fellow in Applied Cartooning at the Center for Cartoon Studies in White River Junction, Vermont. You can see more of her work at her website, www.comicnurse.com.