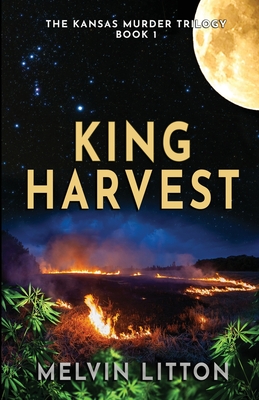 King Harvest - The Kansas Murder Trilogy Book 1
Paperback

* Individual store prices may vary.
Description
In the summer of 1975 a group of young men known as "the boys" make their stab for freedom harvesting wild hemp, or marijuana, on the Kansas plains. Several are Vietnam vets, and all are somehow marked, at odds with their time. They see themselves as inheritors of the mythic West, like buffalo hunters in league with their captain, Frankie Sage. As long as they remain unarmed their crime is counted only a misdemeanor.
But a rival gang led by Valentine LaReese is prone to gunplay. The two are fated to clash. Privy to the action is CC Holtz, "King of the county," who like any king demands tribute.
Early on a double murder on the border of two counties calls out both sheriffs. Their investigation and the free-spirited harvest run parallel till all trails converge, leading to a wry, dramatic climax.
The Kansas Murder Trilogy by Melvin Litton offers three stand-alone novels that spring from the heartland and mark three pivotal moments in our nation's life: the fall of Saigon and the loss of faith in the post-war construct, 1975; the brink of the Space Age and Civil Rights era, 1960; and the Great Depression, 1934. While each story carries the general flavor of its time, the characters and circumstance are distinct, and all depict the fate of common people faced with the grim fact of murder.
Crossroad Press, 9781637898758, 420pp.
Publication Date: January 25, 2022