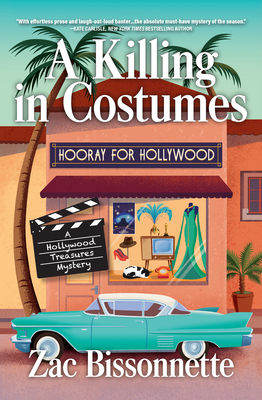 A Killing in Costumes (A Hollywood Treasures Mystery #1)
Hardcover

* Individual store prices may vary.
Description
Stardom fades fast when you're on the line for murder, in this debut cozy mystery perfect for fans of Richard Osman and Jenn McKinlay.


Jay Allan and Cindy Cooper were soap opera stars in the late '90s, a wholesome young husband-and-wife duo who combined musical talent with humor and charisma. When the truth about their sexual orientations came to light, their marriage and TV careers ended, but decades later they have remained friends. Together, they open Palm Springs' chicest movie memorabilia store, Hooray for Hollywood--but no customers and dwindling finances spell trouble.

A Hail Mary arrives in the form of Yana Tosh, a ninety-year-old diva of the silver screen who has amassed a valuable collection of costumes and props and is looking to sell. But first, Jay and Cindy have to beat their competition, a vice president from a mega-auction house with ten times their resources. And when he winds up dead, they become prime suspects in the murder.

With their freedom and livelihoods on the line, Jay and Cindy desperately need to clear their names. There are plenty of other potential suspects, but they'll have to solve it soon before they're forced to trade in their vintage costume collection for two orange jumpsuits.
Praise For A Killing in Costumes (A Hollywood Treasures Mystery #1)…
Praise for A Killing in Costumes:
"Fans of movie memorabilia will have a field day."
—Kirkus

"Zac Bissonnette's contemporary twist on Agatha Christie's Tommy and Tuppence is sure to enthrall traditional mystery fans. At the very core of this astonishing debut is love in various forms—and especially our eternal love of, and fascination for, Hollywood in all its glamor and glitz. The relationship of Cindy and Jay is the wonderful glue that pulls it all together. I hope they have a long and successful run in this new staging of "Murder, They Write."
—Miranda James, NYT and USA Today Bestselling Author of The Cat in the Stacks and the Southern Ladies Mysteries

"Hooray for this smashing new cozy mystery by Zac Bissonnette! Chock full of old Hollywood references, eclectic collectible information, and delightfully set in sunny Palm Springs, there is so much to love in this perfectly executed, high stakes, puzzler of a mystery. I absolutely can't wait to join these fun and fresh amateur sleuths, Cindy and Jay, on their next page turner of a mystery!" 
—Jenn McKinlay, New York Times bestselling author of the Library Lovers Mystery series

"Perfect for viewers of Turner Classic films, A Killing in Costumes is an exuberant tale of movies, murder, revenge, and, ultimately, friendship. Told through the angle of Hollywood memorabilia collecting, readers glimpse the glamor and glitz of the silver screen, along with another—not so pretty—view of Hollywood behind-the-scenes."
—Susan Elia MacNeal, New York Times bestselling author of the Maggie Hope series and Mother Daughter Traitor Spy

"Mystery lovers, rejoice! A Killing in Costumes is the first in a dazzling new mystery series that hits all the high notes: a charming, sunny setting; clever characters that captivate; fascinating details of old Hollywood glitz and glamour; and an intriguing plot that will keep you guessing to the very end. With effortless prose and laugh-out-loud banter, Zac Bissonnette has penned the absolute must-have mystery of the season. You will love-love-love A Killing in Costumes!"
—Kate Carlisle, New York Times bestselling author of the the Fixer Upper Mysteries

"Mystery readers, especially those with a taste for vintage Tinseltown movies, stars, glamor, and the music of the era are going to love this beautifully, affectionately written novel."
—Tom Sawyer, Emmy-Nominated Head Writer/Showrunner of Murder, She Wrote

"It's easy to say you love a book, but this one stole my heart. With an intriguing mystery, beautifully crafted friendships, Hollywood memorabilia, and a setting in Palm Springs, Zac Bissonnette created an outstanding read." 
—Sherry Harris, Agatha Award nominated author of the Sarah Winston Garage Sale and Chloe Jackson Sea Glass Saloon mysteries

"A cleverly crafted mystery with a pair of film buff sleuths, this page-turner is a delightful love letter to Hollywood stage and screen."
—Tracy Gardner, Edgar Award nominated author of the Avery Ayers Antique Mystery series

"Zac Bissonnette's A Killing in Costumes is a delight to read, filled with wit and charm. With irresistible characters and fascinating details about the golden age of Hollywood, this twisty tale is a winner!"
—Jane K. Cleland, Agatha-award winning author of the Jane Austen's Lost Letters

"Cozy fans are in for a treat with Zac Bissonnette's debut mystery. Readers won't be able to resist Cindy and Jay, whose pitch-perfect friendship is the heart of the playful, twisty plot. Mixing a clever mystery with a dash of Old Hollywood glamor, A Killing in Costumes is a delight from start to finish."
—Katharine Schellman, author of the Lily Adler Mysteries
Crooked Lane Books, 9781639100866, 320pp.
Publication Date: August 9, 2022
About the Author
New York Times bestselling author Zac Bissonnette's most recent book is 2015's The Great Beanie Baby Bubble: Mass Delusion and the Dark Side of Cute. He is an equity analyst at a hedge fund, and lives in New York City with his partner and a tuxedo cat named Perry Como.