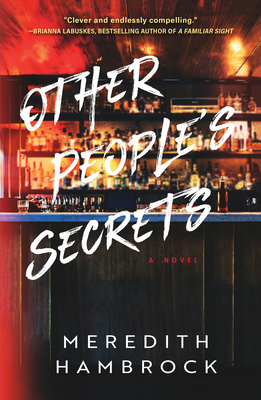 Other People's Secrets
A Novel
Hardcover

* Individual store prices may vary.
Description
Baby's down—and could be out for good—when she faces off with forces bent on turning her lakeside paradise into a living hell, for fans of Alissa Nutting and Amy Engel.


Baby's heart is in the right place, but she's got problems—namely, a fierce taste for booze and an on-again, off-again boyfriend who can't commit. She's living and working at Oakwood Hills, a crumbling lakeside resort, with her friends, Crystal Nugget and DJ Overalls, reeling since her adoptive mother died of a stroke. And now, the return of the local drug kingpin, Bad Mike, is about to throw her already unstable summer into full-blown chaos.

To make matters worse, the owner of Oakwood Hills announces plans to sell the resort to Amelia, her boyfriend's wealthy twin sister, who plans to renovate it, sucking the life out of the only home Baby's ever known. Desperate to thwart the sale, Baby and her friends decide to try to recover a sunken treasure rumored to be sitting at the bottom of the lake. But Bad Mike also has his eyes on the prize and when the search gets criminal, Baby will be forced to walk down a road full of hidden secrets that will change how she sees herself—and her life—forever.
Praise For Other People's Secrets: A Novel…
Praise for Other People's Secrets:
"[A] dynamic debut . . . [the] surprising plot twists match eccentric, reckless characters."
—Publishers Weekly

"Clever and endlessly compelling, Other People's Secrets hooks you from the very first sentence and doesn't let go. This book, like its messy and endearing protagonist Dumpster Baby, is full of both heart and razor-sharp edges, and it's one you won't want to miss."
—Brianna Labuskes, bestselling author of A Familiar Sight

"Other People's Secrets has all the things I demand of a crime novel: fun dialogue, quick pacing, a perfectly plotted quest, and a legitimately terrifying meth dealer. It's also got a thing too precious to demand of anything, and that's heart. This book is full of funny, flawed, real characters whose humanity and depth reaches out from every page. I read it cover-to-cover in three days." 
—Andrew Battershill, award-winning author for Marry, Bang, Kill.

"Other People's Secrets is a frank, funny, edge-of-your-seat thriller that yanks you in on page one and doesn't let go. Hambrock's refreshing voice is pitch-perfect as she explores the simmering tensions between the haves and have-nots in a colourful resort town. With unforgettable characters and life crackling on every page, this is a standout debut." 
—Michelle Kaeser, author of The Towers of Babylon

"The madcap energy and inimitable voice of Other People's Secrets are as irresistible as its protagonist, Baby—an impulsive, stubborn, 29-year-old wild child, fighting to save the town and chosen family she loves. As Baby brawls, drinks, and schemes, toe-to-toe with a meth kingpin and a family of callous, ultra-wealthy vultures, in a world that's been stacked against her from the moment she was found as an infant in a dumpster, the writing is vivid and close to the skin, making visceral the hangovers, clogged toilets, and joys that make life worth living." 
—Kim Fu, author of Lesser Known Monsters of the 21st Century
Crooked Lane Books, 9781639100989, 288pp.
Publication Date: September 6, 2022
About the Author
Meredith Hambrock is a Canadian fiction and television writer who grew up in Toronto and now lives in Vancouver. Her short fiction has appeared in several magazines including Maisonneuve and Descant. She's been a finalist for the CBC Short Story Prize and most recently wrote for the sitcom "Corner Gas Animated."