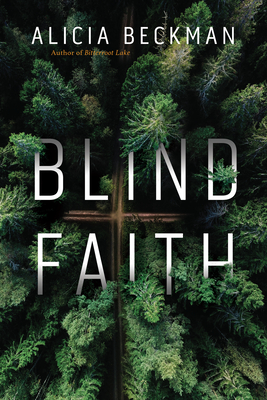 Blind Faith
A Novel
Hardcover

* Individual store prices may vary.
Description
Long-buried secrets come back with a vengeance in a cold case gone red-hot in Agatha Award-winning author Alicia Beckman's second novel, perfect for fans of Laura Lippman and Greer Hendricks.

For decades, the unsolved murder of Father Michael Leary has haunted Billings, Montana, the community he served. Who summoned the priest late one autumn night, then left his body in a sandstone gully for the ravens and other wild scavengers?

And it's haunted no one more than Lindsay Keller, who admired and confided in him as a teenager. Compelled by his example to work for justice, she became a prosecutor. But after a devastating case left her shattered, she fled the rough-and-tumble for the safety of a desk, handling real estate deals and historic preservation projects. Good work, but not what she'd dreamed of.

Now Lindsay finds herself in possession of the priest's wallet, the photo of a young girl tucked inside. She's sure she knows the girl, and that it's tied to his death. But how?

Detective Brian Donovan, a hot-shot Boston transplant, would like nothing more than to solve the county's coldest case. Probing the life and death of Father Leary takes Lindsay and Donovan deep into long-simmering tensions in this seemingly-peaceful place.

Then another woman far away digs up unexpected clues about her own family's past—a history rooted in a shocking truth—and her questions bring her to Lindsay and the detective. But the dangerous answers could rock the community to its very core.
Praise For Blind Faith: A Novel…
Praise for Blind Faith:
"Suspenseful and poignant, Blind Faith is a twisting, atmospheric mystery that pulled me in deep." 
—Meg Gardiner, award-winning author of the UNSUB series

"The past is hauntingly present in Alicia Beckman's affecting new thriller Blind Faith. Seemingly disparate lives come together as the discovery of a wallet belonging to a long-dead priest proves the tug that unravels decades of secrets and betrayal. Beckman combines edge-of-the-seat tension with enormous compassion. Suspenseful and satisfying."
—Gwen Florio, award-winning author of The Truth of it All

Praise for Bitterroot Lake:
"Beckman paints a gorgeous picture of an idyllic small town...This suspense debut is sure to attract readers."
—Library Journal

"[Alicia Beckman] knows how to tell a Montana story." 
—The Missoulian

"Interesting blend of supernatural, mystery and suspense."
—Suspense Magazine

"This well-written and complex tale had me completely immersed in all facets from Sarah's return to the old lodge to surprising occurrences with old friendship and a past that haunts everything that is touched. An awareness that something is amiss with a sense of foreboding holds well throughout the telling of this multi-plot storyline. The who, what, where, when, and why are bandied around and it is those acts and connections that propelled this narrative. I was enthralled with the characters and the pivotal roles they played that enhanced how well this story was being told. The author set the stage for a dynamic read where the pacing increased as the story came to its conclusion and I couldn't put it down as I needed to know how this would end. This was a great story and I applaud the author in a job well done."
—Dru's Book Musings

"A complex, richly imagined, atmospheric mystery, Bitterroot Lake kept me guessing whodunit until the very end."
—A. J. Banner, #1 bestselling author of The Good Neighbor

"Compellingly comfy and eerie in all the right places, Bitterroot Lake features the recently widowed Sarah McCaskill, who has returned to her childhood home at Whitetail Lodge in idyllic Northwest Montana to cope with grief. When she arrives she discovers that one of her old friends has also returned. So begins a journey into the past where they are forced to face an old tragedy that is tied to the recent murder of another friend. Bitterroot Lake is a gracefully written exploration of the secrets that destroy friendships and the courage it takes to face the truth. Atmospheric, character-driven, and truly absorbing, Bitterroot Lake is crime fiction at its finest."
—Christine Carbo, award-winning, best-selling author of the Glacier Mystery Series

"Old secrets and old ghosts live on in Alicia Beckman's stunning new suspense novel, Bitterroot Lake. With gorgeous writing, an atmospheric Montana lake-house setting, and a plot that weaves together layers of history, Beckman's deep dive into the psychology of guilt, friendship, fear, and courage will pull you in and keep you reading until the final reveal. This one is a winner."
—Connie Berry, Agatha Award-nominated author of the Kate Hamilton Mysteries

"Bitterroot Lake is a twisty, haunting thriller propelled by a delicious hint of otherworldliness. It's a book that's both an expert mystery and an affirmation of love and family. I was absolutely enthralled."
—Emily Carpenter, bestselling author of Burying the Honeysuckle Girls

"With a rich sense of place and a deft handling of fractured relationships, the pull of the past, and the pain of new grief, Alicia Beckman weaves a satisfying tale of secrets and lies eating away under the surface of happy families and close-knit small towns. And a touch of magic too!"
—Catriona McPherson, Edgar-nominated author of Strangers at the Gate
Crooked Lane Books, 9781639101788, 336pp.
Publication Date: October 11, 2022
About the Author
Alicia Beckman relished in living in Seattle as a college student and young lawyer, but is happiest back home in her native Montana, where she lives with her husband, a musician and doctor of natural medicine, and their full-figured gray tuxedo cat. As Alicia, she writes moody suspense. As Leslie Budewitz, she's the bestselling author of the Seattle Spice Shop and Food Lovers' Village mysteries. A three-time Agatha Award winner, for Best Short Story (2018), Best First Novel (2013), and Best Nonfiction (2011), she is a past president of Sisters in Crime and a current board member of Mystery Writers of America.