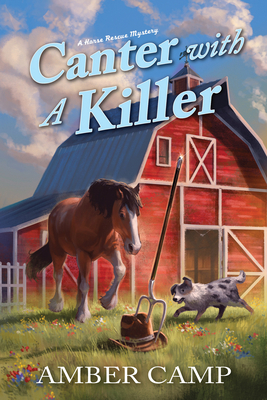 Canter with a Killer (Horse Rescue Mystery, A #1)
Hardcover

* Individual store prices may vary.
Description
Perfect for fans of Amanda Flower and Mollie Cox Bryan, Amber Camp's debut novel will have you galloping through the pages, as a horse rescue owner races to find a killer and clear her name.

Mallory Martin left her marriage and her unfulfilling job to move back to her hometown of Hillspring, Arkansas, and start a horse rescue. It's everything she's been missing, with paddocks of happy horses and one very quirky donkey. But when her cantankerous neighbor and longtime critic, Albert Cunningham, is found murdered in his fancy show barn, Mallory becomes suspect number one. Since Sheriff Grady Sullivan is ignoring all good sense and focusing only on Mallory, she decides to take matters into her own hands.

Aided by her best friend, Lanie, and rescue volunteer Tanner, Mallory races headlong into the investigation in search of the real killer. But horses and murder aren't the only thing on her mind when she meets Albert's handsome son, Braydon. Sparks fly, and soon she's got a new boyfriend. But there's a case to be solved, and she redoubles her efforts to learn the truth.

The suspects mount quickly. There's Albert's girlfriend, Kathleen, who was on the farm when he was murdered; organic farmer Heather Rogers, who accused Albert of contaminating her creek; and Philip Atwood, who'd been trying for a right-of-way across Albert's farm. None of the evidence is holding up though, and Mallory learns that she'll need to take the reins on this investigation if she's going to clear her own name.
Praise For Canter with a Killer (Horse Rescue Mystery, A #1)…
Praise for Canter with a Killer:
"The charming denizens of the rescue hold your interest."
—Kirkus Reviews

"Well crafted and memorable . . . a complete master of the cozy mystery genre."
—Midwest Book Review

"Twists and turns, red herrings, and cleverly subtle clues . . . a great beginning to a new series."
—Kings River Life Magazine

"Saddle up for a fun read—whether you're a seasoned equestrian or simply someone who loves an entertaining mystery!"
—Cynthia Baxter, author of the Reigning Cats & Dogs Mysteries

"Mallory Martin rescues horses as her adored career, and a wonderful rescue donkey keeps trying to rescue her as she jumps feet-first into solving her neighbor's murder… since she's considered the favorite suspect. Canter With A Killer is an enjoyable mystery with lots of twists and a cast of fun characters."
—Lark O. Jensen, author of Bear Witness

"Camp's down-to-earth sleuth—and a charming supporting cast of four-legged friends—make this a world you'll want to linger in. Add in the keep-you-guessing mystery, and this is a blue-ribbon cozy."
—Bethany Blake, author of the Lucky Paws Petsitting Mystery series

"I was hooked from the first page. Amber Camp understands the equine heart and has woven a fast-paced mystery that is authentic and utterly captivating."
—Leigh Hearon, author of the Carson Stables Mystery series

"Mallory is a horse lover with a heart of gold and a spine of steel. This lightning-fast mystery will have you rooting for Mallory and her heart-melting menagerie of rescues until the end!"
—Laura Morrigan, author of the Call of the Wilde Mystery series

"Prepare for a fun ride, be it a walk, trot, or gallop. Canter with a Killer is sure to please cozy readers with this animal rescue tale."
—Eileen Brady, author of the Dr. Kate Vet series
Crooked Lane Books, 9781639101801, 304pp.
Publication Date: October 11, 2022
About the Author
Amber Camp writes cozy mysteries that reflect her love of animals and quirky small towns. A lifelong lover of books, she started writing her own stories as a teenager and found she loves to write as much as she loves to read. Amber lives in Northwest Arkansas with her husband and daughter and works as a registered nurse at a small rural hospital. She has a menagerie of animals that includes dogs, cats, horses, chickens and what has been described as the Mule from Hell, which may or may not be a slight exaggeration. Amber is a member of Sisters in Crime.