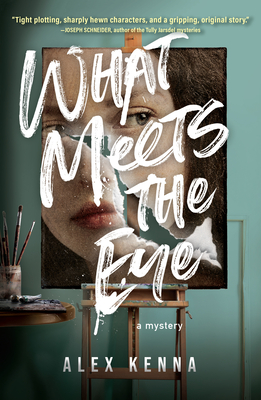 What Meets the Eye
A Mystery
Hardcover

* Individual store prices may vary.
Description
From debut author Alex Kenna comes a pulse-pounding tapestry of secrets, retribution, and greed for fans of Jeffrey Archer.

Kate Myles was a promising Los Angeles police detective, until an accident and opioid addiction blew up her family and destroyed her career. Struggling to rebuild her life, Kate decides to try her hand at private detective work—but she gets much more than she bargained for when she takes on the case of a celebrated painter found dead in a downtown loft.

When Margot Starling's body was found, the cause of death was assumed to be suicide. Despite her beauty, talent, and fame, she struggled with a host of demons. But as Kate digs deeper, she learns that Margot had a growing list of powerful enemies—among them a shady art dealer who had been selling forged works by Margot. Kate soon uncovers a dirty trail that leads straight into the heart of the city's deadly underworld.

Margot died for her art—and if Kate doesn't tread lightly, she could be the next to get brushed out.
Praise For What Meets the Eye: A Mystery…
Praise for What Meets the Eye:
"[An] impressive debut . . . Sara Paretsky fans will be pleased."
—Publishers Weekly

"A righteous, painful debut. More, please."
—Kirkus Reviews

"Dragging the world of high art down into the muck of Los Angeles' criminal underbelly, Alex Kenna has created an engaging mystery buoyed by the heart of its heroine, Kate Myles. Trying to win against stacked decks in her professional and personal lives, Myles' resilience and hustle makes her an easy hero to stand up and cheer for." 
—James Queally, author of the Russel Avery novels and Los Angeles Times crime reporter.

"With the sure hand of an old master, Alex Kenna's debut blurs the line between catharsis and crime in this gritty and nimble noir mystery. When a routine investigation into the apparent suicide of art superstar Margot Starling becomes anything but, down-on-her-luck PI Kate Myles must square herself up for the fight of her life or lose it all. Entertaining and provocative, What Meets the Eye reminds us that truth often comes with a price tag much higher—and deadlier—than anything Sotheby's could ever hope to fetch at auction."
—Katie Lattari, author of Dark Things I Adore

"Kenna gives us the LA crime story we want—a fronded, sun-beaten carousel of depravity and murder, all laced up with tight plotting, sharply hewn characters, and a gripping, original story."
—Joseph Schneider, author of the Tully Jarsdel Mysteries

"A suspicious death dismissed as suicide leads PI Kate Myles deep into a web of blackmail and deceit, set against an intriguing backdrop of shady dealings in the art world. An all too human character, Kate is determined to piece together the wreckage of her life and career, and salvage her fractured relationship with her daughter. With clever twists & turns, and a host of convincing suspects along the way, the plot delivers a satisfying ending, but leaves us with tantalizing hints of more to come from Kate…"
—Julie Cameron, author of Nameless Acts of Cruelty
Crooked Lane Books, 9781639101849, 288pp.
Publication Date: December 6, 2022
About the Author
Alex Kenna is a prosecutor and an avid Sunday painter. She lives in Los Angeles with her husband, son, and giant schnauzer.