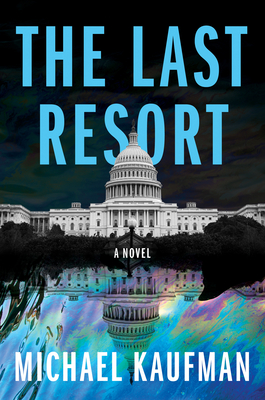 The Last Resort (A Jen Lu Mystery #2)
Hardcover

* Individual store prices may vary.
Description
Margaret Atwood meets Raymond Chandler meets Greta Thunberg: Jen Lu is back on the case when the death of a lawyer sparks an even more intriguing mystery in Michael Kaufman's second book in the thrilling series.

It's March 2034, six months after D.C. police detective Jen Lu and Chandler, her sentient bio-computer and wannabe tough guy implanted in her brain, cracked the mystery of Eden. The climate crisis is hitting harder than ever: a mega-hurricane has devastated the eco-system and waves of refugees pour into Washington, D.C.

Environmental lawyer and media darling Patty Garcia dies in a bizarre accident on a golf course. Of the seven billion people on the planet, only Jen thinks she was murdered. After all, Garcia just won a court case for massive climate change reparations to be paid out by oil, gas, and coal companies. Jen is warned off, but she and Chandler start digging. Signs point to Garcia's abusive ex, a former oil giant, but soon Jen turns up more suspects who have an even greater motive for committing murder

Soon Jen is in the crosshairs of those who will ensure the truth never comes to light, no matter the cost. She has to move quickly before she becomes next on the killer's list.
Praise For The Last Resort (A Jen Lu Mystery #2)…
Praise for The Last Resort:
"Top-notch. Kaufman remains a rising talent."
—Publishers Weekly, starred review

"Kaufman has a gift for snappy dialogue . . . A quirky, fast-paced whodunit with a provocative take on the near future."
—Kirkus Reviews

"Kaufman's near-future Washington DC is at once unimaginable, terrifying, and thoroughly recognizable."
—Richard Reyes-Gavilan, Executive Director of Washington DC's Public Library

Praise for The Last Exit:
"[An] outstanding series launch...Exceptional worldbuilding is complemented by sympathetic characters and suspenseful plot twists. Kaufman is a writer to watch."
—Publishers Weekly, starred review

"Kaufman keeps the pot boiling...A strong, richly imagined brew."
—Kirkus Reviews

"A solid read, both as a police procedural and near-future science fiction."
—Amazing Stories

"Aptly timed and unsettlingly plausible."
—Fresh Fiction

"This is a compelling science fiction-detective story, just the thing for readers who want something different."
—Mystery and Suspense Magazine

"Engagingly narrated."
—Stop, You're Killing Me

"An engrossing thriller set in a fascinatingly plausible near future, The Last Exit centres on a human-AI partnership that's as believable as it's moving."   
—Emma Donoghue, New York Times bestselling author of Room

"[A] fast-paced and, somehow, even funny mystery."
—Richard Reyes-Gavilan, executive director, DC Public Library

"Detective Lu has troubles aplenty coming at her in this fast-paced thriller: a baffling mystery to solve when too many people start dying too fast, personal moral quandaries to wrestle with, and a cruel and inequitable society on the brink of chaos to navigate."
—Con Lehane, author of the 42nd Street Library mysteries
 
"I love a book that makes me think, shows me a different world, and makes me savor the world I have, and be more grateful for it."
—Anne Perry, international bestselling author of the Charlotte and Thomas Pitt mysteries
 
"Cobalt Blue is a highly accomplished debut that does not miss a beat. Characters, plot and style: it's got it all. Fully recommended for all crime fiction aficionados." 
—Yrsa Sigurðardóttir, bestselling author of Last Rituals
 
"I LOVED it!  Michael Kaufman's compelling thriller The Last Exit is engagingly narrated by his Washington, DC, detective Jen B. Lu and her experimental synthetic implant Chandler, an odd couple partnership for the ages."
—Lucinda Surber, Stop, You're Killing Me! and Left Coast Crime

"Clever, unconventional, compelling—and one hell of a good read."
—Ian Hamilton, author of the Ava Lee series

"The Last Exit hits hard. Fast action—a melding of the mental and physical—keeps this smart futuristic thriller racing, and its contemporary implications keep the reader thinking." 
—Thomas Perry, bestselling author of A Small Town
Crooked Lane Books, 9781639102075
Publication Date: January 10, 2023
About the Author
Michael Kaufman is the author of two novels and seven works of non-fiction. He has worked with the United Nations, governments, NGOs, educators, and companies in fifty countries to promote women's rights.