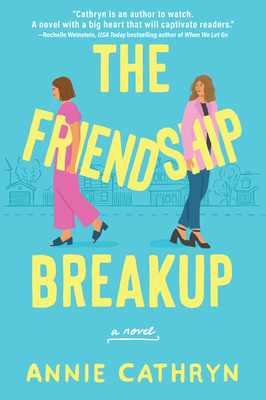 The Friendship Breakup
Paperback

* Individual store prices may vary.
Description
For fans of Laura Hankin and Jennifer Weiner, this fresh, clever, and complex debut "mom-com" explores the ups and downs of friendship and what happens when those you trust the most leave you high and dry.

A plucky protagonist who's far from figuring it all out—but powers through with wit and determination—Fallon is a heroine millennial moms will instantly connect with.

Fallon Monroe, mother of one, self-help book junkie, and budding chocolatier, has always relied on her mom friends in the Chicago suburbs to get her through the trials of adulthood. So when her bestie Beatrice inexplicably starts ghosting her and takes all their mutual friends with her, Fallon's left wondering how everything went so wrong. Pushing down a lifetime of insecurities, Fallon doubles down and decides to win them back. First, she hosts an epic Mexican fiesta that goes epically wrong. Then she joins a friendship app but discovers a disturbing secret about one of her new friends.

Just when she's about to throw in the towel on the whole friendship mess, Fallon reads a recently unearthed letter she'd refused to deal with decades earlier—and reading it forces her to finally face the deep-seated fears she'd desperately tried to bury. Now, looking at her friendships through fresh eyes, she must decide between hanging on and letting go.

Fallon is an instantly likeable heroine—as vulnerable as she is determined—and she'll have readers eagerly turning the pages as they join her on an emotional journey into the hopes and fears of adulthood.
Praise For The Friendship Breakup…
Praise for The Friendship Breakup:
"Sometimes funny, sometimes heartbreaking. The Friendship Breakup is a heartwarming tale of letting go of what holds you back and embracing the possibilities of life on one's own terms."
—Liz Talley, USA Today bestselling author of Adulting

"The best books shed light on what many think but few have the courage to say—and that's precisely what The Friendship Breakup does. In this warm and witty story, Annie Cathryn paints a portrait of a woman who must let go of her preconceived notions of what her life should be like in order to find out who she really is—and become her own best friend."
—Camille Pagán, national bestselling author of I'm Fine and Neither Are You

"Just the escapist romp I needed. An easy read full of relatable mom drama, memorable meltdowns, and laugh out loud moments. Fans of Lea Geller and Kathleen West who enjoy witty banter and wicked funny interior dialogue will love this novel."
—Lainey Cameron, award-winning and Amazon bestselling author of The Exit Strategy

"Every woman has a ghost story—where someone disappears from her life with no explanation. So when Fallon's friends freeze her out, her determination to fix those relationships will both resonate and make you text your bestie to remind her you love her. But what begins as a mission to salvage her friendships turns into a journey of self-acceptance and coming to terms with the fact that some friendships aren't meant to last forever. Perfect to read by the beach or pool with your favorite iced coffee (or in those stolen moments in the carpool line), The Friendship Breakup will have you both laughing and savoring the journey like it was one of Fallon's chocolates. Sharp, witty, and relevant to everyone who has ever outgrown a friend." 
—Sara Goodman Confino, Amazon bestselling author of She's Up to No Good

"Annie Cathryn's debut, The Friendship Breakup is a highly entertaining and snort-thru-your-nose-funny look at female friendships—the politics, the allegiances, the mudslinging in the suburban mommy world—that at its core is a love letter to our deep need for community, connection and most importantly, to knowing our own heart. Put it at the top of your reading list!"
—Lisa Roe, author of Welcome to the Neighborhood




Alcove Press, 9781639102389, 304pp.
Publication Date: February 7, 2023
About the Author
Annie Cathryn has always dreamed of becoming an author and lives by the motto, "Creating is Living." The Friendship Breakup is her debut book baby, born out of love.

When not writing or reading, she's organizing her personal library collection by color and discovering delectable chocolate.

She earned a journalism degree and a master's in communications from Marquette University, and lives in Chicagoland with her husband, daughter, and two fur babies.