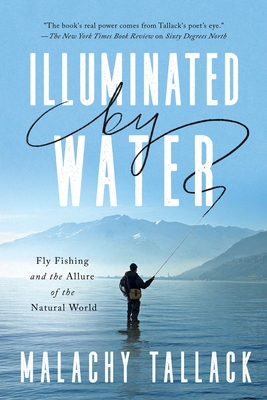 Illuminated by Water
Fly Fishing and the Allure of the Natural World
Hardcover

* Individual store prices may vary.
Description
In its blending of nature writing and memoir—also touching on the connection of time, beauty, and memory—Illuminated by Water is an elegiac tribute to fly fishing and the natural world.

Illuminated by Water is a book about the author's own decades-long passion for ­fly fishing and how it has shaped the way he sees and thinks about the natural world. That passion is shared and made legible here, not just for other anglers, but for those who have never yet cast a line in the water. Why is it that catching ­fish—or even thinking about catching fish—can be so thrilling, so captivating? Why is it that time spent beside water can be imprinted so sharply in the memory? Why is it that what seems a simple act of casting a line and hoping can feel so rich in mystery?

Alternating between regional and thematic chapters, Tallack considers 'wildness', its pursuit, and its meanings; the compulsive appeal of tying flies; the ethics of catching and killing; the allure of big ­fish; and beauty—where it's sought and where it's found. He describes ­fly fishing trips to America, Canada, Shetland, and England. Throughout the book, certain themes recur—environmental harm and healing; the relationship between fishing and time; hope and its manifestations; and the ways in which angling can deepen engagement with the natural world.
Praise For Illuminated by Water: Fly Fishing and the Allure of the Natural World…
Praise for Illuminated by Water:

"A masterfully told fisherman's tale, which gets closer than most to grasping that slippery thing beyond the fish itself: the reason we are drawn to water, and what fishing can teach us."
— Jeremy Wade, author and presenter of River Monsters

"A love letter to still, dark lochs and sparkling trout rivers; an account of a fascination and that deep-down draw we feel towards the water's edge. Tallack's beautiful book is full of interest, passion, and rich, buttery description. Wade into it, and let it flow through you."


— Cal Flyn, author of Islands of Abandonment.

"Malachy Tallack writes as deftly as he casts a fly. This book is illuminated by water, but also by philosophy, experience and a profound sympathy for the natural world. A delight."


— Luke Jennings, author of the Killing Eve novels

"Like the best anglers, Malachy Tallack is always wondering what's over the next hill or around the next bend in the river. It hardly matters whether it's a brown trout of six inches or six pounds, a fat carp or a silvery salmon, it's the curiosity, the mystery that pulls him along. And we're glad to take the journey with him. Illuminated by Water belongs on the shelf with W. D. Wetherell's Vermont River and Luke Jennings' Blood Knots."
— Murray Carpenter, author of Caffeinated: How Our Daily Habit Helps, Hurts, and Hooks Us.

"Patient, generous, ever attentive, Illuminated by Water is about both mastery and loving a thing enough to be inexpert at it for a very long time. It unspools over cultural and personal history to turn over facet after facet of what being on the water may reveal. We witness a ranging mind pull us far afield—only to remind us how many marvels are breathtakingly at hand."
— A. Kendra Greene, author of The Museum of Whales You Will Never See

"Tallack dives into his decades of fly-fishing in this incandescent work about the restorative power of nature...Never didactic or sentimental, his prose winds its way through inner and outer terrains, rendering sparkling meditations at every turn. This casts the life aquatic in a wondrous light."
— Publishers Weekly

"A lyrical look at fly-fishing. Even for those who have never picked up a fishing rod, this poetic book has a lot to say about the process of finding the things that are truly important. The author explains all this in lucid, unhurried prose, and he can turn a good phrase. An engaging book that will make many readers head for the nearest stream to toss in a line."
— Kirkus Reviews

"A memoir with a difference, beautifully evocative, suffused with the calm of many days spent fishing and thinking in tranquility. The perfect gift for anglers everywhere."
— Gavin Francis, author of Island Dreams

"Tallack's stylish and sensitive writing captures all the dimensions of our wonderful fishing obsession in a way that reminds me of Nick Lyons and Norman Maclean at their best—those angler/writer masters whose ranks he now joins. Illuminated by Water deserves a spot on the very top shelf of all the fishing in print."


— W. D. Wetherell, author of One River More

"A beautiful book. The book's language is exquisite [and] perfectly matched to its subject. The tone is friendly and inviting, if not cordial, and of course it has the quality that can't be faked. It is knowledgeable. It is not about fishing so much as the wonder of what it is like to be human, and as such, Illuminated By Water is profound and a delight."


— Craig Nova, author of Brook Trout and the Writing Life

"A masterful testament of what it means to be a modern angler. Tallack takes you on a journey, sometimes over moors of heather and lonely trout-filled lochs, other times along urbanized canals to hunt for pike. Along the way, he draws you into his world with haunting prose steeped in time spent on waters and love of sport."


— Stephen Sautner, author of Fish on Fish Off and A Cast in the Woods

"Going back to Walton's The Compleat Angler, trout fishing has been the focus of a remarkable number of excellent books, but there are a special few, such as Norman Maclean's A River Runs Through It and Tom McGuane's The Longest Silence, whose language is instilled with a beauty that fully befits the beauty of its subject. Malachy Tallack is such a writer, and llluminated by Water is destined to be a classic, both as a memoir on trout fishing and, also, a meditation on life."
— Ron Rash, author of Serena and In the Valley

"Illuminated by Water is a lyrical meditation on angling's allure whose real quarry is the discovery of meaning. Tallack's spellbinding descriptions of waters near and far resonate with moments of immersive, beautiful stillness, and in doing so make the case for fishing as a practice of engagement with the wild and hidden world, a way of being fully present in the moment, seeking answers to questions that lie beneath the surface."
— James Barilla, author of West with the Rise: Fly-fishing across America

Praise for Malachy Tallack's Sixty Degrees North:

"It is a brave book—and a beautiful book."
— Robert Macfarlane, New York Times bestselling author

"A subtle, thoughtful study of life on the sixtieth parallel. Highly enjoyable."
— The Financial Times

"The book's real power comes from Tallack's poet's eye."
— The New York Times Book Review

"A memoir remarkable for its intimacy, wisdom, and radiant prose. Tallack renders descriptions of his emotional landscape as delicately as his painterly descriptions of the physical world. An enthralling meditation on place."
— Kirkus Reviews

"The history is captivating and adds context to each place visited. This book balances history, travel, and culture on an interesting path around the world."
— Library Journal

"Examines the significance of place and what it means to belong. This is a book about belonging. Tallack is one of a burgeoning group of young travel writers who have reinvigorated the genre with elements of psychogeography: the study of how places make us feel."
— Will Self

"A new kind of travel writing that emphasizes and explores the relationship between people and place."
— Providence Journal

"A remarkable survey of cultures, climates and histories. [Tallack's] writing is thoughtfully composed, beautiful and often surprising. An extended meditation on longing and belonging, on personal ties to place and on the particular nature of a certain band of earth and sea."
— Shelf Awareness

"Throughout his travels, Tallack beautifully sketches a sort of emotional geography of place, a yearning to connect with communities and landscapes."
— Dallas Morning News

"Lovely and evocative. A meditation on community, on humans' relationship to the land, on what it means to belong to a place, on what makes a place truly a home."
— Cleveland Plain Dealer
Pegasus Books, 9781639361656, 352pp.
Publication Date: August 2, 2022
About the Author
Malachy Tallack is the award-winning author of three previous books: Sixty Degrees North, The Un-Discovered Islands, and, most recently, a novel, The Valley at the Centre of the World. He has received both a New Writers Award and the Robert Louis Stevenson Fellowship from the Scottish Book Trust, and as a singer-songwriter has released four albums and an EP. Malachy grew up in the Shetland Islands and currently lives in central Scotland.