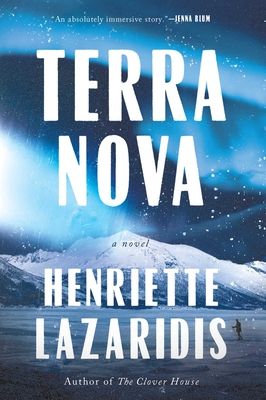 Terra Nova
A Novel
Hardcover

* Individual store prices may vary.
Description
A haunting story of love, art, and betrayal, set against the heart-pounding backdrop of Antarctic exploration—from the Boston Globe-bestselling author of The Clover House.

The year is 1910, and two Antarctic explorers, Watts and Heywoud, are racing to the South Pole. Back in London, Viola, a photo-journalist, harbors love for them both. In Terra Nova, Henriette Lazaridis seamlessly ushers the reader back and forth between the austere, forbidding, yet intoxicating polar landscape of Antarctica to the bustle of early twentieth century London.

Though anxious for both men, Viola has little time to pine. She is photographing hunger strikers in the suffrage movement, capturing the female nude in challenging and politically powerful ways. As she comes into her own as an artist, she's eager for recognition and to fulfill her ambitions. And then the men return, eager to share news of their triumph.

But in her darkroom, Viola discovers a lie. Watts and Heywoud have doctored their photos of the Pole to fake their success. Viola must now decide whether to betray her husband and her lover, or keep their secret and use their fame to help her pursue her artistic ambitions.

Rich and moving, Terra Nova is a novel that challenges us to consider how love and lies, adventure and art, can intersect.


Praise For Terra Nova: A Novel…
"Terra Nova is just plain fantastic. From Viola, willing to risk all for women's suffrage, to her husband—traveling with her secret lover—who risks all to be the first to reach the South Pole, this novel is an intelligent, literary page-turner of the best type. Full of human frailty, heartbreak, lies and deceit, yet also adventure, love and self-sacrifice while exploring the human drive to become more than we are. Bravo."
— B.A. Shapiro, New York Times bestselling author of Metropolis

"Lazaridis draws inspiration from Robert Falcon Scott's polar expedition of 1912 for this expressive tale. Filled with visceral descriptions of the cold, hunger, and drive of the explorers, and of the London women's determination to fight for their rights."—Publishers Weekly


— Publishers Weekly

"Terra Nova is a deeply compelling novel. Heywoud, Watts and Viola Colfax are fully alive on the page, and the reader feels for them as they each find their way through the intricacies of love, adventure, loyalty and ambition."


— Authorlink.com

"Terra Nova is like Jack London and Anita Shreve had a literary baby: an absolutely immersive story of Antarctic survival, suffrage, a love triangle, art, and betrayal. Engrossing from the first moment to the last page, when you'll immediately return to the beginning to start again."


— Jenna Blum, New York Times bestselling author of Those Who Save Us and The Lost Family

"I read this brilliant novel in one sitting. Dazzling, intimate, and spare, TERRA NOVA is a story of love and adventure, ambition and betrayal, artfully told with a taut suspenseful power."


— Dawn Tripp, nationally bestselling author of Georgia: a Novel of Georgia O'Keeffe 

 

"What would you risk to fulfill a desperate ambition? Whom would you betray if you had to—and at what cost to you, the ones you love, the world? Set against the dazzling frozen backdrop of 1910 Antarctica, this is a mesmerizer about love, rivalry, and the indominable strength of one of the best, most complex female characters I've read in years."


— Caroline Leavitt, New York Times bestselling author of With or Without You

"Lazaridis masterfully explores the human cost extracted from any attempt to conquer a new frontier—whether it be reaching a distant patch of ice, winning a fundamental human right, or securing artistic freedom—and forces us to contemplate what one person owes to another in the process. I was spellbound from the first polar storm and mesmerized by every click of Viola's camera. In the end, TERRA NOVA is an exploration of the human heart, what we desire, what we require, and what we are willing to sacrifice to achieve it. I couldn't put it down."




— Katherine A. Sherbrooke, author of Leaving Coy's Hill

"A stunning debut novel."
— USA Today on The Clover House (2013)

"An insightful examination of memory and the stories that hold us together—or perhaps tear us apart."
— The Boston Globe on The Clover House (2013)
Pegasus Books, 9781639362424, 304pp.
Publication Date: December 6, 2022
About the Author
Henriette Lazaridis is the author ofThe Clover House, which was a Boston Globe bestseller. Her short work has appeared in ELLE, The New York Times, New England Review, The Millions, Pangyrus, and more, and she has earned a Massachusetts Cultural Council Artists Grant. She is a graduate of Middlebury College, Oxford University, where she was a Rhodes Scholar, and the University of Pennsylvania. Having taught English at Harvard, she now teaches at GrubStreet in Boston. She founded The Drum Literary Magazine and currently runs the Krouna Writing Workshop in northern Greece. She writes the Substack newsletter The Entropy Hotel, at henriettelazaridis.substack.com. For more, visit henriettelazaridis.com.