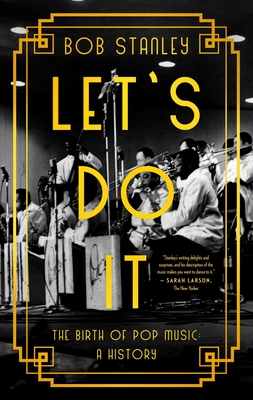 Let's Do It
The Birth of Pop Music: A History
Hardcover

* Individual store prices may vary.
Description
The must-read music book of 2022—and the first such history bringing together all musical genres to tell the definitive narrative of the birth of Pop from 1900 to the mid-1950s.

Pop music didn't begin with the Beatles in 1963, or with Elvis in 1956, or even with the first seven-inch singles in 1949. There was a pre-history that went back to the first recorded music, right back to the turn of the century. Who were these earliest record stars—and were they in any meaningful way "pop stars"? Who was George Gershwin writing songs for? Why did swing, the hit sound for a decade or more, become almost invisible after World War II? The prequel to Bob Stanley's celebrated Yeah! Yeah! Yeah!, this new volume is the first book to tell the definitive story of the birth of pop, from the invention of the 78 rpm record at the end of the nineteenth century to the beginnings of rock and the modern pop age. Covering superstars such as Louis Armstrong, Bessie Smith, Duke Ellington and Frank Sinatra, alongside the unheralded songwriters and arrangers behind some of our most enduring songs, Stanley paints an aural portrait of pop music's formative years in stunning clarity, uncovering the silver threads and golden needles that bind the form together. Bringing the eclectic, evolving world of early pop to life—from ragtime, blues and jazz to Broadway, country, crooning, and beyond—Let's Do It is essential reading for all music lovers. "An encyclopaedic introduction to the fascinating and often forgotten creators of Anglo-American hit music in the first half of the twentieth century."—Neil Tennant (The Pet Shop Boys)
Praise For Let's Do It: The Birth of Pop Music: A History…
"For those who wish to enjoy a compelling musical mystery tour of the first half of the twentieth century—written with insight, thoroughly researched stories, and compelling opinions—this book is well worth the trip. It's a deep-dive into an era I love and know well, and in devouring this tome I learned a thing or two along the way!"


— Michael Feinstein, author of The Gershwins and Me and the founder of the Great American Songbook Foundation

"A voyage of discovery…Stanley's writing crackles with the exhilaration of a man who's encountered a whole new world of vinyl to obsess about. A perfect guidebook, filled with smart thinking and the kind of communicable enthusiasm that sends you rushing to the nearest streaming service."
— The Guardian

"An encyclopedic introduction to the fascinating and often forgotten creators of Anglo-American hit music in the first half of the twentieth century."


— Neil Tennant, The Pet Shop Boys

"Stanley's acute observations, breadth of historical understanding, and obvious love for the music makes this an essential work on the why, the when, and the song that sings through us. A masterful achievement."
— Lenny Kaye, Patti Smith Group

Praise for Bob Stanley's Yeah! Yeah! Yeah!:

"[An] exuberant celebration of the silly and the sublime. Stanley's writing delights and surprises, and his description of the music makes you want to dance to it."
— Sarah Larson, The New Yorker

"Zips through decades of dance tunes and teenage heartthrobs with an affectionate ebullience. As good a story of pop music as a fan could hope for."
— The Washington Post

"Rich with musical history lived, worked, and felt. Yeah! Yeah! Yeah! is smart, funny, surprisingly deep for just how broad it is, but, most of all, for stars and songs great and small, it is full of love."
— Joshua Joy Kamensky, Los Angeles Review of Books

"A landmark celebration, rumination and encapsulation of just about everything worth knowing - and arguing - about the pop landscape. A book for the ages."
— Matt Damsker, USA Today

"Totally delicious and [full of] why-didn't-I-think-of-that connections. We're incredibly lucky to have this detailed map."
— David Kirby, Wall Street Journal

"Like War and Peace but with a beat. Endlessly readable. [Stanley's] passion and humor make Yeah! Yeah! Yeah! a delicious read even, or rather especially, when it upends your own views."
— The Boston Globe

"An immensely entertaining pop-music survey course. Engagingly opinionated and often very, very funny. Joyful, smart, and addictive, just like the best pop songs, and a must for music fans everywhere."
— Booklist (starred)

"Bob Stanley loves and finds surprising connections between a thousand kinds of pop. He makes me want to run to the nearest record store?and move in."
— Stephin Merritt of the Magnetic Fields

"Yeah! Yeah! Yeah! ties together the disparate strands of pop's shape-shifting history to create a vivid living document of the music of our lives."
— Greg Milner, author of Perfecting Sound Forever

"Quixotic and kaleidoscopic, Yeah! Yeah! Yeah! serves up erudite irreverence on every page. Like its sprawling subject, it invites everyone in for a listen."
— The Dallas Morning News

"Tells the story of American and British pop music almost as engagingly as the songs themselves."
— Glenn Gamboa, Newsday

"An ambitious undertaking. Stanley's bold positions connect pop's many dots in fresh and fascinating patterns."
— Christian Science Monitor

"A roller-coaster ride through pop history that encourages readers to look deeper into offshoots of 'pop' and performers they might not be so familiar with."
— The Houston Press

"Stanley provides an intriguing view of the shifting ground of pop music."
— Publishers Weekly

"Bob Stanley's brilliantly entertaining book reveals how pop trends were made, and how racism has skewed the narrative. Dauntingly ambitious . . . Let's Do It is an essential book for lovers of popular music."
— The Telegraph, "Forget everything you think you know about pop"

"Stanley does an inspired job of identifying and describing all the tangled roots of pre-rock popular music . . . a vast amount of it is far too good to be forgotten."
— The Times of London

"I know a lot about popular music. I didn't know half of this."
— David Hepworth, author of 1971: Never a Dull Moment

"Magnificent! Bob Stanley is in a league all his own."
— Nik Cohn, author of Yes We Have No: Adventures in the Other England and The Heart of the World

"An absolute landmark/joy/gossip-fest/door to Narnia: the history of pop music BEFORE rock'n'roll. SO fascinating. Can't recommend enough."
— Caitlin Moran, author of More Than a Woman
Pegasus Books, 9781639362509, 624pp.
Publication Date: September 6, 2022
About the Author
Bob Stanley, the author of the acclaimed Yeah! Yeah! Yeah!: The Story of Pop Music from Bill Haley to Beyoncé, has worked as a music journalist, DJ, and record-label owner, and is the cofounder and keyboard player for the band Saint Etienne. He lives in London.