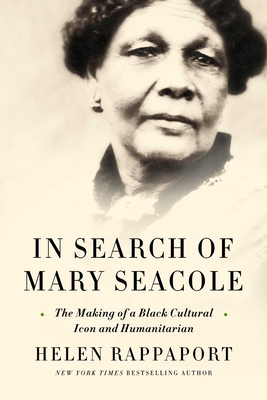 In Search of Mary Seacole
The Making of a Black Cultural Icon and Humanitarian
Hardcover

* Individual store prices may vary.
Other Editions of This Title:
Digital Audiobook (2/16/2022)
Description
From New York Times bestselling author Helen Rappaport comes a superb and revealing biography of Mary Seacole that is testament to her remarkable achievements and corrective to the myths that have grown around her.

Raised in Jamaica, Mary Seacole first came to England in the 1850s after working in Panama. She wanted to volunteer as a nurse and aide during the Crimean War. When her services were rejected, she financed her own expedition to Balaclava, where her reputation for her nursing—and for her compassion—became almost legendary. Popularly known as 'Mother Seacole', she was the most famous Black celebrity of her generation—an extraordinary achievement in Victorian Britain.

She regularly mixed with illustrious royal and military patrons and they, along with grateful war veterans, helped her recover financially when she faced bankruptcy. However, after her death in 1881, she was largely forgotten.

More recently, her profile has been revived and her reputation lionized, with a statue of her standing outside St Thomas's Hospital in London and her portrait—rediscovered by the author—now on display in the National Portrait Gallery. In Search of Mary Seacole is the fruit of almost twenty years of research and reveals the truth about Seacole's personal life, her "rivalry" with Florence Nightingale, and other misconceptions.

Vivid and moving, In Search of Mary Seacole shows that reality is often more remarkable and more dramatic than the legend.
Praise For In Search of Mary Seacole: The Making of a Black Cultural Icon and Humanitarian…
"Riveting. Rappaport discovered a lost portrait of Mary Seacole (1805-1881), a nurse, herbalist, and caregiver who had been as famous as her contemporary, Florence Nightingale. The portrait inspired the author's quest to investigate Seacole's storied life, resulting in a snappy biography. A strong-willed woman revived by an indefatigable biographer."
— Kirkus Reviews, starred review

"Rappaport stumbled upon a haunting portrait of Seacole, painted in 1869, for sale at a flea market. Rappaport bought the painting and began her nearly two-decade dive into an extraordinary life. She leaves no shred of evidence unexamined, which allows her to shade the contours of Seacole's history with facts, details and color. And her work pays off; the Crimean section of In Search of Mary Seacole is the book's beating heart. A comprehensive and much-deserved tribute to an incredible life."
— Linda Villarosa

"A fascinating reclamation of the story of a remarkable woman."
— Booklist

"Rappaport, who discovered a lost portrait of Seacole in 2002 (it now hangs in the National Portrait Gallery), skillfully delineates the racial and gendered dynamics of the period, making clear just how extraordinary Seacole's achievements were. The result is a fitting tribute to woman long denied her due."
— Publisher's Weekly

"Lively and entertaining... Seacole has become such an iconic figure that many legends have grown up around her, but Rappaport's book is a more valuable monument to Seacole's legacy than that painting [she discovered], or many of the other books and poems celebrating her life. Myth is important; but not as important as history."
— The Sunday Times

"An astonishingly rich story. This wonderfully informative book presents Seacole in all her roundness: a ministering angel who was no angel; a driven woman who basked in adulation, and was forgotten for ninety years after her death."
— The Times (London)

'An invaluable contribution to the scholarship on Seacole… Rappaport paints a vivid picture of Seacole's portly and brightly dressed figure treating grateful soldiers… Rappaport's biography is a welcome contribution to our understanding of this truly remarkable medical pioneer.'
— Wendy Moore

'The story of Seacole's life is riven with holes and clouded with myth. And it's these absences and confusions that Helen Rappaort seeks to fill in and smoooth out in her impressive…new biography. The Seacole we meet in these pages is enterprising, intrepid, and…really rather shrewd.'
— Lucy Scholes

'Scholarly biographer Helen Rappaport says that…the authors of school textbooks have failed to check the facts…[and] Rappaport crisps up the details. Rappaport does a terrific job of bringing respectful rigour to her account of Seacole's extraordinary life.'
— Helen Brown

'Rappaport fleshes out Seacole's own account…she throws light on her subject's family [and] there are vivid passages about British and Caribbean society. Rappaport is particularly good at addressing her subtitle [The Making of an Icon]. This portrait of an outstanding woman is timely.'
— Andrew Lycett
Pegasus Books, 9781639362745, 416pp.
Publication Date: September 6, 2022
About the Author
Helen Rappaport is the author of The Romanov Sisters, The Last Days of the Romanovs, and many other critically acclaimed titles. She has been a full-time writer for more than twenty-three years, and in 2003 discovered and purchased an 1869 portrait of Mary Seacole that now hangs in the National Portrait Gallery, sparking a long investigation into Seacole's life and career.