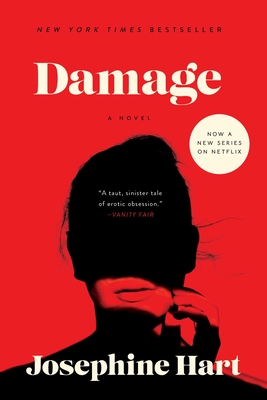 Damage
A Novel
Paperback

* Individual store prices may vary.
Other Editions of This Title:
Paperback (8/10/2010)
Compact Disc (12/6/2016)
Description
This New York Times bestselling novel, now in a brand-new edition, is a daring look at the dangers of obsession and the depth of its shattering consequences.

Damage is the gripping story of a man's desperate obsession and scandalous love affair. He is a man who appears to have everything: wealth, a beautiful wife and children, and a prestigious political career in Parliament. But his life lacks passion, and his aching emptiness drives him to an all-consuming, and ultimately catastrophic, relationship with his son's fiancée.

Chilling and brilliant, Damage is a New York Times bestselling masterpiece of the romantic suspense genre.
Praise For Damage : A Novel…
"Damage is a masterpiece."
— The Washington Post

"A taut, sinister tale of erotic obsession."
— Vanity Fair

"The reader looks on with mingled shock and fascination. A tour de force."
— The New York Times

"The effect is powerful: here is naked obsession, sulfurous, total, scarcely possible to live with."
— Financial Times

"Next to the often-contrived twists and revelations of today's psychological suspense, Hart's spare tale of all-consuming obsession is refreshingly straightforward."
— Library Journal

"A passionate, elegant, ruthless story."
— Iris Murdoch, author of The Bell, Under the Net, and The Black Prince

"To read this tale of mutual obsession is like being abducted. Josephine Hart has managed to create a portrait of psychological and erotic obsession that is so compelling as, for a brief moment, to suck all the oxygen out of the air."
— Los Angeles Times

"The violent dreamscape of Damage stayed with me long after I closed the book. Did I dream it? Did I live it? My very uncertainty tells me I have read something rare."
— Erica Jong, author of Fear of Flying

"A remarkable first novel of awesome accomplishment and quite startling psychological insight. 'Un-put-downable' is here, for once, not hyperbolic."
— Ruth Rendell
Pegasus Crime, 9781639363087, 256pp.
Publication Date: January 10, 2023
About the Author
Josephine Hart, Baroness Saatchi, was an Irish writer, theatrical producer, and television presenter who lived in London. Lady Saatchi wrote the New York Times bestselling novel Damage, which was the basis for the 1992 film of the same name, directed by Louis Malle and starring Jeremy Irons, Juliette Binoche and Rupert Graves.