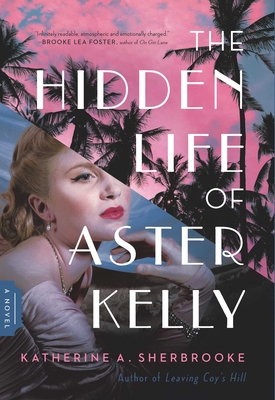 The Hidden Life of Aster Kelly
A Novel
Hardcover

* Individual store prices may vary.
Description
When a runway model in 1940s Hollywood makes a split-second decision intended to protect those she loves, she triggers a cascade of secrets that threatens to upend her daughter's life decades later.

After winning a prestigious fashion design contest in 1948, Aster Kelly flees the world of modeling in New York and arrives in Beverly Hills to claim her prize: a design apprenticeship with Fernando Tivoli. But Fernando has no such job available. He's busily preparing for the opportunity of a lifetime—proving to Galaxy Studios that he is the perfect couturier for their A-list stars. The moment he meets Aster, though, he knows she's the missing ingredient he needs and asks her to be his stand-in model for Lauren Bacall. Aster is dismayed to once again have her creative potential sidelined, but when Fernando promises to mentor her if he wins the contract, she agrees.

Aster and Fernando quickly become romantically entangled with Hollywood insiders—Aster with the head of Galaxy Studios, Fernando with their biggest up-and-coming star, Christopher Page—and Aster and Fernando's friendship becomes essential as they navigate a glamorous and complicated existence where what's real must often be hidden, and no one is quite who they seem. As Aster's ambitions grow and she faces a crisis, and Fernando's future is threatened by the judgmental Hollywood machine, Aster makes a decision that changes the trajectory of their lives forever.

Twenty-five years later, despite knowing little of her mother's time in Hollywood and being raised well outside the reaches of fame, Aster's daughter Lissy is poised to become a Broadway star. But when the musical gets off to a rocky start, Lissy makes a rash decision of her own in an attempt to save the show. And when long-buried secrets blindside them both, mother and daughter are forced to question everything they thought they knew.

The Hidden Life of Aster Kelly is a story about the bonds of chosen family, the cost of fame and the enduring strength of love that will keep you guessing until the last page.
Praise For The Hidden Life of Aster Kelly: A Novel…
"A staunch activist in the fight for women's rights who got her start among New England's abolitionists, [Lucy Stone] has been overshadowed in the historical record by Elizabeth Cady Stanton and Susan B. Anthony…Katherine A. Sherbrooke's Leaving Coy's Hillaims to revive interest in Stone by dramatizing her dogged attempts to support herself and her causes on the lecture circuit — and her equally dogged attempts to reconcile her professional career with motherhood and a "marriage of equals."
— New York Times Book Review; Summer Reading 2021

"Lucy Stone's lifelong contribution to both the suffrage and abolitionist causes makes her a fascinating subject for a novel….Leaving Coy's Hill offers the reader the chance to encounter a range of fascinating famous figures from 19th-century America, including Frederick Douglass and Antoinette Blackwell, Stone's sister-in-law and the first woman to be an ordained minister in America."

— Historical Novels Society

"What could be more timely than Sherbrooke's gorgeously fictionalized and page-turning account of Lucy Stone, the first woman in Massachusetts to earn a college degree, to keep her maiden name, and to fight for women's rights? A stunning look at timeless issues—how we navigate motherhood and career, marriage or staying single, and how we create change in a world that seems to have gone crazy, all told through the lens of one extraordinary heroine."
— Caroline Leavitt, New York Times Bestselling author of Pictures of You and With or Without You

"Sherbrooke brings Lucy Stone back to life with this passionate and inspiring novel that lays bare the enduring struggle to steer between love and career, and the fight to challenge the people and laws holding us back. Timeless and stunning, Leaving Coy's Hill reminds us to fight, to love and to appreciate the power of passion - passion for ideas, people, and women's rights."
— Rachel Barenbaum, author of ATOMIC ANNA
Pegasus Books, 9781639363537, 336pp.
Publication Date: April 4, 2023
About the Author
Katherine A. Sherbrooke is the author of Fill the Sky, which was a finalist for the Mary Sarton Award for Contemporary Fiction and the Foreword Indies Book of the Year, and won a 2017 Independent Press Award as well as Leaving Coy's Hill, also published by Pegasus Books. She is Chair of the GrubStreet Creative Writing Center in Boston and lives south of the city with her husband, two sons, and black lab.