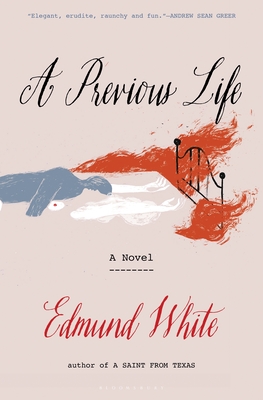 A Previous Life
Another Posthumous Novel
Paperback

* Individual store prices may vary.
Other Editions of This Title:
Hardcover (1/25/2022)
Description
A daring, category-confounding, and ruthlessly funny novel from National Book Award honored author Edmund White that explores polyamory and bisexuality, ageing and love.

Sicilian aristocrat and musician, Ruggero, and his younger American wife, Constance, agree to break their marital silence and write their Confessions. Until now they had a ban on speaking about the past, since transparency had wrecked their previous marriages. As the two alternate reading the memoirs they've written about their lives, Constance reveals her multiple marriages to older men, and Ruggero details the affairs he's had with men and women across his lifetime-most importantly his passionate affair with the author Edmund White.

Sweeping outward from the isolated Swiss ski chalet through Europe and the United States, White's new novel pushes for a broader understanding of sexual orientation and pairs humor and truth to create his most fascinating and complex characters to date. As in all of White's earlier novels, this is a searing, scintillating take on physical beauty and its inevitable decline. But in this experimental new mode-one where the author has laid himself bare as a secondary character-White explores the themes of love and age through numerous eyes, hearts and minds.

Delightful, irreverent, and experimental, A Previous Life proves once more why White is considered a master of American literature.
Praise For A Previous Life: Another Posthumous Novel…
"White's dazzling first quartet of novels forever enlarged what gay writing might do with its then newly found freedoms. With this latest report from the frontiers of desire, he has triumphantly dared to continue that project. A Previous Life is elegant, filthy – and quite possibly the queerest thing you will read all year." —The Guardian

"One of White's innumerable gifts is that he can write frankly and graphically about sex and still find nuance, sanctity, and elevation . . . his language and storytelling have never been simultaneously more satisfying, precise, and alert. . . A Previous Life might be his true masterpiece." —Newsday

"[Edmund White's] honest, fierce and joyful explorations of love, sex and family have been breaking boundaries and engaging readers for nearly 50 years." —AARP

"A dizzyingly enticing and kaleidoscopic take on the spectrum of sexual experiences." —Publishers Weekly, starred review

"Humorous and nearly always irreverent . . . An erotically charged literary romp facing the loss of physical beauty and the inevitable passage of time." —Booklist

"Fans of White's will particularly enjoy this very explicit novel that explores sexuality, aging, and the complexities of love." —Library Journal

"In crisp but erotically charged prose, White provides a compelling character study that presses on the boundaries of sexuality and romance, polyamory and marriage . . . A delightful metafictional novel." —Kirkus Reviews

"Intriguing and inventive." —Electric Literature, "Most Anticipated LGBTQ+ Book of the Year"

"This novel is unlike anything I've read before, and in White's signature style, packs a punch while remaining supremely insightful about human nature." —Buzzfeed, "Most Anticipated LGBTQ+ Books of the Year"

"Funny, sexy, absorbing." —Gawker

"A deeply fascinating exploration of the ways in which lovers new and old share their histories with one another, whether ecstatically or reluctantly, and a consideration of how we choose to make sense of our own lives through the stories we tell." —Bookreporter

"Elegant, erudite, raunchy and fun, America's great Man of Letters is working at the top of his form, giving us a pair of portraits hung against the pattern of history. What a joy to read this master of prose and invention!" —Andrew Sean Greer, Pulitzer Prize winning author of LESS

"The best book in Edmund White's long and extraordinary career." —Benjamin Moser, Pulitzer Prize winning author of SONTAG: HER LIFE AND WORK

"White's project, as always, is to show us the human: the human body as defined by its urges and needs, and the human heart as it evolves through time and experience. In A Previous Life, he also gives us daring experiments of form, of autofiction, and of storytelling. Fresh and inventive and wise." —Rebecca Makkai, author of the Pulitzer Prize finalist THE GREAT BELIEVERS
Bloomsbury Publishing, 9781639730728, 288pp.
Publication Date: May 2, 2023
About the Author
Edmund White is the author of many novels, including A Boy's Own Story, The Beautiful Room Is Empty, The Farewell Symphony, and Our Young Man. His nonfiction includes City Boy, Inside a Pearl, The Unpunished Vice, and other memoirs; The Flâneur, about Paris; and literary biographies and essays. He was named the 2018 winner of the PEN/Saul Bellow Award for Achievement in American Fiction and received the 2019 Medal for Distinguished Contribution to American Letters from the National Book Foundation.