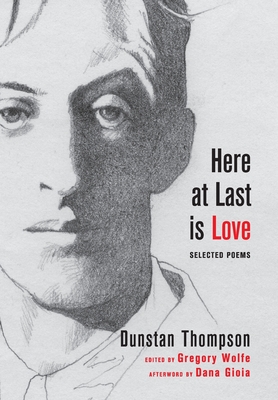 Here at Last is Love
Hardcover

* Individual store prices may vary.
Other Editions of This Title:
Paperback (9/1/2015)
Description
Dunstan Thompson was an American poet of great promise who burst onto the Anglo-American literary scene during World War II. In the words of one contemporary, Thompson was one of the rising ""stars of modern poetry,"" a writer who might one day join the pantheon of poets like Hart Crane, W.H. Auden, Stephen Spender, and Dylan Thomas. And yet Thompson more or less disappeared from public view by the early 1950s. After publishing two volumes of poetry, a travel book, and a novel, Thompson had only a few scattered magazine publications until his death. A posthumous volume was privately printed in England, but the circulation was small. Here at Last is Love: Selected Poems is the definitive, authorized selection of Thompson's best work, revealing to a wider public the literary vision of a ""lost master."" The introduction by editor Gregory Wolfe offers the first extended narrative in print relating Thompson's complex personal story. The afterword by distinguished poet and critic Dana Gioia provides a thorough--and just--assessment of his poetic achievement. Thompson's early poetry was not only technically innovative, but saturated with the language and the drama of gay experience during World War II. Yet just a few years after the war, Thompson returned to the Catholic faith of his childhood, only to find that his new poetic voice was out of sync with the times. In spite of the difficulties he faced in his later years, Thompson did not give up writing poetry, continuing to produce quality work. After his reconversion, the poetry shifted in tone and form from a lush romanticism to an urbane classicism. The later work covers a wide range of subjects, from studies of historical figures to devotional lyrics. This volume will not only stir up the debate about Thompson's sexual and religious passions, but also help complete the history of twentieth-century Anglo-American poetry, finally making his work available to scholars and lovers of poetry everywhere. ""Dunstan Thompson is an immortal diamond too long lost to poetry readers. Here are poems that show the workings of a complex interiority in touch with history's quirks, the world at war, personal relationships, and struggles of the human heart."" --Jerry Harp, author of Creature, Gatherings, and Urban Flowers, Concrete Plains ""This remarkable volume should complicate efforts to make a conversion narrative out of Thompson's poetry. Theological and erotic 'loneliness' in the early work are inextricable from and further enriched by an astonishing sensibility concerning war. What could belong more to Catholic tradition than poetry that joins contemplation, eroticism, and physical suffering?"" --Martha Serpas, author of The Diener and The Dirty Side of the Storm ""Here, for the first time, Gregory Wolfe draws poems from Thompson's entire writing life, including his harrowing, erotic wartime poetry and his almost entirely unavailable, more reflective work of maturity. In doing so, he brings to new audiences the work of an essential mid-century poet, one I am confident will become much more important as his readership expands."" --Kevin Prufer co-editor of Dunstan Thompson: On the Life & Work of a Lost American Master ""Dunstan Thompson's fame underwent an eclipse, an injustice this volume strives to remedy. The preface by Gregory Wolfe and afterword by Dana Gioia begin the task of locating and elucidating Thompson's excellence, both as a novice and a mature poet."" --Alfred Corn, author of Unions ""I am happy to see poems that haven't appeared in anthologies for decades restored, with much else of value, in this selection edited by Gregory Wolfe. Here at Last is Love, indeed, and here again is Dunstan Thompson, with a lyricism and a faith that remain rare in our poetry."" --Mark Jarman, author of Bone Fires: New and Selected Poems ""This volume is a truly significant addition to twentieth-century American poetry and, even more, a vivid, heartbreaking, and authen.
Slant Books, 9781639820139, 162pp.
Publication Date: September 1, 2015