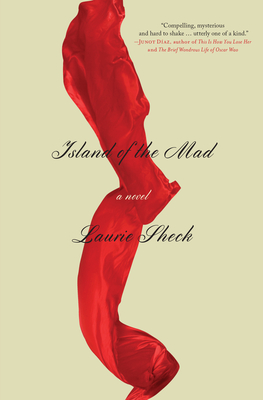 Island of the Mad
A Novel
Paperback

* Individual store prices may vary.
Other Editions of This Title:
Hardcover (12/13/2016)
Description
Following on the heels of her exciting and widely acclaimed A Monster's Notes, and with Sheck's characteristic brilliance of language, Island of the Mad follows the solitary, hunchbacked Ambrose A., as he sets out on a mysterious journey to Venice in search of a lost notebook he knows almost nothing about.



Eventually he arrives in San Servolo, the Island of the Mad, in the Venetian Lagoon, only a few minutes' boat–ride from Venice. At the island's old, abandoned hospital which has been turned into a conference center, he discovers a mess of papers in a drawer, and among them the correspondence and notes of two of the island's former inhabitants—a woman with a rare genetic illness which causes the afflicted to gradually become unable to sleep until, increasingly hallucinatory and feverish, they essentially die of sleeplessness; and her friend, a man who experiences epileptic seizures. As the sleepless woman's eyesight fails, she wants only one thing—that her friend read to her from Dostoevsky's great novel, The Idiot, a book she loves but can no longer read herself. As Ambrose follows their strange tale, everything he has ever known or thought is called into question.
Praise For Island of the Mad: A Novel…
Praise for Island of the Mad

"If there is one thing to take away from the powerful collage of allusions, imagery, and lyricism in Laurie Sheck's Island of the Mad, it is the fundamental importance of human connection. The book foregrounds longed–for and missed connections, half–hearted and tenuous ones, imagined ones, and so many others. As the novel illustrates, even as life takes its unexpected and painful turns, scarring us, stripping off parts of who we are, we persist in our search for connections, which nourish us at moments of greatest need . . . Indeed, there is no better evidence for art's capacity to foster connections than Sheck's own warm and lyrical narrative." —Los Angeles Review of Books

"Sheck returns with a gorgeously written work that layers together strands of history in one bravura act...A dizzyingly inventive work that reveals a strong sense of human connectedness; highly recommended for anyone who doesn't want just plot."—Library Journal

"[P]oet and poetic novelist Sheck draws on classic works [...] to create an exquisitely intricate and moving literary pastiche...In concise, haunting, inquisitive, and incantatory passages, Sheck imaginatively and compassionately explores the mysteries of the body and mind, of brokenness and aloneness, while celebrating language as a lifeline across pain, time, and space."—Booklist


"[Island of the Mad] reads like a lucid dream...Sheck pulls readers through the time–worm canals of Venice on a literary romp that will please fans of the historical and the fantastic alike." —Publishers Weekly

"A poetic meditation on Russian literature, bubonic plague, Venice, and the multiverse... [T]here's a rhythmic force to Sheck's repeated tropes..."—Kirkus

"Laurie Sheck is a true American original, and Island of the Mad is a remarkable hybrid text that at once pushes the boundaries of literary fiction and poetry and speaks to the reader with tremendous insight and compassion about human suffering and survival. At once wise and thrilling, beautiful and challenging, mysterious and inviting, Sheck's work cuts to the heart of all that is most challenging and wondrous about human experience. To read Island of the Mad is to have 'felt the world touch' us – as the narrator puts it – 'with its strange, unpredictable hand.' And what else could we want of literature but this?"— Meghan O'Rourke, author of The Long Goodbye, A Memoir and Once

"Laurie Sheck's The Island of the Mad is nothing short of brilliant. Its hybrid form hovers between poetry and fiction; grounded in a deep understanding of the past it is also perfectly contemporary in its idioms and concerns. This is ambitious, cutting edge work, both intimate and daringly literary at once. Laurie Sheck is an American Original."— Lewis Hyde, author of The Gift

"Laurie Sheck's The Island of the Mad plunges into language like a silken dagger, removing us to plague years and haunted mysteries that might just remind us of contemporary lives and dreams. An amazing, exhilarating read that creates its own maze and accompanies the reader deeper and deeper into a miraculous world." —Jayne Anne Phillips, author of Quiet Dell and Machine Dreams

"Compelling, mysterious and hard to shake…utterly one of a kind." —Junot Diaz, author of The Brief Wondrous Life of Oscar Wao
Counterpoint, 9781640090088, 400pp.
Publication Date: September 12, 2017
About the Author
Laurie Sheck is the author of A Monster's Notes, a re–imagining of Mary Shelley's Frankenstein, which was selected by Entertainment Weekly as one of the 10 Best Fictions of the year (2009), and long–listed for the Dublin Impac International Fiction Prize. Her five books of poems include Captivity and The Willow Grove, which was a finalist for the Pulitzer Prize. A recipient of awards from the Guggenheim Foundation and the National Endowment for the Arts, she has also been a fellow at the Radcliffe Institute for Advanced Study at Harvard, and the Cullman Center for Scholars and Writers at the New York Public Library. Her work has appeared in numerous publications including the New Yorker, The New York Times, The Paris Review, and The Nation. She is a member of the graduate faculty at the New School, and lives in New York City.