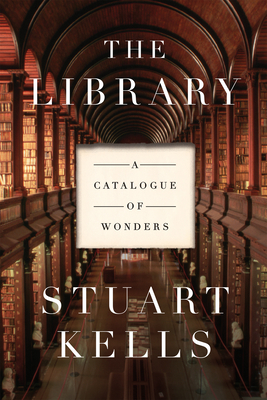 The Library
A Catalogue of Wonders
Hardcover

* Individual store prices may vary.
Other Editions of This Title:
Digital Audiobook (1/4/2021)
Paperback (3/12/2019)
Description
Excellent . . . Tracks the history of that greatest of all cultural institutions. --The Washington Post
Libraries are much more than mere collections of volumes. The best are magical, fabled places whose fame has become part of the cultural wealth they are designed to preserve. Some still exist today; some are lost, like those of Herculaneum and Alexandria; some have been sold or dispersed; and some never existed, such as those libraries imagined by J.R.R. Tolkien, Umberto Eco, and Jorge Luis Borges, among others.
Ancient libraries, grand baroque libraries, scientific libraries, memorial libraries, personal libraries, clandestine libraries: Stuart Kells tells the stories of their creators, their prizes, their secrets, and their fate. To research this book, Kells traveled around the world with his young family like modern-day "Library Tourists." Kells discovered that all the world's libraries are connected in beautiful and complex ways, that in the history of libraries, fascinating patterns are created and repeated over centuries. More important, he learned that stories about libraries are stories about people, containing every possible human drama.
The Library is a fascinating and engaging exploration of libraries as places of beauty and wonder. It's a celebration of books as objects, a celebration of the anthropology and physicality of books and bookish space, and an account of the human side of these hallowed spaces by a leading and passionate bibliophile.
Praise For The Library: A Catalogue of Wonders…
Praise for The Library

"In this free-roaming history of libraries, Kells, well read, well traveled, ebullient, and erudite, relishes tales of innovation, obsession, and criminality . . . Kells' revelatory romp through the centuries cues us to the fact that, as has so often been the case, libraries need our passionate attention and support, our advocacy, gratitude, and (given Kells' tales of book-kissing, including Coleridge pressing his lips to his copy of Spinoza) love." —Booklist (starred review)

"A bright, idiosyncratic tour of a book historian's collected knowledge about libraries and bibliophilia . . . The book assembles snippets from a wide variety of disciplines into an eclectic history of libraries as cultural, political, aesthetic, literary, mnemonic, and, above all, personal phenomena dedicated to collecting and preserving the written word." —Kirkus Reviews

"Book-trade historian Kells (Penguin and the Lane Brothers) blends scholarly expertise with sharp wit in this enjoyable history of libraries . . . Kells's passion for this subject suffuses this pleasurable book, calling readers to understand the importance of the library's role preserving humanity's history and why libraries are still relevant today." —Publishers Weekly

"If you think you know what a library is, this marvellously idiosyncratic book will make you think again." —The Sydney Morning Herald

"The Library charts the transition between formats such as papyrus scrolls, parchment codices, moveable type, and ebooks. There are many whimsical detours along the way, and Kells even devotes a chapter to fantasy libraries . . . Kells translates his stunning depth of research into breezy digestibility." —Big Issue

"There is so much to learn and enjoy in this book, with the impressive amount of research never weighing down the accessible writing . . . Kells makes an elegant plea for the future library—one that will resonate with most book lovers." —Good Reading

"Rich with gossipy tales of the inspired, crazy, brilliant, and terrible people who have founded or encountered libraries through history . . . Kells's reflections are wonderfully romantic, wryly funny." —The Australian

"The Library is a treasure trove and reaching the last page simply prompts an impassioned cry for more of the same." —Otago Daily Times

"The Library is ultimately an engaging and well-written volume by a knowledgeable expert and passionate fan of the subject matter. The result is almost like poetry, a rich ode to all things books and everything we love about them. The enjoyment and engagement is so palpable you can almost taste it and Kells proves to be the perfect guide through the subject matter and history, which ironically could have been lost were it not recorded in this faithful tome. You could consider The Library the good book, except that that one was already taken…" —The Australian Review

"Brimming with strange anecdotes about a small handful of books owned by a small handful of people; lost books yielding strange surprises, from discarded condoms to misplaced dental appointment slips . . . Kells's The Library is at its best when it recounts the stories of . . . ancient libraries, charting the accidental trails of books, and therefore ideas, through processes of translating, pirating and appropriation." —The Conversation

Praise for Penguin and the Lane Brothers: The Untold Story of a Publishing Revolution

Winner of the Ashurst Business Literature Prize

"A delight to read – informative and entertaining at the same time." —Alan Cameron AO, Chair of the judging panel, Ashurst Business Literature Prize

"Kells' story is informative and entertaining and will appeal to anyone with the slightest interest in the world of books. In more than 30 years at Penguin Australia, I never got this close to the truth about Penguin." —The Sydney Morning Herald

"Penguin and the Lane Brothers is written in a conversational style, wearing the enormous amount of Kells' research lightly. It will be essential reading for all those fascinated by "books about books" and about the foundation stories of great businesses." —Books+Publishing Magazine

"Kells unearthed a vast array of sources to reveal that the lesser-known Lane brothers, Richard and John (who were co-founders with Allen and held equal ownership), were not only instrumental in the hatching of Penguin but also the wings that made this flightless bird soar… It's not a hyperbole to describe Stuart Kells's dedication to providing a detailed historical report of Penguin Books and the Lane brothers as extraordinary… an immersive reading experience." —BoldFace, the official blog of Editors Toronto

"In Penguin and the Lane Brothers, bibliophile and business consultant Stuart Kells debunks many of the Lane myths and reveals a rather different and thoroughly fascinating story of the development of the company… Kells' story is informative and entertaining and will appeal to anyone with the slightest interest in the world of books. In more than 30 years at Penguin Australia, I never got this close to the truth about Penguin." —Robert Sessions, former publishing director of Penguin Australia

"Kells's new book, Penguin and the Lane Brothers, is a revisionist early history of the firm via a biography of its founding brothers—Allen, Richard, and John. Kells persuasively corrects the imbalance in the extant biographies and histories, which focus on Allen, and presents the neglected but vital contribution of his younger siblings." —Australian Book Review

Praise for Rare

"Stuart Kells's life of Melbourne bookseller Kay Craddock is a shibboleth of sorts, a story password-protected for bibliophiles… The drama of Kells's account arises from a young woman's effort to bring her own eye (that combination of aesthetic tingle and contextual knowledge that true booksellers and collectors possess) into alignment with the exigencies of the marketplace. It turns out Craddock's success has always relied on making the beautiful profitable." —The Australian

"The story of Kay Craddock Antiquarian Booksellers is a wonderful tale of a great partnership (between mother and daughter); of a small business that forged its way into Melbourne's glorious history on Collins Street; and of a world that embraces change but has been a constant in the lives of readers from all corners of the globe." —Mary Dalmau, The Age

"An excellent book by Stuart Kells on the history of antiquarian bookselling in Australia through the lens of the personal and business lives of Kay and Muriel Craddock." —International League of Antiquarian Booksellers

"If… you are one of those whose steps slow to a shuffle while passing second-hand booksellers' windows, who chase dust spiders from charity shop shelves in search of treasure or who even (like some of my former customers) divert rare book purchases to an address less likely to raise a spouse's ire, welcome in: here is a book trade tale to relish." —Geordie Williamson, The Australian

Praise for Outback Penguin

"The eponymous Penguin is Richard Lane, one of the three Lane brothers who founded Penguin Books. In 1922 the 17-year-old Lane set off from his native Bristol in search of adventure and wound up in Renmark, South Australia, as a "Barwell Boy"… The diary he kept is classic archival material, the writing strikingly mature for someone so young." —Steven Carroll, The Sydney Morning Herald

Counterpoint LLC, 9781640090200, 288pp.
Publication Date: April 10, 2018
About the Author
Stuart Kells is an author and book-trade historian. His 2015 history of Penguin Books, Penguin and the Lane Brothers, won the prestigious Ashurst Business Literature Prize. Rare, his critically acclaimed biography of Kay Craddock--the first female president of the International League of Antiquarian Booksellers--was published in 2011. An authority on rare books, Kells has written and published on many aspects of print culture and the book world.
or
Not Currently Available for Direct Purchase