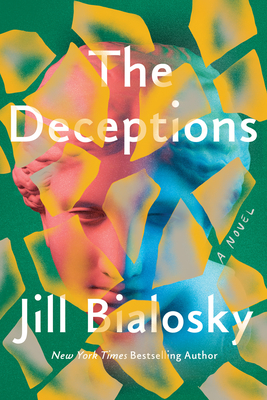 The Deceptions
A Novel
Hardcover

* Individual store prices may vary.
Other Editions of This Title:
Compact Disc (9/6/2022)
MP3 CD (9/6/2022)
Description
An explosive tale of art and myth, desire and betrayal, from New York Times best-selling author Jill Bialosky

Something terrible has happened and I don't know what to do. An unnamed narrator's life is unraveling. Her only child has left home, and her twenty-year marriage is strained. Anticipation about her soon-to-be-released book of poetry looms. She seeks answers to the paradoxes of love, desire, and parenthood among the Greek and Roman gods at the Metropolitan Museum of Art. As she passes her days teaching at a boys' prep school, spending her off-hours sequestered in the museum's austere galleries, she is haunted by memories of a yearlong friendship with a colleague, a fellow poet struggling with his craft. As secret betrayals and deceptions come to light and rage threatens to overwhelm her, the pantheon of gods assume remarkably vivid lives of their own, forcing her to choose between reality and myth in an effort to free herself from the patriarchal constraints of the past and embrace a new vision for her future.

The Deceptions is a page-turning and seductively told exploration of female sexuality and ambition as well as a human drama that dares to test the stories we tell ourselves. It is also a brilliant investigation of a life caught between the dueling magnetic poles of privacy and its appropriation in art and literature. Celebrated poet, memoirist, and novelist Jill Bialosky has reached new and daring heights in her boldest work yet.
Praise For The Deceptions: A Novel…
Praise for The Deceptions:

A Literary Hub Most Anticipated Book of the Year

"Poetry and inspiration, obsession and divinity, all come under Bialosky's purview in her elegantly constructed fable of trying to create while everything else falls apart." —Ed Simon, The Millions, A Most Anticipated Book of the Year

"A stunning tale of entitlement, betrayal, creativity, and true power." —Booklist

"The great Greeks—Odysseus, Herakles, Aphrodite, and, centrally, Leda and the Swan—circle around this powerfully written account of a woman in a kind of slow crisis and help her interrogate her marriage and desires. Then, in an extraordinary, explosive final act, a profound act of betrayal lifts the novel towards genuine tragedy. The Deceptions is a deeply felt and formally original tour-de-force." —Salman Rushdie

"In The Deceptions Jill Bialosky captures the gutted hollow of the empty nest, the weight of marriage, and the ember of desire that is desperate for air. Bialosky explores the female artist's need to take risks, to be seen and known, against her need for comfort, safety, and home. In stunning, finely tuned prose, Bialosky captures the music of marriage, the complexity of female ambition, sexual hunger, and rage. This story unfurls in a beautiful weave among objects from The Metropolitan Museum of Art. Myth, archetype, and history come to life and in the end we are returned to the present—this moment—and the question of what it is to be human, to risk, to fail, to suffer the pain of love." —A.M. Homes

"At once classical and contemporary, Jill Bialosky's powerful new novel weaves together themes of art and life, sexuality and family, gender dynamics and selfhood. The Deceptions is urgent, unsettling, and utterly consuming—a triumph." —Claire Messud

"I was immediately swept away by this searing, elegant portrait of a woman in a place of psychological and emotional precarity. Jill Bialosky brings us with great delicacy and arresting sensuality into a world which becomes so real we cannot look away. The Deceptions is at once mesmerizing and masterful." —Dani Shapiro, author of Inheritance

Praise for The Prize:

"The Prize is a graceful, quiet novel that finds its gravitational pull in the dissonance between the transcendence of art and the slog of everyday life. Bialosky has several books of poetry to her name, and her writing glows with insight . . ." —The New York Times Book Review
 
"Among the most resonant aspects of the novel is its deep understanding about the communicative nature of art." —David Ulin, Los Angeles Times

"This graceful novel balances the transcendence of art against the slog of everyday life." —The New York Times Sunday Book Review (Editor's Choice)
 
"This sharp–eyed novel of the art world follows the fortunes of a partner in a prestigious New York gallery who struggles with the memory of his brilliant but volatile father, the tempers of a high–maintenance artist and her competitive husband, the distress of a rocky marriage, and the temptation of extramarital adventure. The novel's characters are caught in predictable midlife crises—'Do you ever wake up and wonder how you got here?' one asks—but Bialosky deepens our sense of these troubles with well–chosen details, such as the protagonist's luxury–goods addiction. The plot is well crafted, carrying the reader to a surprising end." —The New Yorker

"The portrayal of an art world torn between crass commercialism and genuine expression is grippingly achieved. Ms. Bialosky is a book editor as well as a writer, and she knows something about the agonies and rewards of cajoling great work from basket–case artists. And when she describes the effect of paintings upon the senses (simply viewing Pierre Bonnard's 'Le Petit Déjeuner,' 'full of light and mystery,' causes the stress to drain from Edward's body), her own writing harnesses the agility and beauty the book so rapturously exalts." —Sam Sacks, The Wall Street Journal

"There is a Jamesian aspiration in this novel of bitter rivalries and thwarted passions, which hops between New York, Europe and Edward's home in Connecticut, where he lives with his disengaged wife and daughter" —Joanna Scutts, The Washington Post
 
"A poet, memoirist, and editor, Bialosky brings an insider's understanding of the complicated layers of being an artist today to this novel in which an art dealer is thrown off balance in the run–up to an awards competition, with ripples affecting his family, his future, and the artists he takes under his wing." —The Boston Globe
Counterpoint, 9781640090248, 304pp.
Publication Date: September 6, 2022
About the Author
JILL BIALOSKY is the author of six acclaimed collections of poetry, three critically acclaimed novels, and two memoirs, including History of a Suicide: My Sister's Unfinished Life, a New York Times bestseller. Her poems and essays have appeared in The Best American Poetry; The New Yorker; The Atlantic; Harper's Magazine; O, The Oprah Magazine; The Kenyon Review; Harvard Review; and The Paris Review, among other publications. She is executive editor and vice president at W. W. Norton & Company. Her work has been a finalist for the James Laughlin Award, the Paterson Poetry Prize, and the Books for a Better Life Awards. In 2014, she was honored by the Poetry Society of America for her distinguished contribution to poetry. She lives in New York City.