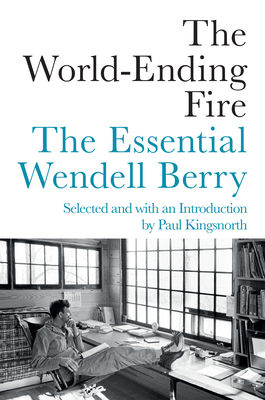 The World-Ending Fire (Hardcover)
The Essential Wendell Berry
Counterpoint LLC, 9781640090286, 368pp.
Publication Date: May 8, 2018
Other Editions of This Title:
Paperback (5/14/2019)
* Individual store prices may vary.
Description
"Mr. Berry's sentences and stories deliver a great payload of edifying entertainment, which I hungrily consume, but it is the bass note of morality thumping through his musical phrases that guides me with the most constant of hands upon my plow." ―Nick Offerman, New York Times bestselling author of Paddle Your Own Canoe
"Read Berry] with pencil in hand, make notes, and hope that somehow our country and the world will soon come to see the truth that is told here." ―The New York Times
"He is unlike anybody else writing today." ―New Statesman
In a time when our relationship to the natural world is ruled by the violence and greed of unbridled consumerism, Wendell Berry speaks out in these prescient essays, drawn from his fifty-year campaign on behalf of American lands and communities
The writings gathered in The World-Ending Fire are the unique product of a life spent farming the fields of rural Kentucky with mules and horses, and of the rich, intimate knowledge of the land cultivated by this work. These are essays written in defiance of the false call to progress and in defense of local landscapes, essays that celebrate our cultural heritage, our history, and our home.
With grace and conviction, Wendell Berry shows that we simply cannot afford to succumb to the mass-produced madness that drives our global economy--the natural world will not survive it.
Yet he also shares with us a vision of consolation and of hope. We may be locked in an uneven struggle, but we can and must begin to treat our land, our neighbors, and ourselves with respect and care. As Berry urges, we must abandon arrogance and stand in awe.
About the Author
WENDELL BERRY, an essayist, novelist, and poet, has been honored with the T. S. Eliot Prize for Poetry, the Aiken Taylor Award for Modern American Poetry, the John Hay Award of the Orion Society, and the Richard C. Holbrooke Distinguished Achievement Award of the Dayton Literary Peace Prize, among others. In 2010, he was awarded the National Humanities Medal by Barack Obama, and in 2016, he was the recipient of the Ivan Sandrof Lifetime Achievement Award from the National Book Critics Circle. Berry lives with his wife, Tanya, on their farm in Henry County, Kentucky.
Praise For The World-Ending Fire: The Essential Wendell Berry…
Praise for The World-Ending Fire

"Wherever we live, however we do so, we desperately need a prophet of responsibility; and although the days of the prophets seem past to many of us, Berry may be the closest to one we have. But, fortunately, he is also a poet of responsibility. He makes one believe that the good life may not only be harder than what we're used to but sweeter as well." —The New York Review of Books

"A pleasing selection of essays from the lifelong farmer and award-winning writer . . . A great place to start for those who are not familiar with Berry's work; for those who are, it will be a nostalgic stroll down a rural, wooded Memory Lane. In this day and age, his writings are must-reads." —Kirkus Reviews (starred review)

"Wendell Berry's admirers—a loyal band several generations deep—may blink at the subtitle of this selection of his essays. 'Essential? What's not essential?' To read or reread these pieces is, however, to warmly affirm editor Kingsnorth. Berry is the philosopher and the prophet of agriculture, community, stability, and friendship, and there is nothing sentimental or utopian anywhere in his advocacy of those things." —Booklist (starred review)

"Berry's graceful essays have long been models of eloquence, insight, and conviction . . . Newcomers will find the works exceptionally timely, and the book as a whole a thoughtful introduction to Berry's writing." —Publishers Weekly

"Berry reminds us that to take small solutions off the table is also a kind of giving up. Some conservationists believe that because ecological problems are structural, there is no point in growing and cooking your own food, in setting down roots in a community, in being kind to your neighbors . . . You may as well drive as much as you want, waste paper towels, and buy meat from corporations that keep pigs in excrement-coated cages. Berry reminds us that to live this way is to forfeit our souls. It is important—no matter what is going on at a macro level—to be kind to your family, your neighbors and the land." —The New Republic

"Compelling, luminous ... our modern-day Thoreau. He is unlike anybody else writing today. He writes at least as well as George Orwell and has an urgent message for modern industrial capitalism ... nobody can risk ignoring him." —Andrew Marr, New Statesman

"A fascinating tribute to the life of the land ... Berry's writings are timelier than ever." —Laura Garmeson, Financial Times

"This collection sees the American published on these islands for the first time, and now he has finally stepped ashore, it's worth getting to know him ... Berry overturns plenty of thoughtful topsoil on environmental issues with a precise pen, and clears any thicket of cosy consensus with a clear eye and cutting hand." —Irish Times

"Here is a human being speaking with calm and sanity out of the wilderness. We would do well to hear him." —Washington Post Book World

Praise for The Art of Loading Brush

"Berry's essays, continuing arguments begun in The Unsettling of America 40 years ago, will be familiar to longtime readers, blending his farm work with his interests in literature old and new. . . . Vintage Berry sure to please and instruct his many admirers." —Kirkus Reviews (starred review)

Praise for A Small Porch

"[Berry's] essays, poetry and fiction have fertilized a crop of great solace in my life, and helped to breed a healthy flock of good manners, to boot. As I travel this unlikely road of opportunity, as a woodworker and writer, sure, but most often as a jackass, I have his writings upon which to fix my mind and my heart, to keep my life's errant wagon between the ditches, as it were. Mr. Berry's sentences and stories deliver a great payload of edifying entertainment, which I hungrily consume, but it is the bass note of morality thumping through his musical phrases that guides me with the most constant of hands upon my plow." —Nick Offerman, New York Times bestselling author of Paddle Your Own Canoe

"Thoreau would be gratified . . . Here are Sabbath Poems that praise the given life."—Lexington Herald-Leader

"[Berry's poems] shine with a gentle wisdom of a craftsman who has thought deeply about the paradoxical strangeness and wonder of life." —The Christian Science Monitor

"Wendell Berry is one of those rare individuals who speaks to us always of responsibility, of the individual cultivation of an active and aware participation in the arts of life, be they those of composing a poem, preparing a hill for planting, raising a family, working for the good of oneself and one's neighbors, loving." —The Bloomsbury Review

"Berry's craftsmanship remains impeccable. Few other poets have such chaste and precise diction or manage line and stanza with such unaffected serenity." —Booklist

Praise for It All Turns on Affection

"These powerful, challenging essays show why Berry's vision of a sustainable, human-scaled society has proven so influential." —Publishers Weekly

Praise for Imagination in Place

"Berry's latest collection of essays is the reminiscence of a literary life. It is a book that acknowledges a lifetime of intellectual influences, and in doing so, positions Berry more squarely as a cornerstone of American literature… a necessary book. Here, Berry's place as the 'grandfather of slow food' or the 'prophet of rural living' is not questioned. This book ensures we understand the depth and breadth of Berry's art." —San Francisco Chronicle

"[A] stellar collection… Berry turns over well-tilled, ever-fertile ground in Imagination in Place. His ideas flow beyond the channels of agrarian enthusiasm. Foodies, architects, transportation engineers, and other writers are adopting and adapting his concepts, perhaps leading to what he envisions will one day be 'an authentic settlement of our country.'" —The Oregonian

"For those who've already come to admire Berry's moral clarity and closely argued critiques of contemporary society, Imagination in Place is a welcome chance to continue the conversation." —Christian Science Monitor

Praise for The Hidden Wound

"A profound, passionate, crucial piece of writing… Few readers, and I think, no writers will be able to read it without a small pulse of triumph at the temples: the strange, almost communal sense of triumph one feels when someone has written truly well… The statement it makes is intricate and beautiful, sad but strong." —Washington Post

"Berry has produced one of the most humane, honest, liberating works of our time. It is a beautiful book. More than that, it has become at one stroke an essential book. Every American who can read at all should read it." —Village Voice

"One of the most impressive aspects of Berry's book is the authentic simplicity of his style, the directness with which that style can accommodate Tolstoy, Malcolm X, work songs, anecdotes, speculation, and polemic indignation… The strength of this book is its connecting America's two major problems: the exploiting of men and land; it deserves as wide an audience as possible." —Louisville Courier-Journal

"One of the most touching and true personal testaments concerned with our country's racial dilemma." —Publishers Weekly

"The brunt of the book is to wake us up, page after page, from stupidity. 'It is a kind of death,' Montaigne said, 'to avoid the pain of well doing, or trouble of well living.' Wendell Berry makes that observation rip the air like an alarm clock." —Guy Davenport, author of The Death of Picass

Praise for A Continuous Harmony

"This book is broad and leisurely and important. Something like the river itself on which Wendell Berry lives. It is full of wide and flowing thoughts and one thing leads to another in the manner that nature intended—or used to. The language ranges from the grave and beautiful to the sharp and specific, depending on the need to express the vast variety of subjects he presents." —The Nation

Praise for Citizenship Papers

"The courage of a book, it has been said, is that it looks away from nothing. Here is a brave book." —Charlotte Observer

"Berry says that these recent essays mostly say again what he has said before. His faithful readers may think he hasn't, however, said any of it better before." —Booklist, Starred Review

"His refusal to abandon the local for the global, to sacrifice neighborliness, community integrity, and economic diversity for access to Wal-Mart, has never seemed more appealing, nor his questions of personal accountability more powerful." —Kirkus

Praise for Another Turn of the Crank: Essays

"Read [Berry] with pencil in hand, make notes and hope that somehow our country and the world will soon come to see the truth that is told here." —New York Times

"The rarest (and highest) of literary classes consist of that small group of authors who are absolutely inimitable… One of the half-dozen living American authors who belongs in this class is Wendell Berry." —Los Angeles Times

"Berry is a philosopher, poet, novelist and an essayist in the tradition of Emerson and Thoreau . . . like Thoreau, he marches to a different drummer, a drummer we would do well to be aware of, if not to march to." —San Francisco Chronicle

"The best serious essayist now at work in the United States." —Edward Abbey, author of Hayduke Lives

"Berry is the prophetic American voice of our day." —Christian Science Monitor

"A Kentucky farmer and writer, and perhaps the great moral essayist of our day, Berry has produced one of his shortest but also most powerful volumes." —New York Review of Books


or
Not Currently Available for Direct Purchase