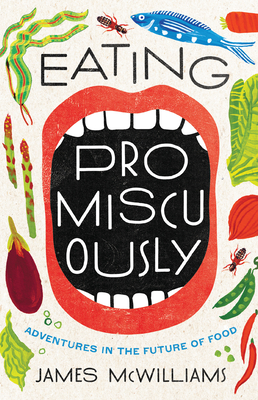 Eating Promiscuously (Paperback)
Adventures in the Future of Food
Counterpoint LLC, 9781640090323, 352pp.
Publication Date: May 8, 2018
Other Editions of This Title:
Hardcover (5/16/2017)
* Individual store prices may vary.
Description
"The need to reexamine assumptions about how we feed ourselves becomes ever more important. McWilliams does not shy from imagining radical solutions to these issues . . . Sure to be controversial." ―Booklist The human practice of farming food has failed. There are 7,500 known varieties of domesticated apples; we regularly eat about five. Seventy-five percent of the world's food derives from five animals and twelve plants. Factory farmed meat is a major source of greenhouse gas emissions (about 14 percent, larger than transportation) and consumes 75 percent of the water in drought-prone regions such as the West. We are stuck in a rut of limited choices, and the vast majority of what we eat is detrimental to our health and the welfare of the planet. But what if we could eliminate agriculture as we know it? What if we could start over? James McWilliams's search for more expansive palate leads him to those who are actively exploring the fringes of what we can eat, a group of outliers seeking nutrition innovation outside the industrial food system. Here, we meet insect manufacturers, seaweed harvesters, road kill foragers, plant biologists, and oyster farmers who seek to open both our minds and our mouths--and to overturn our most basic assumptions about food, health, and ethics. Eating Promiscuously generates hope for a more tasteful future--one in which we eat thousands of foods rather than dozens--with a new philosophy that could save both ourselves and our planet.
About the Author
JAMES MCWILLIAMS is an historian and writer based in Austin, Texas. He is the author of seven books, including The Modern Savage: Our Unthinking Decision to Eat Animals, Just Food: Where Locavores Get It Wrong and How We Can Truly Eat Responsibly, and A Revolution in Eating: How the Quest for Food Shaped America. His essays have appeared in The New Yorker, The New York Times, The Paris Review, Harper's Magazine, The Atlantic, Slate, Modern Farmer, The American Scholar, The New York Times Book Review, The Washington Post, The Millions, and Pacific Standard, where he is a contributing writer.
Praise For Eating Promiscuously: Adventures in the Future of Food…
Praise for Eating Promiscuously

"The author's overriding assumption is that it would be better for people, animals, and the environment if our diets were more diversified. Hundreds of plants and protein sources, he rightly notes, are overlooked in favor of a narrow range of food . . . McWilliams presents a solid argument." ―Kirkus Reviews

"The need to reexamine assumptions about how we feed ourselves becomes ever more important. McWilliams does not shy from imagining radical solutions to these issues . . . Sure to be controversial." ―Booklist

Praise for Just Food

"McWilliams has guts. Some of the changes he champions will draw fire from all quarters…but he also presents ideas that may appeal to both the greenerati and capitalistas…. McWilliams forgoes sloganeering in favor of measured logic, but he doesn't downplay the notion that a worldwide food crisis is imminent and that we had better fix things. Soon." —Mike Shea, Texas Monthly

"McWilliams presents some appealing alternatives to the views of both the agrarian romantics on the left and the agribusiness capitalists on the right. The author advocates a judicious use of genetically engineered seeds and food products, believes we must reduce our passion for land-animal protein…and urges more attention to the nascent science of aquaponics… He concludes that the best food-production model may be 'a broad pattern of regionally integrated, technologically advanced, middle-sized farms.' Rich in research, provocative in conception and nettlesome to both the right and the left." —Kirkus Reviews

"Enlightening… James E. McWilliams is stirring up trouble, the kind that gets noticed-and the kind that makes us all scratch our heads and think harder… Just Food ultimately offers a brave, solid argument that anyone who cares about their food-and everyone should care about their food-should consider." —Meridith Ford Goldman, Atlanta Journal-Constitution

Praise for A Revolution in Eating

"The lucid style and jaunty tone… make this accessible to all." —Publishers Weekly

"Delicious from start to finish." —Kirkus Reviews

"Meticulously researched and packed with fascinating detail, this book provides an excellent account of the culinary development of Colonial America." —Library Journal

"A Revolution in Eating, a lively new tour of Colonial American 'foodways.'" —Joshua Glenn, Boston Globe

"Flexibility, even tolerance may well have contributed to the uniqueness of American food, according to historian McWilliams in this extremely rich, readable book." —The FOOD Museum Online

"Fascinating… Anyone curious about the cultural history of that meatloaf on the dinner plate will gobble it up." —Tina Jordan, Entertainment Weekly

Praise for The Modern Savage

"McWilliams is an expressive and persuasive writer." —Library Journal

"McWilliams offers convincing arguments for animal rights." —Kirkus Reviews

"I think James McWilliams is far and away the single best writer the vegans have so far produced…One of the most intelligent books I have ever read. His is a powerful voice that will resonate far beyond those interested in animal rights." —Jeffrey Moussaieff Masson, Ph.D., bestselling author of Dogs Never Lie About Love

"McWilliams has issued a powerful challenge to the 'compassionate omnivore' movement. The Modern Savage is a book that everyone concerned about food, animals and the environment should read." —Peter Singer, author of Animal Liberation and Professor of Bioethics at Princeton University

"James McWilliams ably demonstrates that we've often underestimated the mental lives of farm animals, and that we need to start taking their interests more seriously. He doesn't skirt tough issues nor does he take positions based on what may be popular at the time. Such a moral accounting would lead to a revolution in both how we produce food and what food we eat." —Paul Shapiro, Vice President, The Humane Society of the United States

"James McWilliams accomplishes something at once simple and profound. He explains in plain, accessible, and highly readable language what follows if we reject factory farming as morally reprehensible animal abuse, as most of us do. First, if animals matter morally, then killing them in any context is always wrong when we have a vegan alternative. Second, consumers of 'humane' or 'sustainable' animal-based foods will be surprised to learn that animal suffering routinely attends local and small-scale animal farming. McWilliams tells a riveting story while building an unassailable argument for veganism as the answer to our well-justified revulsion towards industrialized animal agriculture." —Sherry F. Colb, Professor of Law, Cornell University, and author of Mind If I Order the Cheeseburger and Other Questions People Ask Vegans

Praise for American Pests

"[A] colorful chronicle of pest management in the United States… As well written as it is thorough." —Publishers Weekly

"[McWilliams] knows how to address unusual historical topics in rich detail…Poignant…Thorough…Recommended." —Library Journal

"[An] articulate, well-organized… excellent primer." —Irene Wanner, Seattle Times

"[McWilliams'] book should resonate in these times of GM temptations and global food shortages." —Times Literary Supplement

"Highly recommended." —Choice

"A solid contribution to U.S. environmental history, one that is refreshingly ambitious in its chronological scope." —Sarah T. Phillips, American Historical Review

"An engaging and important book." —David Kinkela, Technology and Culture

Praise for The Pecan

"Pecans are America's native nut, one rarely seen outside North American kitchens. Although the New World readily exported tobacco, tomatoes, chili peppers, and potatoes to Europe, there was simply no market for pecans, perhaps because they seemed too similar to Europe's walnuts and because pecan wood is not generally desirable for lumber. From the beginning, pecans were harvested from the wild, but growing demand soon rendered such foraging obsolete. By the turn of the twentieth century, advances in grafting made pecan orchards possible, and the number of pecan trees increased exponentially, especially in Georgia. The invention of corn syrup gave birth to pecan pie, and the pecan became indissolubly linked with Southern cuisine. Recent years have witnessed a remarkable and hugely profitable resurgence in pecan cultivation due to explosive demand for the nut from China, where pecans' exotic novelty has transformed the humble nut into a coveted status symbol." —Mark Knoblauch, Booklist

"This excellent and charming story describes a tree that endured numerous hardships to become not only a staple of Southern cuisine but an American treasure." —Ann Wilberton, Pace University Library, Library Journal

"Writer and historian James McWilliams chronicles the fascinating rise of the familiar and delicious foodstuff known as the buttery main ingredient in Southern staples such as pralines and pecan pie." —Atlanta Journal Constitution

"McWilliams's previous writing embraces food and agriculture from a deliciously human point of view. Here, spurred by a personal interest in the pecan tree in his own yard, he pays homage to a subject of particular interest (and pleasure) to Texans." —Texas Books in Review

"Food historian McWilliams, sparked by the realization that he knew nothing about the wild pecan tree that dominated his backyard, wrote this volume as an endeavor of curiosity. Delving into various aspects of the Carya illinoinensis (named for Illinois, a fertile area for these indigenous trees) and their nuts, the book treats readers to a multidimensional exploration of a surprisingly fascinating subject [...] McWilliams marches through American (and pre-American) history, viewing all through the lens of the pecan, and in doing so exposes the very personality of the tree and nut analogous to Americans themselves: willful, hardened, wild and dynamic. Summing up: Highly recommended." —Choice