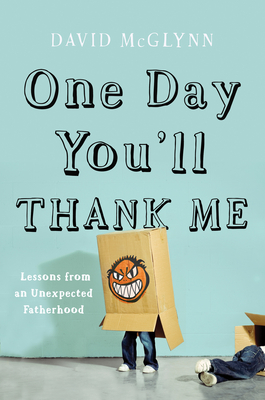 One Day You'll Thank Me: Lessons from an Unexpected Fatherhood (Hardcover)
Lessons from an Unexpected Fatherhood
Counterpoint LLC, 9781640090392, 272pp.
Publication Date: June 5, 2018
Description
Based on popular pieces that have appeared in The New York Times, Parents, Men's Health, Real Simple and O: the Oprah Magazine, McGlynn captures the joys, terrors, moral ambiguities, and absurdities of raising boys in modern America. Though he grew up longing to be closer to his dad who lived three states away, fatherhood caught David McGlynn completely off guard. His sons were conceived in quick succession--the first when the author was a dirt-poor student and the second not long after he'd moved his family across the country to start a new job. As a result, McGlynn found himself colliding into fatherhood as though it were a car accident, at once scared to death and utterly thrilled. Just like many new fathers, he hopes he's doing the right thing--but he's never quite sure. One Day You'll Thank Me translates the small, often hilarious moments common among parents of young children, especially dads, into "life lessons" about fatherhood. Comprised of 24 interconnected chapters--many of which have appeared in such prominent publications as The New York Times, Men's Health, Parents, Real Simple, O Magazine, and elsewhere--the stories invoke a sense of humor and honesty. This is poignant memoir filled with the insights a humorous episode might yield if we pay attention, and an expanded understanding of what it means to be an American dad.
About the Author
DAVID MCGLYNN is the author of the memoir, A Door in the Ocean, and the story collection, The End of the Straight and Narrow, both published by Counterpoint. A Door in the Ocean was reviewed by Maureen Corrigan on NPR's Fresh Air with Terry Gross in 2012 and The End of the Straight and Narrow won the 2008 Utah Book Award for Fiction. Recent work - including work from In the Deep End of Fatherhood - has appeared in The New York Times, Men's Health, O, the Oprah Magazine, Real Simple, Parents, and elsewhere. Three of his essays have been named Notable Essays in the Best American Essays anthology and another, "Rough Water," appeared in Best American Sports Writing in 2009. He teaches at Lawrence University in Wisconsin.
Advertisement