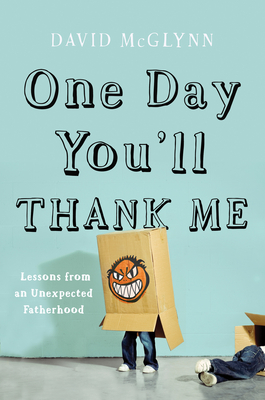 One Day You'll Thank Me (Hardcover)
Lessons from an Unexpected Fatherhood
Counterpoint LLC, 9781640090392, 272pp.
Publication Date: May 22, 2018
Other Editions of This Title:
Paperback (5/14/2019)
* Individual store prices may vary.
Description
"McGlynn's trek through young parenthood--missteps, brawls, avalanches, and all--is as entertaining and shrewd as any book I've read in some time." --James McManus, author of Positively Fifth Street
One Day You'll Thank Me translates the small, often hilarious moments common among parents of young children, especially dads, into "life lessons" about fatherhood. Comprised of interconnected chapters, the stories invoke a sense of humor and honesty that expand our understanding of what it means to be an American dad.
About the Author
DAVID MCGLYNN is the author of the memoir A Door in the Ocean and the story collection The End of the Straight and Narrow, winner of the 2008 Utah Book Award for Fiction. Recent work--including excerpts from One Day You'll Thank Me--has appeared in The New York Times, Men's Health, O, The Oprah Magazine, Real Simple, Parents, and elsewhere. Three of his essays have been named Notable Essays in the Best American Essays anthology and another, "Rough Water," appeared in Best American Sports Writing in 2009. He teaches at Lawrence University in Wisconsin.
Praise For One Day You'll Thank Me: Lessons from an Unexpected Fatherhood…
Praise for One Day You'll Thank Me:

"A pleasing blend of humor and humility that shows what it means to be a father in America today . . . Timeless, funny, and honest stories of raising boys." —Kirkus Reviews

"Each brutally honest chapter is filled with heart and humor as McGlynn shares his most tender and most trying moments as a parent . . . All parents will relate and enjoy, but fathers of sons will most certainly relish this charming and hilarious tale of fatherhood." —Booklist

"McGlynn's trek through young parenthood—missteps, brawls, avalanches, and all—is as entertaining and shrewd as any book I've read in some time." —James McManus, author of Positively Fifth Street

"One Day You'll Thank Me is a wonderful book with a big heart. David McGlynn tells a timeless story in a personal voice, rich with humor and humanity." —Susan Casey, author of Voices in the Ocean: A Journey into the Wild and Haunting World of Dolphins, and former editor in chief of O, The Oprah Magazine

"I am grateful for David McGlynn's thoughtful, vulnerable, and often hilarious observations on fatherhood . . . I can use all the help I can get." —Michael Perry, New York Times bestselling humorist

"Fatherhood is probably the scariest good thing that can happen to a man. In this beautifully honest, richly textured, often hilarious dispatch from the home front, David McGlynn illuminates how parenting puts everything into perspective, most of all our own bedeviled selves." —David Giffels, author of Furnishing Eternity: A Father, a Son, a Coffin, and a Measure of Life

Praise for A Door In The Ocean:

"Many of the key scenes in David McGlynn's striking new memoir, A Door in the Ocean, take place at the beach or in swimming pools… Ocean swimming, in particular, transports McGlynn to another realm, and he does a terrific job of dramatizing the allure of solitary swims in open water…McGlynn's writing, particularly about his long stint in the ranks of Christian fundamentalists, is alive with an insider's knowledge of the power and comforts—and, yes, sometimes delusions—offered by collective radical belief. In a larger sense, this is a compelling coming-of-age story, one marked by random tragedy and biblical tracts, bad church coffee and chlorine." —Maureen Corrigan, NPR

"McGlynn is an astute observer of relationships, and proffers insightful commentary on the power of memory to simultaneously burden and enrich the present. Beyond that, the sheer ease of his prose and the honesty of his journey are enough to keep readers moved and moving." —Publishers Weekly

"The death of his friend is actually only the introduction of this big-hearted memoir, but it establishes two key elements that are crucial: McGlynn's experience as a swimmer and an evangelical Christian. He writes eloquently about both, and offers keen insight into the worlds of each… What makes it a winner is its language and beauty." —Dallas Morning News

"David McGlynn wrestles with some of the same fierce angels that haunted his debut collection of short stories… Both books bear the mark of a serious craftsman; their paragraphs hold the reader with lyric and narrative power… McGlynn trades glorious and sorrowful mysteries for an adult and hard-won faith in God's merciful habit of keeping us afloat, even when the worst that can happen happens, as in every life it does." —Thomas Lynch, Christian Century

"David McGlynn writes with the urgency of a true believer and the poignancy of a man who has struggled with belief. A Door in the Ocean is a gripping memoir of family, friendship, and the longing for connection that both faith and competition can bring." —Peter Manseau, author of Vows

"A Door in the Ocean is a stunningly heartfelt journey of one young man coming to terms with family and faith through loss, tragedy, and hardship." —James Brown, author of The Los Angeles Diaries and This River

"From its first page, A Door in the Ocean carries you like a rip tide. You don't read this memoir, you live it. McGlynn is a keen storyteller, and his coming of age tale takes age-old human experiences—traumatic violence, inexplicable evil, sex, and religion—and remixes them into an intimate and compelling tale. Just remember to stop and breathe as you turn the pages." —Janna Malamud Smith, author of My Father is a Book

"From swimming to surfing, from mystery to murder, from zealotry to simple faith, David McGlynn's memoir packs in a stunning array of vibrant experience as its author makes his way from adolescence to adulthood. The writing is clean and swift, and though I had intended to meander through A Door in the Ocean at my leisure, ultimately I found I could not. I had to swallow David McGlynn's powerhouse of a story whole." —Linda Gray Sexton, author of Half in Love: Surviving the Legacy of Suicide and Searching for Mercy Street: My Journey Back to My Mother, Anne Sexton

"David McGlynn's spiritual testament offers an antidote to the dogmatic forms of religion, and to the dogmatic assaults on religion, that cause so much strife in our day. He traces his search for a sustaining belief through a history of losses and recoveries, estrangement and reconciliation, all eloquently told. Still young in years, he possesses an elder's insight into the price of faith that's rooted in fear, and the promise of faith that's rooted in love. His honesty is disarming, his prose compelling." —Scott Russell Sanders, author of Earth Works and A Private History of Awe

"A good memoir keeps you up all night; a fine one clarifies your vision; a great one breaks your heart and changes your life forever. This exquisite new book by David McGlynn does it all." —Paula Huston, author of The Holy Way and Simplifying Your Soul

"In A Door In the Ocean, David McGlynn writes beautifully about struggling to reconcile his youthful desires with the demands of a faith that may be too strict for his searching, disquieted heart. Anyone who has ever experienced the same will be very grateful to McGlynn for his confessions, which are written with an interrogating honesty that can accommodate reverence—which is an uncommon, and very welcome, sound." —Carlene Bauer, author of Not That Kind of Girl

Praise for The End of the Straight and Narrow:

"McGlynn's superlatively crafted, deeply sympathetic debut story collection traces the spiritual agonies of Christians trying to make sense of their faith within the vicissitudes of human nature." —Publishers Weekly

"McGlynn moves with such patience and curiosity, such exquisite tenderness for his people, we feel his life and ours may hang in the balance." —Melanie Rae Thon

"When a young writer proves in a first collection that he is the real thing, when the stories are as riveting and haunting as David McGlynn's are, the temptation is to ask how it is possible. McGlynn writes both elegantly and deeply about the trick of salvation and the strange consolation of suffering itself, about the sorrows of the faithful and the faith that's required of the nonbeliever." —Jane Hamilton, author of The Excellent Lombards

"In these generous, effulgent stories, David McGlynn stays so close to his characters we can feel their longing, their feverish hope to keep their secrets. This is a rich, challenging, accomplished book." —Ron Carlson, author of Return to Oakpine

"The End of the Straight and Narrow examines lives deeply entwined in matters of forgiveness and transgression, of eternity and this moment here right here. These are stories of desperate nostalgia and hard–hearted hope, matters of life and death, and McGlynn is a writer whose work we need now. But what this conventional praise I have just handed out doesn't even begin to measure is the fact of how important these stories are." —Bret Lott, author of Letters and Life

"A good book gets under your skin. A great book moves you toward wisdom. The End of the Straight and Narrow is the wisest book I've read in a very long time. This is smart, soul–testing American fiction." —Alyson Hagy, author of Boleto

"McGlynn's profoundly compassionate stories are sure–footed and often witty, grounded in a vision so rich and full it seems to bring extra color to the world. With these luminous stories, David McGlynn announces himself as a writer of consequence." —Erin McGraw, author of Better Food for a Better World

"A collection as humbling as it is meek. I am impressed by his 'believers' whom he refuses to trivialize, categorize, or marginalize. I haven't the words to say what a wallop McGlynn laid upside my head." —Lee K. Abbott, author of All Things, All at Once

"Wonderfully controlled stories of the well–intentioned and the flawed, those precarious souls who attempt to live a moral life in an often immoral universe. McGlynn's collection is not just entertaining and memorable, but necessary." —Lee Martin, author of Late One Night

"McGlynn's superlatively crafted, deeply sympathetic debut story collection traces the spiritual agonies of Christians trying to make sense of their faith within the vicissitudes of human nature." —Publishers Weekly

"An exceptionally haunting collection. There is agony in these stories, and there is forgiveness and redemption. Here are everyday characters coping with what life has handed them. McGlynn is an author to watch; this is a collection to savor." —ForeWord Magazine

"McGlynn's fiction reminded this reviewer of the work of Flannery O'Connor, James Joyce, and Bobbi Ann Mason—writers who use irony, metaphor, and understatement to describe the dilemmas of characters trapped in presumption and moral equivocation. The stories scintillate with sharp images and subtle nuances in character. An impressive first collection." —Choice

"McGlynn is an elegant craftsman of language. His writing is generous, honest, and polished. He has both the heart and the skill to offer something entirely new to American literature." —Image

"This collection deals with the human struggle of staying true to one's faith. It asks big questions about life and touches on human themes to which all can relate. None of this is for the faint of heart." —Southern Living