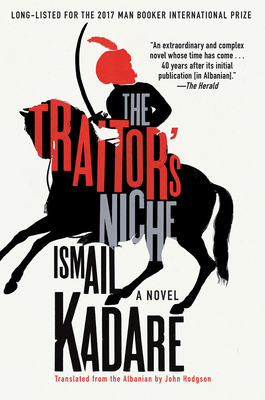 The Traitor's Niche
A Novel
Hardcover

* Individual store prices may vary.
Other Editions of This Title:
Paperback (6/11/2019)
Description
"Kadare is inevitably linked to Orwell and Kundera, but he is a far deeper ironist than the first, and a better storyteller than the second. He is a compellingly ironic storyteller because he so brilliantly summons details that explode with symbolic reality." —The New Yorker

At the heart of the Ottoman Empire, in the main square of Constantinople, a niche is carved into ancient stone. Here, the sultan displays the severed heads of his adversaries. People flock to see the latest head and gossip about the state of the empire: the province of Albania is demanding independence again, and the niche awaits a new trophy . . .

Tundj Hata, the imperial courier, is charged with transporting heads to the capital—a task he relishes and performs with fervor. As he travels through obscure and impoverished territories, he makes money from illicit side–shows, offering villagers the spectacle of death. The head of the rebellious Albanian governor would fetch a very high price indeed.

The Traitor's Niche is a surreal tale of tyranny and rebellion, in a land where armies carry scarecrows, state officials ban entire languages, and the act of forgetting is more complicated than remembering.

Long-listed for the 2017 Man Booker International Prize

"The name of the Albanian novelist Ismail Kadare regularly comes up at Nobel Prize time, and he is still a good bet to win it one of these days . . . He is seemingly incapable of writing a book that fails to be interesting." —The New York Times
Praise For The Traitor's Niche: A Novel…
"Kadare's Traitor's Niche is a short, rich, thickly described indictment of empire, nationalism, and the state, a timely meditation on the violences of bureaucracy, corruption, and the injustice of justice." —PopMatters

"This is a mesmerising story filled with rapidly drawn, memorable characters and vivid descriptions of architecture and desolate landscapes. It is a fable while also a portrait of subjugation." —The Financial Times

"Although on the surface this is a deeply compelling historical novel, its scope is wider. At heart, what Kadare seeks to demonstrate is the terrible nature of a world in which every human element is suborned to the state . . . Kadare well deserves his growing European audience." —Daily Telegraph

"An extraordinary and complex novel whose time has come . . . 40 years after its initial publication [in Albanian.]" —Herald

"The baroque madness of the Ottoman bureaucracy is beautifully drawn, and the characters are sketched well. Each time you find yourself hoping against hope that you aren't meeting the next occupant of the niche." —Historical Novel Society

"In John Hodgson's lucid translation, The Traitor's Niche is absorbing from start to finish. Kadare's allegorical burlesque has rarely been so trenchant." —Spectator

"The novel is a hymn to language, something that, as Ottoman bureaucrats intent on obliterating it instinctively know, and as Kadare's novels prove, is not easily silenced." —Claire Allfree, Daily Mail

"Forty years after its original publication in Albanian, Man Booker International Prize winner Ismail Kadare's book is finding an enthusiastic readership in English. Translated by John Hodgson, this allegorical novel of tyranny and rebellion is set in the 19th–century Ottoman Empire, but its story of subordination to the state is timeless. 'Kafka on a grander political scale,' said the The Sunday Times." —The Globe and Mail, One of the Coolest Books of the Season

"[A] bewitching novel." —Daily Telegraph, Best Books for Summer 2017

"As in many of Kadare's novels, there is an interplay between repressive silence and the insatiable need to speak. The empire's powerful bureaucratic apparatus is set on eliminating national languages and repressing dissident memories. Still, folk stories, gossip and niggling questions can't be controlled . . . It's possible that Kadare, now 80, won't be granted the Nobel Prize for Literature. Yet The Traitor's Niche shows how surely his best novels warrant it." —The National

"The Traitor's Niche . . . in a superb translation by John Hodgson, encompasses the whole of Albania and sweeps through the Ottoman landscape, offering a damning indictment of the nature of empire and its effects on subjugated peoples. The banning of language and culture; the loss of personality and autonomy; the obliteration of memory; the denigration of native myths and legends: these things will be familiar to many colonised peoples. Kadare captures all this and more in his unique style . . . which suffuses absurdity and tragedy." —The Literary Review

"Aside from the gallows (or should that be guillotine?) humour and the wry send–up of the mechanical banalities of governance, this novel is principally concerned with those signature Kadare preoccupations: nationhood, tyranny and memory. Kadare's engagement with these themes earned him the inaugural Man Booker International Prize for a body of work in 2005." —The Irish Times

"Kadare offers a representation of the nature of fascism and warfare that digs below the surface, that allows for a deeper understandings of political processes, and that could help conceptualise this new era of racialised neo–nationalism that we stand at the precipice of today." —Wasafiri

"The narrative unfurls with the shifting intensity of a dream, enriched by unsettlingly surreal details . . . It is a brilliant examination of the way that authoritarian structures operate: Kafka on a grander political scale." —Sunday Times

"With its allegorical style, dark humor, and muscular commentary on contemporary Albania under Enver Hoxha, it is very much classic Kadare." —Booklist

"Kadare brilliantly examines the private cost of despotism while illustrating a crucial episode in the history of Albania. Kadare's powerful, nimble novel is a gem." —Publishers Weekly

"A political fable of decapitation amid totalitarian oppression combines wickedly funny satire with darker, deeper lessons . . . The only signs that it's set in the early 19th century are offhand references to Byron and Napoleon; otherwise it reads less like historical fiction than timeless prophecy, as it anticipates the relentless expansion of an empire." —Kirkus Reviews

"This piercingly beautiful work quietly delivers a persuasive sense of human violence." —Library Journal

Praise for Ismail Kadare

"Kadare is inevitably linked to Orwell and Kundera, but he is a far deeper ironist than the first, and a better storyteller than the second. He is a compellingly ironic storyteller because he so brilliantly summons details that explode with symbolic reality." —The New Yorker

"The name of the Albanian novelist Ismail Kadare regularly comes up at Nobel Prize time, and he is still a good bet to win it one of these days . . . He is seemingly incapable of writing a book that fails to be interesting." —The New York Times

"Ismail Kadare is one of Europe's most consistently interesting and powerful contemporary novelists, a writer whose stark, memorable prose imprints itself on the reader's consciousness." —The Los Angeles Times

"[Kadare's] fiction offers invaluable insights into life under tyranny . . . But his books are of more than just political statement—at his best he is a great writer, by any nation's standards." —Financial Times

"Kadare's fiction evades ideologies, escaping into richer realms of the past, or myth, folklore and dystopian fantasy." —Spectator

"Ismail Kadare is this generation's Kafka." —Independent

"He has been compared to Gogol, Kafka, and Orwell. But Kadare's is an original voice, universal yet deeply rooted in his own soil." —Independent on Sunday

"Ismail Kadare made his name as a forceful example of how to function as a writer under late communism. He trod a delicate line between censorship and lies by critiquing the Stalinism of Enver Hoxha's Albania through fable, allegory and historical transposition, sometimes throwing the dictator a bone, and escaping dissident status by virtue of his international success." —Independent

"A Master storyteller." —John Carey, author of The Unexpected Professor: An Oxford Life

"One of the world's greatest living writers." —Simon Sebag Montefiore, author of One Night in Winter

Praise for A Girl in Exile
"Powerful, empathetic, at times harrowing . . . executed with an elegant combination of horror, absurdity, indignation, and other–worldliness . . . A chilling, humane and strangely beautiful work." ―Independent

"[Kadare] captures the paranoid nature of life under constant surveillance . . . and produces an ironic masterpiece." ―Daily Mail

"Filled with striking images and conceits . . . a powerful Kafkaesque charge . . . Kadare's imaginative intelligence ensures that it is chilling and intriguing." ―Theo Tait, Sunday Times

"A compelling amalgam of realism, dreaminess and elegiac, white–hot fury. Kadare communicates with awful immediacy the nature of tyranny and the accommodations that those subject to it must make – as Kadare himself had to do." ―John Banville, Financial Times

"The literature Kadare has produced in the face of obstacles lesser writers would find insuperable, is, genuinely, of world significance . . . Invites comparison with Milan Kundera's recent satire on Stalinism, The Festival of Insignificance. Both writers are favourites, year–in, year–out for the Nobel prize. Kadare will not damage his prospects with A Girl in Exile." ―John Sutherland, The Times

"Coolly ironic writing, which traverses ominous themes of censorship and state control . . . Kadare masterfully conjures an atmosphere of paranoia . . . This powerful novel is a monument." ―Francesca Wade, Daily Telegraph

"Melodrama, tragedy and myth illuminate the relationship between individual and state in a fine novel from the great Albanian writer." ―Guardian

"Rudian, and the novel, seem to live on two planes; the body's, constrained by politics and violence, and the soul's, where anything is possible. If this is a kind of freedom, Kadare shows that it comes at a terrible price." —New Statesman

Praise for The Fall of the Stone City
"An incisive, biting work . . . refines our understanding of satire's nature." —NPR

"A dreamworld where history and fiction come together . . . Ismail Kadare's subject, as always, is the presence of the past . . . more astonishing and truthful than any mere documentary chronicle." —The Guardian

Praise for Twilight of the Eastern Gods

"Kadare's novels are full of startlingly beautiful lines . . . bracingly original similes swarm with an apparent casualness. . . . gloomy and death–obsessed, but also frequently hilarious. . . . it reminded me of Roberto Bolaño's The Savage Detectives locked in a freezer, or a version of Adelle Waldman's The Love Affairs of Nathaniel P. set in a Brooklyn where it was always snowing, all the young writers in the city lived in the same building, everyone regularly consumed debilitating quantities of vodka, and each was suspected of being a government informer." —Christian Lorentzen, New York Times Book Review

"Like all serious novels Twilight of the Eastern Gods is a novel of history, one in which the characters must not only grapple with contemporary conundrums, but also with the psychological mapping of the historical process itself. There is much to unpack here and the constellation of historical forces is as complicated as it is fascinating." —Los Angeles Review of Books

"An interesting insider view of one of the more famous periods of twentieth–century literature . . . Readers are left not with any great insights, but instead with a sense of slow–motion, Kafkaesque torpor . . . readers will come away from Twilight of the Eastern Gods with a better understanding of what it was like for one writer to trudge along under Nikita Khrushchev's thumb." —Washington Independent Review of Books

"A brilliant . . . treatment of Soviet literary culture during the later Leonid Brezhnev years." —The Millions

"Personal and inventive and only lightly fictionalized." —The Herald (Scotland)

"Translated into English for the first time (with an informative note by the translator about the book's complicated publishing history), its appearance as Putin's Russia tries to reclaim former possessions is timely, and the view of a world that seems so tremendously far away has its interest." —Publishers Weekly

"The novel is a fascinating document, a fuguelike trip to a bizarre, nearly forgotten place." —The Washington Post
Counterpoint, 9781640090446, 208pp.
Publication Date: June 12, 2018
About the Author
Ismail Kadare is Albania's best–known novelist and poet. Translations of his novels have appeared in more than forty countries. He was awarded the inaugural Man Booker International Prize in 2005, the Jerusalem Prize in 2015, and the Neustadt International Prize for Literature in 2020.

John Hodgson studied at Cambridge and Newcastle and has taught at the universities of Prishtina and Tirana. This is the sixth book by Ismail Kadare that he has translated.
or
Not Currently Available for Direct Purchase