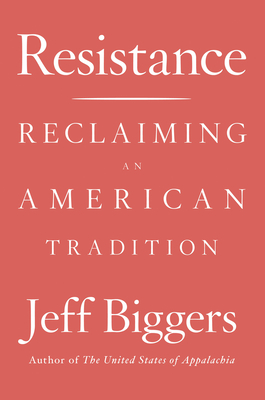 Resistance (Hardcover)
Reclaiming an American Tradition
Counterpoint LLC, 9781640090477, 224pp.
Publication Date: July 3, 2018
Description
"Resist we must, resist we will--and as this volume powerfully reminds us, in so doing we are acting on the deepest American instincts." --Bill McKibben, author of Radio Free Vermont: A Fable of Resistance
Across cities, towns, and campuses, Americans are grappling with overwhelming challenges and the daily fallout from the most authoritarian White House policies in recent memory.
In an inspiring narrative history, Jeff Biggers reframes today's battles as a continuum of a vibrant American tradition. Resistance chronicles the arduous, courageous, and often squabbling resistance movements that insured the benchmarks of our democracy--movements that served on the front lines of the American Revolution, the defense of the Constitution and Bill of Rights, the defeat of fascism during World War II, and various civil rights struggles.
Legendary historian Studs Terkel praised Biggers's The United States of Appalachia, now in its eighth printing, as a "how-to book" in the tradition of the American Revolution. With Resistance, Biggers opens a new window into American history and its meaning today. As an intimate people's history, Resistance is a provocative reconsideration of the American Revolution and its unfolding promises, bringing alive early Native American, African American, and immigrant struggles, women's rights, and pioneering environmental justice movements. Biggers shows our republic of resistance has served our history, especially in times when our nation--and its leaders--need to be held accountable.
"With compelling and engaging prose, Jeff Biggers lays out the case for Resistance in the age of Trump . . . Our turbulent times, Biggers shows us, have eerie and chilling parallels to the birth pangs of our nation and to the continuing struggles of We the People to define and claim our voices. At this moment in history, when even the act of listening to the news can cause despair, Biggers gives us hope. In response to our darkness, he reaffirms the light that resistance offers. He shows us that the free expression of Resistance, whether with the pen, our marching feet, the taking of a knee before a football game, the words to a song--to name a few--remains a cornerstone of what it means to be American." --Naomi Benaron, author of the Bellwether Prize-winning Running the Rift
About the Author
JEFF BIGGERS is the American Book Award-winning author of many works, including The United States of Appalachia, State Out of the Union, and Reckoning at Eagle Creek, winner of the Delta Prize for Literature and David Brower Award for Environmental Reporting.
Advertisement