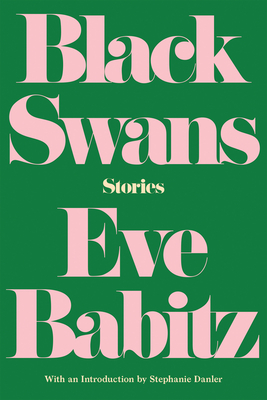 Black Swans
Stories
Paperback

* Individual store prices may vary.
Description
"Babitz's talent for the brilliant line, honed to a point, never interferes with her feel for languid pleasures." --The New York Times Book Review A new reissue of Babitz's collection of nine stories that look back on the 1980s and early 1990s--decades of dreams, drink, and glimpses of a changing world. Black Swans further celebrates the phenomenon of Eve Babitz, cementing her reputation as the voice of a generation. With an introduction by Stephanie Danler, bestselling author of Sweetbitter. "On the page, Babitz is pure pleasure--a perpetual-motion machine of no-stakes elation and champagne fizz." --The New Yorker " A] true original." --The Boston Globe "She's a natural. Or gives every appearance of being one, her writing elevated yet slangy, bright, bouncy, cheerfully hedonistic--L.A. in it purest, most idealized form." --Vanity Fair "Babitz's writing is also like the jacaranda tree in glorious bloom--bewitching an entire city, but all too brief." --Los Angeles Review of Books
Praise For Black Swans: Stories…
Praise for Black Swans

One of The Millions's Most Anticipated Books of 2018

"Eve Babitz is a little like Madame de Sevigne, that inveterate letter-writer of Louis XIV's time, transposed to the Chateau Marmont in the late 20th-Century—lunching, chatting, dressing, loving and crying in Hollywood, that latter-day Versailles." —Los Angeles Times

"The subject of these nine stories by Babitz (Sex and Rage) is Hollywood: brilliant and beautiful couples who somehow get along; charming yet moody men and their odd needs; and "Eve," the narrator, who cautiously reveals in herself the vices of a naughty but not really bad girl." —Publishers Weekly

"Babitz is an acquired taste: her slewing style, bad-girl postures, and sad-funny takes on hedonism can be deliciously shocking… Here, though, as the narrator of these nine story/essays approaches middle-age—after all the drugs, booze, groupie sex, and wild passionate flings—the sense of brakes applied turns Babitz's voice sage as well as outrageous...as dispensed as Babitz's people try to be, they never are far from their fears and insecurities—and her wisecracking, ain't-it-the-truth-honey voice is just about perfect in illuminating the fact…Babitz's best book yet." —Kirkus Reviews

"What stands out about Babitz's writing is her voice: smart, unapologetic and knowing, like Dorothy Parker magically time traveling to the modern era . . . Rereading Babitz is a delicious, guilty pleasure." —Alta

"Black Swans: Stories . . . is a collection of brilliant short stories. Babitz explored the modern society of Los Angeles and its beauty and rottenness. Through her honesty, sensitivity and her singular sense of humour, the author wrote about the human condition . . . The beginning of her texts are poetic, beautiful and simple. But all of her writing is, after all. In Black Swans: Stories, her words exude wisdom and clarity. Even if sometimes she is insecure, Babitz knows herself." —Books Turn You On

Praise for Sex and Rage

Bellatrist Book Club Pick for July 2017
Chosen as a staff pick by The Paris Review
Chosen as 1 of 12 Great New Books to Bring to the Beach This Summer by The Huffington Post
Chosen as 1 of 9 Books to Read This Summer by W and Elle Chosen as 1 of 10 Books to Pick Up Now by O: The Oprah Magazine

"As a young girl growing up in Los Angeles, I spent a lot of time and energy trying to figure out who I was. I think this is true for young women growing up in most places—and it is for this reason that we chose Sex and Rage by the legendary Eve Babitz as our July @belletrist book pick. Babitz's heroine, Jacaranda, speaks volumes to the messiness and mistakes that mark adolescence. I can't wait for you guys to read her story." —Emma Roberts, actress and cofounder of Belletrist Book Club

"On the page, Babitz is pure pleasure—a perpetual-motion machine of no-stakes elation and champagne fizz . . . A mesmerizing account of a young woman trying to decide what to do about her own premonitions." —The New Yorker

"[T]his novel is studded with sharp observations... Babitz's talent for the brilliant line, honed to a point, never interferes with her feel for languid pleasures."—New York Times Book Review

"In language that coils and surprises... this reissued fiction classic shimmers like a Santa Monica sunset."—O Magazine, 1 of 10 Titles to Pick Up Now

"The entirety of Sex and Rage . . . is a kind of pushback against the notion of Southern California's banality and vanity: it gives great merit to simple beauty and solitude, and does its part to redeem the SoCal lifestyle." —The Paris Review (staff pick)

"Sex and Rage reveals a more self-conscious Eve Babitz . . . Sometimes an author transcends the line between writer and work, emblematizing an era, such as how one can walk into the Library Bar downtown and order a Hemingway Daiquiri, why there is an Amazon series about Zelda and F. Scott, or the phenomenon of lugging one's books in a tote emblazoned with an image of Joan Didion holding a cigarette and looking delightfully contemptuous. Babitz too has become larger than her oeuvre, a sort of colophon of her own work. Babitz's iconic status is why Jacaranda is such a fascinating character. She signals Babitz's fear of time passing, of being an almost former it-girl. Similar to its author, Babitz's writing is also like the jacaranda tree in glorious bloom—bewitching an entire city, but all too brief." —Los Angeles Review of Books

"Sex and Rage is less controlled, and in my view, a more interesting work from Babitz. Jacaranda shares some of her biographical markers but not all of them, giving her room to experiment. And though the book is plotless, told in vignettes, and this will bedevil some readers, there is something about its portrait of an It Girl on the verge of a nervous breakdown that softens and opens the type." —Los Angeles Times

"The liveliness of her portraits and plates-in-the-air precariousness of her storytelling reach through the decades to entertain a completely new audience. Now, Counterpoint Press has resurrected the deliciously titled 1979 bildungsroman Sex and Rage. (Who would have thought that pairing would still be so sharply resonant?) Babitz may be something of a recluse now . . . but the fact that her work has only recently resurfaced is still something of a literary crime . . . The ultimate effect of this Angeleno's writing is to cast her beloved, glamorous town in the main role. And what a performance it is." —Elle Magazine (Online)

"Sex and Rage is a the portrait of the artist as an ever-evolving young woman." —W Magazine, 1 of 9 Books to Read This Summer

"If you're not desperate to read this book based on the title, I don't know what to tell you." —Elle Magazine, 1 of 19 Books to Read This Summer

"Counterpoint has just republished Sex and Rage, which seems a wise move as the story still feels modern . . . Sex and Rage is most interesting for its early and astute portrayal of a horribly familiar, hopefully transformative late-twenties crisis." —VICE, 1 of Six Smarter—But Not Quite Guilt-Free—Beach Reads

"It is the story, really, of one's 20s . . . wherein the clashes of reality and desire can lead to spectacular and terrifying confrontations with the chasm that divides them." —The Millions

"If you love Eve, this book feels gently revolutionary in showing the artist at her most vulnerable." —The Hairpin

"Sex and Rage is a great read for anyone currently in their 20s or anyone who can identify with the feeling of being unsure of what's next. (So, all of us?)" —HelloGiggles

"Because Babitz is contemporaneous with Didion, the two women are often compared to one another . . . Babitz's closest peer—or perhaps her heiress—is Francesca Lia Block . . . Their writing is much like L.A. at its best: alluringly sexy but also heartbreakingly unpredictable, beautiful but indifferent to what you want from it." —The New Republic

"Babitz was living proof that rock-and-roll decadence also could be elegant and that muses could be the sharpest tacks in the room. Her writing was so lush and so arch—so sexy and so smart—that she made you believe lush and arch were not mutually exclusive . . . Only Eve could inspire you to buy seven caftans and all the ingredients of a tequila sunrise after reading only ten pages of her books. (Cocaine and caviar were optional.)" —Signature Reads

"First published in 1979 and now back in print with Counterpoint, California queen Eve Babitz's Sex and Rage is a witty, unconventional coming-of-age story of surprising depth and pleasure . . . The book's warmth radiates from her wit and charm, as well as moments when young women recognize and affirm each other. Sex and Rage is a romp with substance—just beyond the descriptions of drinks and parties and devastating one-liners is a sweet story of a bright but messy young woman, making her own way. Nearly forty years after Sex and Rage's initial publication, Jacaranda's candid combination of moxie and sophistication feels fresh as a new generation of their private and public lives." —The Riveter Magazine


Counterpoint LLC, 9781640090507, 256pp.
Publication Date: April 10, 2018
About the Author
Eve Babitz is the author of several books of fiction, including Sex and Rage, Eve's Hollywood, and Slow Days, Fast Company. Her nonfiction works include Fiorucci: The Book and Two by Two. She has written for publications including Ms. and Esquire, and in the late 1960s, she designed album covers for the Byrds, Buffalo Springfield, and Linda Ronstadt.
or
Not Currently Available for Direct Purchase