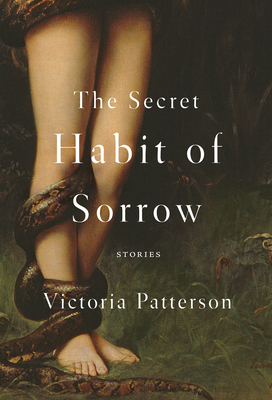 The Secret Habit of Sorrow
Stories
Paperback

* Individual store prices may vary.
Description
Victoria Patterson, whose writing Vanity Fair has called "brutal, deeply empathetic, and emotionally wrenching,"" returns with a new collection of stories that contains echoes of Denis Johnson and Raymond Carver, along with the emotional depth and density of Elena Ferrante.

There's a pitch–perfect blend of linguistic dexterity, emotional wisdom, and wry observation in The Secret Habit of Sorrow. The characters in these stories feel like people you know, their struggles real. Victoria Patterson's prose has a Denis–Johnson refiltered–through–Raymond–Carver–vibe, along with the emotional depth and density of Elena Ferrante. Whether it be the ties between women and their own and each other's infants, the struggles of parenthood, or the trials that come with excessive drinking and drug abuse, Patterson has an amazing ability to convey relationships and how our bonds can both save and destroy us.

Her previous collection of stories, Drift, was a finalist for the California Book Award and the Story Prize, and was selected as one of the best books of 2009 by The San Francisco Chronicle.
Praise For The Secret Habit of Sorrow: Stories…
Praise for The Secret Habit of Sorrow

Long–listed for The Story Prize
1 of 10 Titles to Pick up Now (O, The Oprah Magazine)

"The bittersweet stories exquisitely capture fates's cruel ironies." —O, The Oprah Magazine, 1 of 10 Titles to Pick Up Now

"Patterson [has a] gift for evoking emotion without ever slipping into pathos. She allows us to feel for her characters but never asks us to pity them. It's a trait she has in common with Denis Johnson, who also wrote about addiction without condescending to his characters (and who Patterson name–checks, to surprising effect, in 'Confetti') . . . Patterson's accomplished prose is all the more impressive considering her subject matter—she writes about not only addiction but about broken families, unhappy childhoods and sex with a brutal, but never mean–spirited, honesty. She's particularly gifted at writing about the mechanics of regret . . . Her characters are mostly lonely, and unsure how to relate to others, fumbling their attempts to communicate effectively. And this sense of missed connections is what makes The Secret Habit of Sorrow such a remarkable collection. Patterson's stories seldom end neatly; her characters are too real, too stubbornly human to have their problems neatly wrapped up. They're solitary, even when they're with others, and they're adrift even when they seem put together. That kind of desolation can be difficult to put in writing—it's not easy to read, and it can't be easy to write. Patterson conveys the desperation of her characters by using spare prose; every sentence has been whittled down to leave only the necessary words. It's a technique she shares with Denis Johnson, but also with Mary Gaitskill, who also has an affinity for exploring lost souls that society has essentially chosen to ignore. The Secret Habit of Sorrow is a deeply somber book, but that just serves to make the few moments of triumph all the more affecting—for some of her characters, surviving at all is a kind of victory. There's not a story in the book that's less than great; it's a stunningly beautiful collection by a writer working at the top of her game." —Michael Schaub, Los Angeles Times

"Every story in it is excellent—she has an affection for characters who are either breaking or broken, and she writes about them with an empathy that's never overwrought or condescending. The themes of the stories—addiction, sex, loneliness—are fraught ones, but she does such a beautiful job writing about them with a brutal honesty that manages to be actually tender and, at times, kind of sweet. Patterson gets compared to Denis Johnson pretty frequently, but she's really a writer all her own, and she's at her best in this book." —Michael Schaub, Book Marks

"Patterson demonstrates her storytelling prowess in what she leaves unsaid. Rather than write the trauma . . . she lets the characters' reactions and the trajectories of their lives communicate what she does not explicitly describe . . . Patterson has a flare for endings, deftly avoiding tying her stories into tidy, saccharine bows, but neither are they crushingly dark . . . Patterson's spare yet beautiful conclusions are ambiguous, leaving the reader with neither the complete destruction of the character nor the promise that they'll prosper." —Ploughshares

"Bad choices and addiction are common here, but Patterson's unfussy prose draws the reader into her complex, sometimes even convoluted relationships . . . The beating hearts of Patterson's characters and the directness of her voice make the grim material bearable, sometimes almost hopeful." —Kirkus Reviews

"Patterson excels at excavating the lighter side of her characters' otherwise sad experiences to find stories that are amusing and poignant without being overly sentimental." —Publishers Weekly

"Characters are plagued by their experiences and afflictions, entangled with the need to cope alongside an urgency to break free. Dark yet assured, Patterson's short stories expose and explore the complicated ruptures of the human experience." —Booklist

"[Patterson is] skilled at offering satisfying and effectively contained slices of life . . . You don't have to be a short story fan to enjoy this collection." —Library Journal

"Patterson's new short–story collection paints picture–perfect portraits of pain, suffering, addiction and the complexities of parenthood in a style that calls to mind Raymond Carver and Denis Johnson but remains uniquely her own." —Alta California

"Patterson is on a mission to bring our ghosts out of the shadows. These stories shine with empathy and find the humanness in all our struggles." —Joshua Mohr, author of All This Life

Praise for The Little Brother

"...a complex and startlingly empathetic exploration of toxic masculinity and American rape culture." —LA Weekly, Best Books of 2015 by L.A. Writers

"In The Little Brother, Victoria Patterson focuses her unflinching eye on the dark heart of American male privilege. With empathy and dazzling skill, she illuminates an unspeakable crime and the depraved culture that made its reality not only possible, but inevitable. This is an important novel, both terrifying and redemptive, and another reminder that Victoria Patterson is one of our most fearless writers." —Jim Gavin, author of Middle Men

"A brutal, deeply empathetic, and emotionally wrenching examination of American male privilege and rape culture." —Vanity Fair

"Victoria Patterson is a capable and canny writer, and she would have to be to take on the subject of her newest novel, The Little Brother, and produce so arresting and haunting an experience." —The New York Times Book Review

"Patterson's well–crafted novel explores a dilemma as old as time: Where is the moral ground when family loyalty and the law become opposing forces?...Patterson turns a gimlet eye on this age–old predicament and imbues it with gripping twenty–first century relevance." —Booklist

"The Little Brother takes on a real–life situation from the headlines, but Victoria Patterson etches it into fiction—the sad and scary kaleidoscope of family, loyalty and betrayal." —Susan Straight, author of National Book Award Finalist Highwire Moon

"As with many a real–life disaster story, The Little Brother begins with just the slightest tug of something not–quite–right and in practically no time we find ourselves in a dangerous, stomach–churning conflict between decency, loyalty, truth, lies, the good life, and the not–so–good one. Patterson has chosen to tell her unsettling tale through Even, the brother of a man accused of rape, and the ordeal for his own flawed family and his brother's victim turns out to be unfailingly horrifying, heartbreaking and, of all things, unexpectedly humane." —Jim Krusoe, author of Parsifal
Counterpoint, 9781640090521, 224pp.
Publication Date: July 17, 2018
About the Author
Victoria Patterson is the author of the novel The Peerless Four. She also wrote This Vacant Paradise, selected as an Editor's Choice by The New York Times Book Review. Drift, her collection of interlinked short stories, was a finalist for the California Book Award and the 2009 Story Prize. The San Francisco Chronicle selected Drift as one of the best books of 2009. Her work has appeared in various publications and journals, including the Los Angeles Times, Alaska Quarterly Review, and the Southern Review. She lives with her family in Southern California and teaches at the Antioch University's Master of Fine Arts program and as a Visiting Assistant Professor at UC Riverside.
or
Not Currently Available for Direct Purchase