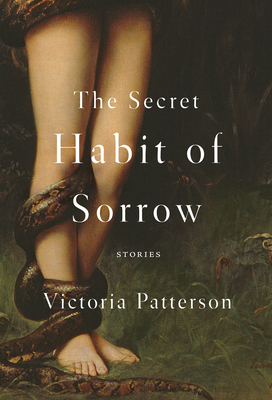 The Secret Habit of Sorrow
Stories
Paperback

* Individual store prices may vary.
Description
Victoria Patterson, whose writing Vanity Fair has called brutal, deeply empathetic, and emotionally wrenching, returns with a new collection of stories that contains echoes of Denis Johnson and Raymond Carver, along with the emotional depth and density of Elena Ferrante. There's a pitch-perfect blend of linguistic dexterity, emotional wisdom, and wry observation in The Secret Habit of Sorrow. The characters in these stories feel like people you know, their struggles real. Victoria Patterson's prose has a Denis-Johnson refiltered-through-Raymond-Carver-vibe, along with the emotional depth and density of Elena Ferrante. Whether it be the ties between women and their own and each other's infants, the struggles of parenthood, or the trials that come with excessive drinking and drug abuse, Patterson has an amazing ability to convey relationships and how our bonds can both save and destroy us. Her previous collection of stories, Drift, was a finalist for the California Book Award and the Story Prize, and was selected as one of the best books of 2009 by The San Francisco Chronicle.
Praise For The Secret Habit of Sorrow: Stories…
Praise for The Secret Habit of Sorrow

"Patterson is on a mission to bring our ghosts out of the shadows. These stories shine with empathy and find the humanness in all our struggles." —Joshua Mohr, author of All This Life

Praise for The Little Brother

"…a complex and startlingly empathetic exploration of toxic masculinity and American rape culture." —LA Weekly, Best Books of 2015 by L.A. Writers

"InThe Little Brother, Victoria Patterson focuses her unflinching eye on the dark heart of American male privilege. With empathy and dazzling skill, she illuminates an unspeakable crime and the depraved culture that made its reality not only possible, but inevitable. This is an important novel, both terrifying and redemptive, and another reminder that Victoria Patterson is one of our most fearless writers." —Jim Gavin, author of Middle Men "A brutal, deeply empathetic, and emotionally wrenching examination of American male privilege and rape culture." —Vanity Fair

"Victoria Patterson is a capable and ­canny writer, and she would have to be to take on the subject of her newest novel, The Little Brother, and produce so arresting and haunting an experience." —The New York Times Book Review

"Patterson's well-crafted novel explores a dilemma as old as time: Where is the moral ground when family loyalty and the law become opposing forces?…Patterson turns a gimlet eye on this age-old predicament and imbues it with gripping twenty-first century relevance." —Booklist

"The Little Brother takes on a real-life situation from the headlines, but Victoria Patterson etches it into fiction—the sad and scary kaleidoscope of family, loyalty and betrayal." —Susan Straight, author of National Book Award Finalist Highwire Moon

"As with many a real-life disaster story, The Little Brother begins with just the slightest tug of something not-quite-right and in practically no time we find ourselves in a dangerous, stomach-churning conflict between decency, loyalty, truth, lies, the good life, and the not-so-good one. Patterson has chosen to tell her unsettling tale through Even, the brother of a man accused of rape, and the ordeal for his own flawed family and his brother's victim turns out to be unfailingly horrifying, heartbreaking and, of all things, unexpectedly humane." —Jim Krusoe, author of Parsifal

Praise for Drift
Finalist for the California Book Award and the Story Prize
Selected as one of the best books of 2009 by The San Francisco Chronicle
Ranked among the 10 Quintessential Books about Orange County Orange Coast Magazine
Ranked #4 for 10 Best Books Set in Orange County by The OC Register

"Set against the affluence of Newport Beach, Patterson's debut collection often focuses on the enclaves– outcasts, waitstaff, divorcées, alcoholics, and drug addicts–as her characters confront personal battles, the limits of friendship, and the bleary anticipation of a different life. Patterson's 13 engaging tales offer keen perspectives on life lived on the fringe." —Booklist

"Patterson's unflinching account of the seedy side of a real-life Xanadu is frightening, immersive, and wonderfully realized." —Publishers Weekly (starred review)

"Drift is one of the truest depictions of Southern California I've read yet. Set fifty miles south of Los Angeles, amidst the rampant materialism and manicured malls of Newport Beach, Patterson depicts characters simultaneously at odds with, and in sync with, the cultural void around them. This work is subtle, honest, and a great pleasure to read." —Danzy Senna

"Victoria Patterson's Newport Beach is a privileged world of wealth and heedless consumption that trails a wake of human damage. By giving us nuanced portraits of the sidelined, she somehow evokes the complex, glittering whole. Patterson is our generation's heir to John O'Hara and Edith Wharton. And nobody else writes about female sexuality with such sensitivity and fearlessness. Several times, I had to put this book down just to catch my breath." —Michelle Huneven, author of Jamesland and Round Rock

"Ms. Patterson has enormous talent and I suspect we'll be hearing a lot more from her." —James Lee Burke, author of The Neon Rain "If I could write just a single story as beautiful and sad and intelligent as the thirteen linked together in Drift, I'm pretty sure that I could die a happy man. Victoria Patterson makes me envious as hell, and I applaud her for it." —Donald Ray Pollock, author of Knockemstiff

Praise for The Peerless Four

"A fascinating story….Patterson mates genres—sports and period fiction—and the result is surprisingly rich and resonant….the author not only transcends categories but creates something poignant and memorable." —Publishers Weekly

"Stirring historical fiction and a great choice for book clubs." —Booklist

"The Peerless Four is a fascinating exploration of a little known chapter in sports history. With gorgeous, restrained prose and a crystalline eye for detail, Victoria Patterson takes us on a thrilling journey of long odds and unbreakable spirit." —Maria Semple, author of Where'd You Go, Bernadette

"The grittiest, booziest, toughest sports novel I've read in recent years is written by a woman—about women! In The Peerless Four, Patterson compels and entertains with prose perfectly fitted to this lean, surprising, unsentimental tale of female Olympiads in the late 1920s." —Jonathan Evison, author of The Revised Fundamentals of Caregiving

Praise for This Vacant Paradise "Patterson beautifully parses the consequences of one woman's fall in this memorable, penetrating, fully achieved novel." —The New York Times Book Review

"Patterson writes with the exuberance of a natural storyteller. Her cast is rich, her narrative sinuous and masterfully structured." —San Francisco Chronicle

"With echoes of a modern-day House of Mirth, Patterson's elaborate tale examines the complexities and contradictions of society, family, and personal desire." —Booklist

"Considering the subject matter–the real housewives of Orange County–Patterson's debut novel (after story collection Drift) is surprisingly sophisticated and nuanced. In debt and unmarried, Esther Wilson works at a clothing boutique and lives with her wealthy grandmother, Eileen, whose financial generosity is orchestrated to "encourage dependence." Terrified of poverty, Esther is in the midst of securing a proposal from an unattractive but wealthy heir, but she blows it. Enter ex-boyfriend Charlie Murphy, who, though from a well-off family, is a liberal-minded sociology professor at the local community college, and therefore an object of Eileen's derision. Charlie takes it upon himself to emancipate Esther from the chains of vapid privilege, but with a huge inheritance imminent for him and nasty gossip circulating about Esther, Charlie's lefty enlightenment dims. As an acerbic commentary on mid-'90s Southern Californian excess, the novel walks a fine line between critic and unintentional participant—commentaries on the retrograde position of Orange County women jostle against… physical description—though Patterson's Southern California has echoes of Nathanael West and early Bruce Wagner." —Publishers Weekly

"This Vacant Paradise is that truly rare thing, a first novel that arrives with its writer working at the height of her intellectual gifts and creative powers." —Jane Vandenburgh, author of Architecture of the Novel and A Pocket History of Sex in the Twentieth Century

"This is an exceptional novel, populated by several memorable and deftly rendered characters, each presented with nuance and compassion. Patterson taps deeply into their humanity, and the outcome is striking and dark." —Michael Jaime-Becerra, author of This Time Tomorrow

"This Vacant Paradise is an enthralling reinterpretation of The House of Mirth that reminds us that there are contemporary Lily Barts. Esther Wilson—what a character! Her sense of integrity and her desire for love are so understandable, yet they continually bring her into conflict with her materialistic family and acquaintances in Newport Beach. Has the last hundred years of advances in women's rights made a difference to the woman raised to marry for money? Victoria Patterson asks this fascinating question, and the answer makes for a completely engaging novel." —Alice Elliott Dark, author of Think of England and In the Gloaming
Counterpoint LLC, 9781640090521, 224pp.
Publication Date: July 17, 2018
About the Author
Victoria Patterson is the author of the novel The Peerless Four. She also wrote This Vacant Paradise, selected as an Editor's Choice by The New York Times Book Review. Drift, her collection of interlinked short stories, was a finalist for the California Book Award and the 2009 Story Prize. The San Francisco Chronicle selected Drift as one of the best books of 2009. Her work has appeared in various publications and journals, including the Los Angeles Times, Alaska Quarterly Review, and the Southern Review. She lives with her family in Southern California and teaches at the Antioch University's Master of Fine Arts program and as a Visiting Assistant Professor at UC Riverside.