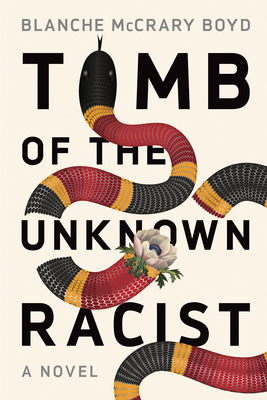 Tomb of the Unknown Racist
A Novel
Hardcover

* Individual store prices may vary.
Other Editions of This Title:
Paperback (5/14/2019)
Description
This finalist for the 2019 PEN/Faulkner Award for Fiction is the story of a former activist whose search for her estranged brother leads her across the country and into the dark abyss of racism and white supremacy, and the confrontation that occurs when she learns the truth about her family's past.

Blanche McCrary Boyd's first novel in twenty years continues the story of her protagonist Ellen Burns. When Tomb of the Unknown Racist opens in 1999, Ellen—now sober, haunted by her activist past and her failed relationships—is peacefully taking care of her demented mother in South Carolina.

Ellen's brother, Royce, was a celebrated novelist who, a decade earlier, saw his work adopted by racists and fell under the sway of white supremacy. Ellen thought him dead from a botched FBI raid on his compound. But when his estranged daughter turns up on the news claiming he might be responsible for kidnapping her two mixed-race children, Ellen travels to New Mexico to help her newfound niece. The book chronicles Ellen's search for Royce, her descent into the dark abyss of the simmering race war in the country, and the confrontation that occurs when she learns the truth about her family's past.

Tomb of the Unknown Racist is a thrilling novel set in the shadow of the Oklahoma City bombing, the subculture of white supremacy, and deep-state government. A family drama set against political and racial struggle, it is a tour de force end to a trilogy by a stunning writer whose work has offered a resonant survey of politics and activism across the American experience.
Praise For Tomb of the Unknown Racist: A Novel…
Praise for Tomb of the Unknown Racist

Finalist for the 2019 PEN/Faulkner Award for Fiction

"Blanche McCrary Boyd is a literary treasure, and her new novel, Tomb of the Unknown Racist, is a monumental achievement. Gripping and powerful, it illuminates the intricacies of love and betrayal and the pernicious disease of racism—and, in the process, plumbs the depths of the American soul." —David Grann, author of Killers of the Flower Moon

"Irreverent and honest." —Vanity Fair

"The conclusion to a literary trilogy that began more than twenty years ago, Boyd's latest finds her heroine Ellen searching for a long–lost brother and spewing insults and wisdom in equal measure." —Out

"In this suspenseful novel . . . Boyd gives a chilling portrait of the white terrorist network in the US during the time of Timothy McVeigh, convicted of the 1995 Oklahoma City bombing." —BBC Culture

"Examines the convoluted workings of racism and white supremacy that is no longer under the radar. . . . Boyd masterfully breaks down the drive and historical connections that make racism's continued existence painfully real. And no, you don't have to be Southern (or a lesbian) to enjoy her work. Just human. Definitely worth a read." —The Advocate

"McCrary's protagonist allows the novel to showcase a true understanding of the current American political landscape, without being academic, inaccessible, or polemic. What results is a novel that is riveting from start to finish." —Lambda Literary

"A wildly ambitious page–turner that defies easy categorization . . . A family drama with all the flourishes of a thriller. Discombobulating—in a good way." —Kirkus Reviews

"This bold, funny, and political novel—Boyd's first in 20 years—returns readers to the singular voice of Ellen Burns. . . . With the trappings of a thriller, Boyd's meditation on family bonds and white guilt is a curious but rewarding departure for the loudmouthed and hilarious Ellen, and a satisfyingly strange conclusion to the arc of her wild life." —Publishers Weekly

"Ellen's chosen form of activism . . . is endlessly discussable, and the tortured history of Charleston makes for a compelling setting." —Booklist

"This is a fast–paced and gutsy novel that examines tough issues and dares readers to know more about extreme activism and underground terrorism. Ellen, a recovering alcoholic barely hanging onto sobriety, is a superbly drawn protagonist." —The Atlanta Journal–Constitution

"Boyd does a masterful job." —Signature

"Personal, political and original . . . Many of your favorite mystery/thriller novelists could write a strong plot starring a version of Timothy McVeigh, the Oklahoma City bomber. Few can write as well as they plot. Boyd does . . . She can leap nimbly from fear to scorn to grief to comedy, doesn't shrink from politics and racism, and still can include a love story that's not a digression. This is the kind of novel in which the author has everyone's number, starting with her own." —Head Butler

"In The Revolution of Little Girls and Terminal Velocity, wild child Ellen Burns breaks and rebuilds herself over and over while questioning the world with her razor–sharp, Southern wit. Now author Blanche McCrary Boyd gives us Ellen's thrilling final chapter. Part detective story, part spiritual quest, Tomb of the Unknown Racist explores the intricate world of the white supremacy movement, and the treacherous ways that racism shatters families and spreads its dark roots across America. Former addict, fugitive, and radical outlaw Ellen Burns pieces together the mystery of her right–wing brother's death and the tragic kidnapping of his grandchildren, while trying to stay sober and falling in and out of bed with the men and women who cross her path. A character both innocent and wise, searching and grounded, she sees the worst in the good, and the good in the worst. We need more 'old outlaws' like Ellen Burns, who try to right the wrongs of the world, even when they're impossible to change." —Hannah Tinti, author of The Twelve Lives of Samuel Hawley
Counterpoint, 9781640090675, 288pp.
Publication Date: May 8, 2018
About the Author
Blanche McCrary Boyd has taught at Connecticut College since 1982. She has written four novels—Terminal Velocity, The Revolution of Little Girls, Mourning the Death of Magic, and Nerves—as well as a collection of essays, The Redneck Way of Knowledge. Among the awards Boyd has won are a Guggenheim Fellowship, a National Endowment for the Arts Fiction Fellowship, a Creative Writing Fellowship from the South Carolina Arts Commission, and a Wallace Stegner Fellowship in Creative Writing from Stanford University.
or
Not Currently Available for Direct Purchase