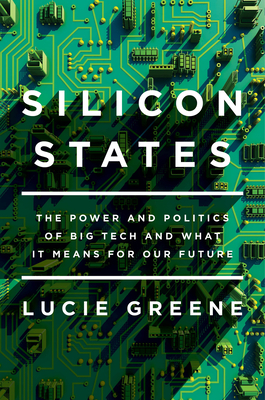 Silicon States (Hardcover)
The Power and Politics of Big Tech and What It Means for Our Future
Counterpoint LLC, 9781640090712, 320pp.
Publication Date: August 7, 2018
Description
A bracing look at how the Tech top five (Google, Apple, Amazon, Facebook, and Microsoft) and other Silicon Valley power-players are using their influence to encroach upon the civil landscape of government, healthcare, transportation, and housing.
If you've been watching the news of late, you've noticed a subtle shift in the world order. Our political landscape remains bitterly divided, while a new administration seeks to obliterate wide swaths of the government. In an era where civic trust is quickly eroding away, it's easy to imagine this gap being filled by the large, international businesses many consumers have come to trust, as they begin to encroach upon all aspects of our lives.
Welcome to the Silicon States.
Silicon Valley is imperializing the planet. With nearly bottomless supplies of cash and ambition, a small group of companies have been gradually seizing symbolic and practical civic leadership in America and worldwide. But Silicon Valley does not answer to the electorate; nor have they been voted into office. And the perils of their influence are only now making themselves known. The institutions of Facebook, Google, and Twitter are implicated in the investigation of Russian interference into U.S. elections, providing the public their first opportunity to glimpse the wizards behind the curtain: how these businesses operate, where their interests lie, and the power they wield over an unsuspecting citizenry.
While the promise of Silicon Valley is bold, futuristic, and seductive, it is important to understand these corporations' possible impact on our future. Silicon States emphasizes that before we hand our future over to a rarified group of companies, we examine the world they might build: its benefits, prejudices, and inherent flaws. And to ask, ultimately, if we really want it.
About the Author
LUCIE GREENE is the Worldwide Director of the Innovation Group at J. Walter Thompson, JWT's in-house futures and innovation think tank. The Innovation Group's work is frequently cited in publications including the New York Times, Bloomberg Businessweek, The Guardian, WWD, USA Today, and The London Times. She's a thought leadership columnist for Campaign, writes for the Financial Times on futures, and has spoken at conferences including CES, SXSW, Web Summit, Cosmoprof, and Ad Week, discussing future trends across multiple lifestyle sectors. She has appeared on BBC, Fox News, and Bloomberg TV as an expert on the future.
Advertisement