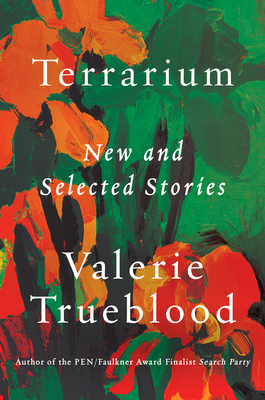 Terrarium
New and Selected Stories
Hardcover

* Individual store prices may vary.
Other Editions of This Title:
Paperback (8/27/2019)
Description
This collection will cement Valerie Trueblood's standing as one of the finest American short story writers at work today: gathered together for the first time are stories spanning her acclaimed career, presented along with her newest work Valerie Trueblood's writing has been praised by The New York Times as "an exercise in literary restraint and extreme empathy." Selected here are stories from her previous collections--finalists for the PEN/Faulkner Award and the Frank O'Connor International Short Story Award--alongside her newest collection, which lends this book its name. The new stories collected within Terrarium represent an exciting direction for the author: a condensing of narrative and, in some cases, a departure from it into another state of mind. It's hard to describe any of Trueblood's stories as "typical." She does not write about people from a single class, or caste, or geographical area. She has not written a single story emblematic of her work. She does not write stories fantastical or eccentric. Ordinary life, her stories may be saying, is fantastical enough. She is more like Babel than Chekhov. In all her writing, it's clear that Trueblood believes that the short story can carry both the lightest and heaviest of loads. Terrarium highlights the achievement of simply living, the stories within often unresolved but in a state of continuation, expansion. Trueblood's stories aren't merely "about" their subjects, they're inside them.
Praise For Terrarium: New and Selected Stories…
Praise for Criminals: Love Stories

"[Trueblood's stories] become love stories only in acts of redemption and release, with a complexity that reveals Trueblood's keen eye for the nuances of connection . . . Trueblood is an elegant writer, and she wrings a nobility out of even the most troubled characters. Her work is an exercise in literary restraint and extreme empathy, her sentences sharp enough to cut but warm enough to melt." —New York Times Book Review

"[Criminals] resembles the kind of fiction that regularly garners critical accolades and finds its way onto prize shortlists . . . Criminals emphasizes style and subtlety." —The Globe & Mail

"If the course of love never runs smooth, per Shakespeare's reading, Seattle author Trueblood's take on the same topic features speeds bumps so large that they can take out your transmission. It's not that all the stories here deal with romantic impulse—love has many guises—but she's at her best trying to explain our most inexplicable attractions . . . " —Seattle Times

"Intense, complicated short stories about intense, complicated people . . . Each story in Trueblood's collection feels like a condensed version of a novel, dense with incident and crowded with fully realized characters. They unfold quickly, with frequent flashbacks and sidelong observations so insightful they are almost distracting. You have to read them carefully, or read them twice, to get the full effect . . . Like so many of Trueblood's characters, she rolls with the punches, which turns out to be a true form of grace. A seasoned, deeply knowing writer with riches to share." —Kirkus Reviews

"Perhaps the best story is 'Aiken,' in which a woman, Bridget, visits her aging parents, who have recently taken in a homeless man as a tenant. As Bridget tries to determine this new resident's agenda, Trueblood deftly examines a family's idiosyncrasies and the difficulties associated with letting one's guard down to accept happiness." —Publishers Weekly

"Trueblood's rich 15 tales, varied in length, offer both wide-ranging observation and detailed precision, particularly when it comes to characters' inner negotiations, struggles, and regrets." —Booklist

"Criminals is a passionate reminder of how love can make us capable of anything. Valerie Trueblood is writing among the most exquisite stories in the English language today, full of candor, sly wit, and emotional range. She is ever mindful of the ways in which we willfully confuse pleasure and torment, recklessness and ardent devotion—and why we ultimately turn to stories for consolation." —Manuel Muñoz, author of What You See in the Dark and The Faith Healer of Olive Avenue

"I know nothing quite like Valerie Trueblood's stories, with their quick, sharp movement to the most ruthless truths." —Madison Smartt Bell, author of All Souls' Rising

Praise for Search Party

Finalist for the 2014 PEN/Faulkner Award

The Best Short Story Collection of the Summer (The Guardian)
1 of 24 Books to Pick Up this September ( Oprah.com)
A Spring/Summer Short Story Collection of Note (Library Journal)
One of eight successful 2013 story collections (Milwaukee Journal Sentinel)

"In her second collection, the author delivers 13 stories of depth and mystery." —The Columbus Dispatch

"For the people of Search Party who are "living those days as secreted away," there seems only more searching. Yet though life is enduringly perilous, they continue to seek the help they believe is coming. For these defiant characters, their very salvation is found in their stories. Trueblood proves herself eminently capable of telling them." —The Dallas Morning News

"Trueblood's last collection, Marry or Burn, turned the topic of women and marriage on its ear, with stories The Rumpus described as bittersweet, mournful and joyful in equal measure. Here she does the same for the idea of redemption. " —Monterey County Weekly

"Trueblood's third collection brings together 13 diverse stories of people lost and being found. On paper the characters are seemingly average: Parents, firefighters, travelers, and cancer survivors, but each story unlocks surprising depth . . . ultimately reminding us that we are all bound by our collective humanity." —Kelsey Thomas, Bustle.com

"The diamond-sharp stories in Trueblood's second collection dazzle . . . Trueblood tells these stories from unusual angles, with precision and a depth of insight and empathy that enfold the reader into the characters' lives." —Publishers Weekly (starred)

"[Trueblood] excels at the vignette. 'Downward Dog,' 'The Stabbed Boy' and 'Street of Dreams' are no more than four pages each, and yet they insinuate themselves with a minimum of detail—they resonate . . . Trueblood is a writer to follow." —Kirkus Reviews

"There are no easy rescues in Trueblood's (Marry or Burn, 2010) newest unflinching story collection, yet characters still struggle to be saved despite the obstacles . . . she piercingly captures glimpses of salvation that remain just out of reach." —Leah Strauss, Booklist

"Stories like "Downward Dog" and "Think Not Bitterly of Me" are finely honed character studies, and though it's not quite right to say it's a "pleasure" to get inside these characters' heads, it's a revelatory experience." —Ron Hogan, Beatrice.com

"With each story full of wry humor, clearly drawn characters and absolutely exquisite writing, this is one best books of stories I've ever read. Valerie Trueblood's latest collection is united by the theme of earthly redemption: in each someone is saved from what we think of as Fate. Brilliant. Not to be missed." —Jane Vandenburgh

"One of the best collections I have read in a long time, maybe ever (though her last, Marry or Burn, was right up there as well). The one word that I think sums up the collection best is 'vast'—each story is a world complete in itself. " —Siobhan Fallon, author of You Know When the Men Are Gone

Praise for Marry or Burn

Finalist for the Frank O'Connor International Short Story Prize

"Marry or Burn is a large-hearted, utterly human collection of life-experienced narratives so full that it is difficult to read more than one consecutively." —Irish Times

"Marry or Burn resolutely probes the idea and range of marriage, letting us gaze at a variety of couplings from differing angles, forming a dangerous, sharp-edged mosaic." —The Seattle Times

"Trueblood's title sets the stage for a collection concerned with relationships and their perils, but these 12 startling tales of love and loss come as a welcome surprise. Trueblood catches the reader off guard from the start by opening with a story about a woman serving time in prison for murdering her husband. The stories that follow address relationships from refreshingly oblique angles: a teenage boy deals with his mother's infant son born out of wedlock in "Luck"; in the formally daring "Invisible River," a mother has an intimate dance with her daughter's ex-lover at the daughter's wedding. Secondary characters and narrative tangents envelope the larger plot and reveal hidden layers, resulting in a panoramic view of contemporary romantic rituals. Bracing honesty and elegant turns of phrase ("She put a lament into the name") mask the few moments when narrative details get lost. Trueblood's saturated prose imparts each story with a unique atmosphere and infuses the collection with an understanding that to love is to live, for better or for worse." —Publishers Weekly (starred review)

"The many facets of marriage lie at the heart of this unique and thought-provoking short story collection—marriages past and present, enduring or fractured. An apparently happy couple mourns the death of a friend, the wife secretly in love with him, even knowing his death was imminent. A young woman feels compelled to tell her soldier husband she has fallen in love with someone else with disastrous consequences. Later she marries a third man, and one of their daughters always refers to her mother's first husband as her "phantom father." In "Beloved," a widower marries a widow who "took an ax to a bear" that was attacking her first husband—the first fact his grown daughters learn about their stepmother-to-be. And in "Amends," a young woman who has killed her abusive husband and is imprisoned for 20 years continues to communicate with her mother-in-law. She becomes the old woman's only visitor in her depressing nursing home, only to be confronted with her crime once again. Trueblood's well-drawn characters may seem incomprehensible, but she succeeds in bringing them vividly to life." —Booklist

Praise for Seven Loves

A B&N Discover Great New Writers Book

"May Nilsson, a retired Seattle high school English teacher, looks back on her life through the episodic prism of those she has cherished. At center stage are May's mother, Anna, a fierce and uncompromising 1930s labor organizer, and May's son, Nick, a drug addict who plunges to a pathetic death to avoid arrest. When May was pregnant with Nick in 1960, she feared that his father might not be her husband, but her African-American lover, Nathanael, a high school principal and married father of six sons. May eventually embraces Arne, the penitent policeman who chased Nick to his death in a freezing lake. Loose plotting and overly lyrical language mar Trueblood's debut, but her depiction of May's most complex love, her husband, Cole, is keen and compelling. The pair's intensely passionate bond is evident even in their waning years after a lifetime of loss and betrayal." —Publishers Weekly

"This quiet debut novel follows the story of 74-year-old May Nilsson, a retired English teacher and widow, who finds herself belonging to the country of old women and reminiscing on a past defined by love. May remembers the difficult and pleasurable years of her marriage to a doctor as well as the excitement and pain of an extramarital affair. She reflects on a young coworker's elementary nature, her son's capriciousness, and her mother's political convictions. Each chapter presents an impressionistic view of May's family, friends, and lovers and their varying degrees of longing and happiness. Gently told, Trueblood's first work is poetic, contemplative, and tender." —Booklist

"Intelligent and beautifully written, Seven Loves is as intricate and perfectly constructed as the movement of a fine Swiss watch." —Ann Patchett, author of Bel Canto and Truth and Beauty

"Utterly exquisite! An achingly beautiful portrayal of a woman's life and loves and losses. Loved every word of this book." —Elizabeth Strout, author of Abide with Me
Counterpoint LLC, 9781640090736, 400pp.
Publication Date: August 7, 2018
About the Author
VALERIE TRUEBLOOD is the author of the novel Seven Loves, and the short story collections Search Party, Marry or Burn, and Criminals. She's been a finalist for the 2014 PEN/Faulkner Award, a finalist for the Frank O'Connor International Short Story Award, and a recipient of the B&N Discover Award. She lives in Seattle.
or
Not Currently Available for Direct Purchase