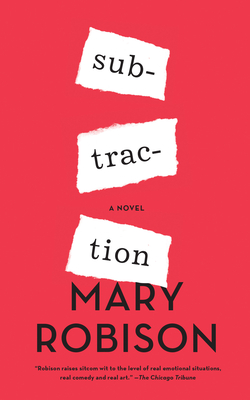 Subtraction (Paperback)
Counterpoint LLC, 9781640090859, 240pp.
Publication Date: September 11, 2018
* Individual store prices may vary.
Description
In this funny, grouchy, wryly tender novel—first published in 1991—Mary Robison gives us a portrait of a marriage in very rough shape careening toward the breaking point, and of two magnetic and careless people, mad, bad, and dangerous to know
Paige Deveaux, poet and Harvard professor, is tracking her husband Raf, who has vanished once again. Paige trails him to Houston, where he is holed up in a seedy bar, drunk and cheerfully ashamed of himself. He's very glad to see her: she's the only girl for him (and he should know—he's tried most of the others).
Finding Raf is one thing, but holding on to him is another. To sober him up, to keep him sober, to keep him, Paige enlists Raf's old friend Raymond (himself an ex-alcoholic) and Raf's new friend Pru, a holistically inclined contortionist-stripper. For a while life, and Raf, seem to settle down. But this foursome is nothing but trouble for one another. Pru is a hit-and-run artist, a sexual desperado who has already broken Raymond's heart, and now Raymond is growing sweet on Paige. As Raf says, "Assorted wretchednesses ensue."
About the Author
MARY ROBISON was born in Washington, D.C. She is the recipient of a Guggenheim Fellowship, two Pushcart Prizes, an O. Henry Award, and the Los Angeles Times Book Prize for Fiction. She is the author of four novels, Oh!, Subtraction, Why Did I Ever, and One D.O.A., One On the Way, and of four story collections, Tell Me, Days, An Amateur's Guide to the Night, and Believe Them. She lives in Gainesville, Florida.
Praise For Subtraction…
Praise for Subtraction

Recipient of the 2018 Arts and Letters Award in Literature

"Robison raises sitcom wit to the level of real emotional situations, real comedy and real art." —The Chicago Tribune

"In Subtraction Mary Robison creates a poignant, forceful tale of lovers in limbo. Her writing is rich with detail, lean with implication. When the tedium, the drudgery, the ephemera are sifted out, we're left with the intense. Each word pulls its weight. Nothing is wasted." —The Millions

"Robison delivers a sparkling valentine about a Harvard poetess and her great love for a drunken Dean Moriarty type, at his best when he's on the road . . . A funny, beautifully written novel, dry and bubbly as good champagne." —Kirkus Reviews

"There isn't a writer working today who sees the world, or hears it, or inhabits it more fearlessly than Mary Robison. Reading Subtraction is falling in love with her—her voice, her verbs, the peculiar squinted view she has. This is the book we all wanted to write. It's as smart as snakes. It's a work of generosity and genius, of perfect timing and pitch, of immense sadness, and singular, driving hope. I can scarcely imagine anyone writing a novel half as stunning anytime soon." —Frederick Barthelme, author of There Must Be Some Mistake

Praise for One D.O.A. One On The Way

"A riveting read." —O, the Oprah Magazine

". . . One D.O.A., One on the Way has all the razored style and zigzag tone one expects, but also a new connection to a bigger world, in which all of our circumstances are as desperate and hilarious as her characters' . . . Mary Robison's work has always felt like a glorious amenity, but One D.O.A., One on the Way is a powerful necessity." —The New York Times

"Robison could work for a food or drug packager: she squeezes dire warnings into tiny spaces . . . [One D.O.A., One on the Way] can be read in half an afternoon, leaving plenty of room for afterthoughts about Robison's funny and heartbreaking conversations." —The New Yorker

"With a laconic voice and a despairing sense of humor, film location scout Eve Broussard narrates award-winning Robison's grim yet witty novella about the dissolution of a family and a city in the wake of Hurricane Katrina . . . Robison's narrative is jumpy but effective, interspersed with and informed by startling statistics." —Publishers Weekly

"[Robison is] a smart, brittle novelist… [capturing] in swift, acute sentences the comic hostilities of in-law relations, or the difficulties of caring for the chronically ill… With her lists, one-liners, and bullet points, she is a kind of bard of America's most popular suburban affliction, attention deficit disorder." —Times Literary Supplement

"Mary Robison is a woman of few words. But what powerful words they are . . . Pushcart Prize and O. Henry Award-winner Robison's searing novella is rendered in edgy vignettes . . . Robison is a master at delivering dark scenarios with mordant wit. One D.O.A., One on the Way is an impressive addition to her oeuvre, by turns horrifying, comic, shocking, and wise." —The San Diego Union-Tribune

"Robison's spare, hilarious dialogue and collection of fragmented images, moments and excerpts call on readers to fill in blanks and to organize what looks at first glance like chaos glimpsed from a moving car . . . a vivid, witty ride." —Kirkus Reviews

"Robison eloquently reveals the dissolution of a family . . . The southern novel's bread and butter are rich descriptions, thick as humidity and Spanish moss." —Booklist

Praise for Tell Me: Thirty Stories

"Thirty precision-built short stories old and new by a writer who extracts a maximum of meaning and feeling from a minimum of words make for a thrilling collection. Robison's stories… come at the reader from oblique angles, skittering like a leaf in the wind until, suddenly, everything begins to make quirky but gratifying sense. A deft conjurer of place, Robison is most intrigued with the telegraphic dialogue with which annoyed but loving family members communicate with each other and with the oddball configurations the concept of family can yield. Like Ann Beattie, Robison neatly exposes the pathos beneath the placid veneer of middle-class life, the seeds of chaos in seemingly orderly existences, and finds sweet humor and bemused hope in our stubborn quest for security, even happiness." —Donna Seaman, Booklist

"Thirty brief, sharply delineated short stories written over three decades by Robison chronicle emotional dislocation with witty dispassion… Nothing is superfluous, and in the spare sadness of Robison's prose entire lives are presented." —Publishers Weekly

"Robison's talent for observation makes for microscopic wonders of details: the menu items at a cheap diner in Providence, R.I.; the furnishings of a Laundromat, and the text of gift-wrap stickers ("Grin and Ignore It," "Things Are Getting Worse—Send Chocolate!"), in small-town Ohio." —Chicago Tribune

"Mary Robison's stories are infused with a quiet menace. The trick of her writing is the way she uses the reader's own expectations to create that sense of unease. Her stories—published over the years in The New Yorker and now collected in Tell Me—are made of handfuls of moments, put together without benefit of the usual revelatory short story structure… Robison is the rare minimalist whose bare-bones fiction is actually a pleasure to read." —Claire Dederer, author of Poser: My Life in Twenty-Three Yoga Poses

Praise for Why Did I Ever
Winner of the LA Times Book Prize for fiction in 2001

"Mary Robison, almost as an afterthought, has created a novel that speaks volumes about life in Los Angeles: its stopping and starting, its rushing and emoting, its whimsy and its suspicious, subversive humor…" —Los Angeles Times Book Review

"Tense, moving, and hilarious...[a] dark jewel of a novel." —Francine Prose, O: The Oprah Magazine

"An epic portrayed in miniature, a cry of cosmic pain in a voice of absurdist humor, an earnest insistence on maternal love in the language of skepticism and family dysfunction. It's an amazing little book: all of Robison's minimalist genius is at work here." —Cathleen Schine, New York Times Book Review

"I wish to hell I could write prose like this...The joy in this novel is for the reader, not the characters. Read it." —David Gates, Newsweek

"The author, who is known as a minimalist, here creates a narrative out of fragmented paragraphs, and the book works best when she strips Money's most explicit fears away. A simple sentence fragment—'Canoe, moon, ukelele'—seems a close to perfect expression of lost beauty." —The New Yorker

"Robison's characters are vivid, colorful, and likable, and their story is absorbing. Her humorous presentation does not cheapen the tragic content of her novel but realistically portrays one method of survival. Highly recommended." —Library Journal

"Robison's incandescent soliloquy on the absurdity of existence hones fiction to a new and exhilarating measure of sharpness." —Donna Seaman, Booklist

"[A] tour de force of minimalist yet mind-expanding prose… [Robison] makes you think—hard—about life's unavoidable travails, while making it impossible for you to suppress a smile." —Lisa Shea, Elle

"What makes Money memorable, and Mary Robison essential, is that her fundamental bearings are the right ones. Love and compassion are her nature, and they suffuse the page whenever she is talking about her children, even the exasperating daughter." —Richard Dyer, Boston Globe

"Why Did I Ever is a rarity: an experimental novel that's both engaging and wholly successful." —Time Out New York

"Robison… possesses a precocious alertness to the incongruities of life…. [A]t the center is a disciplined and clear-headed novel full of humor and an occasional glimmer of optimism." —Rob Stout, The Charlotte Observer

"I wish to live in [Money's] mind for a while because it's perilously funny pratfalls make me want to laugh so badly that I cannot laugh at all." —Molly McQuade, Newsday

"At once heartwrenching and bitterly comical… a stunning work of unbridled honesty." —The Village Voice

"It is a rare novel that can manage to convey the coexistence of tragedy and pleasure so immediately without lessening the reader's enjoyment of either." —The New Leader

"While Money is the definition of sad insanity, Robison's voice is witty and cutting, albeit undeniably weird…. It's more than worth the ride." —Entertainment Weekly

"Robison's fiercely offhand banter cuts through any possible cavity of bullshit… Each passage assumes the feel of veracity of idea over unnecessary execution, as if we are being shown the tools that build a universe rather than the universe itself… Everything is treasure. And by the sheer mass of its weight in such small space, the reader is forced to slow down, to hear the lines again inside her head instead of only on the page, and to parse what those lines might be trying to communicate, if anything." —Blake Butler, Vice

"Mary Robison is, and always has been, a wonderful writer. Why Did I Ever is startling, deft, extremely attractive, and smart—very smart—in its midnight vision of the lived life." —Richard Ford

"Mary Robison has done for the Hollywood culture of our time what Joan Didion did thirty years ago. Spare and ruthless, precisely chiseled, Why Did I Ever is the Play It As It Lays of the twenty-first century." —Madison Smart Bell, author of All Souls' Rising

"Mary Robison's stunned and plunging characters are the truth. This is pure, grim poetry." —Barry Hannah, author of High Lonesome

"Deeply strange, hilarious, heartbreaking, and just stupidly great…. Robison is something approaching brilliant, and Why Did I Ever is hard-bound proof." —Darcy Cosper, author of Wedding Season

Praise for Believe Them

"Sorrow and pain are underground messages in these finely made stories...Robison uses a minimalist discipline and barely ruffled surfaces, but her hidden pictures of childhood and other states of vulnerability can be boundless in their emotion." —Richard Eder, Los Angeles Times Book Review

"Robison's methods allow the careful reader an honest perspective into lives usually dealt with either melodramatically or contemptuously by other authors." —Larry McCaffery, The New York Times Book Review

Praise for An Amateur's Guide to the Night

"Like Raymond Carver and Ann Beattie, whose fictional territory closely resembles her own, Miss Robinson has achieved in one novel and two short story collections a style perfectly adapted to delineating these attenuated lives." —Michiko Kakutani, The New York Times

"No American short-story writer speaks to our time more urgently or fondly than Robison. Word for fucking word, her work demands our attention." —David Leavitt, The Village Voice

"The writing is cool and detached, controlling a breathtaking compassion… An intimate, enriching experience." —The San Francisco Chronicle

Praise for Days

"There is an almost incredible purity of line and texture in these stories. Every phrase is lucid, every character comes alive, and every sentence suggests a calm, wise, heartbroken version of the world. Robison writes like an avenging angel, and I think she may be a genius." —Richard Yates

"These are not stories so much as splinters of contemporary life, set under a microscope...there is humor here, as well as deadpan exactitude… Mary Robison's style at its best is stripped, incisive, clear as a piece of glass held up the the light." —Ann Tyler