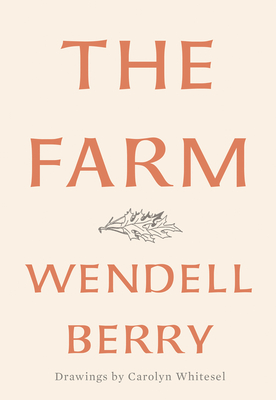 The Farm (Hardcover)
Counterpoint LLC, 9781640090958, 64pp.
Publication Date: October 2, 2018
* Individual store prices may vary.
Description
A collector's edition, and the perfect gift for the stalwart Wendell Berry fan First printed in 1995 by Gray Zeitz of the beloved Larkspur Press in Monterey, Kentucky, this gift edition is a beautiful reproduction of Wendell Berry's book-length poem, illustrated with the original drawings by Carolyn Whitesel.
About the Author
WENDELL BERRY, an essayist, novelist, and poet, has been honored with the T. S. Eliot Prize, the Aiken Taylor Award for poetry, the John Hay Award of the Orion Society, and the Richard C. Holbrooke Distinguished Achievement Award of the Dayton Literary Peace Prize, among others. In 2010, he was awarded the National Humanities Medal by Barack Obama, and in 2016, he was the recipient of the Ivan Sandrof Lifetime Achievement Award from the National Book Critics Circle. He is also a fellow of the Academy of Arts and Sciences. Wendell lives with his wife, Tanya Berry, on their farm in Henry County, Kentucky.
Praise For The Farm…
Praise for A Small Porch
"[Berry's] essays, poetry and fiction have fertilized a crop of great solace in my life, and helped to breed a healthy flock of good manners, to boot. As I travel this unlikely road of opportunity, as a woodworker and writer, sure, but most often as a jackass, I have his writings upon which to fix my mind and my heart, to keep my life's errant wagon between the ditches, as it were. Mr. Berry's sentences and stories deliver a great payload of edifying entertainment, which I hungrily consume, but it is the bass note of morality thumping through his musical phrases that guides me with the most constant of hands upon my plow." —Nick Offerman, New York Times bestselling author of Paddle Your Own Canoe
"Berry's craftsmanship remains impeccable. Few other poets have such chaste and precise diction or manage line and stanza with such unaffected serenity." —Booklist
"Thoreau would be gratified . . . Here are Sabbath Poems that praise the given life."—Lexington Herald-Leader
"[Berry's poems] shine with a gentle wisdom of a craftsman who has thought deeply about the paradoxical strangeness and wonder of life." —The Christian Science Monitor
"Wendell Berry is one of those rare individuals who speaks to us always of responsibility, of the individual cultivation of an active and aware participation in the arts of life, be they those of composing a poem, preparing a hill for planting, raising a family, working for the good of oneself and one's neighbors, loving." —The Bloomsbury Review