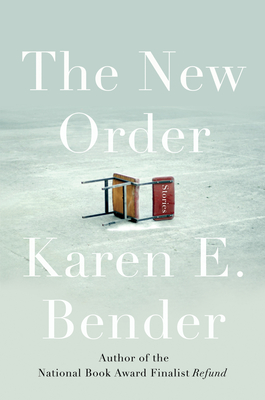 The New Order
Stories
Hardcover

* Individual store prices may vary.
Other Editions of This Title:
Digital Audiobook (11/5/2018)
Compact Disc (11/6/2018)
MP3 CD (11/6/2018)
Paperback (11/12/2019)
Description
"Bender's willingness to go deep, to burrow down into what's right and wrong about 21st century America and Americans, is a mirror that draws us in and does not allow us to look away." —Los Angeles Times on Refund

The National Book Award finalist for Refund returns with a new collection of stories that boldly examines the changes in American culture over the last two years through the increasing presence of violence, bigotry, sexual harassment, and the emotional costs of living under constant threat.

In the title story, the competition between two middle school cellists is affected by a shooting at their school, and it is only years later that they realize how the intrusion of violence affected the course of their lives. In ""This Is Who You Are,"" a young girl walks the line between Hebrew school and her regular school, realizing that both are filled with unexpected moments of insight and violence. In ""Three Interviews,"" an aging reporter must contend with her dwindling sense of self and resources, beleaguered by unemployment, which sets her on a path to three increasingly unhinged job interviews. In ""Mrs. America,"" a candidate for local office must confront a host of forces that threaten to undermine her campaign and expose her own role in the dissonance between what America is and what it should be.

The New Order explores contemporary themes and ideas, shining a spotlight on the dark corners of our nature, our instincts, and our country.
Praise For The New Order: Stories…
Praise for The New OrderLong–listed for The Story Prize
1 of 10 Books to Be Thankful for This November (O, The Oprah Magazine)
1 of 23 Hot Picks for Cool Fall Books (The Boston Globe)
1 of 34 Fall 2018 Books We Can't Wait to Read (HuffPost)

"A finalist for the National Book Award, lauded for her short stories, Bender returns with a collection that reflects America's new reality." —The New York Times Book Review, New & Noteworthy

"The unfussy yet supremely crafted short fictions in the author's second collection delight in upending expectations, playing fast and loose with the rules of tone, time, and point of view to constantly keep us guessing." —O, The Oprah Magazine, 1 of 10 Books to Be Thankful for This November

"Bender smartly calls out this country's failings in painful snapshots that help distill these failings for readers." —Rachel Charlene Lewis, Bitch

"While her stories have a universality that makes them timeless, The New Order very much speaks to this particularly fraught time." —Elizabeth Taylor, The National Book Review

"The National Book Award finalist returns with a story collection guaranteed to unnerve." —The Boston Globe, 1 of 23 Hot Picks for Cool Fall Books

"When most readers think about the American Jewish literary tradition, they're thinking about Saul Bellow and Philip Roth . . . But there's another tradition: the tradition of Grace Paley and Deborah Eisenberg, of the great Jewish women short story writers. Karen E. Bender belongs to that close–knit, fiery canon. She is as politicized as Paley, who famously split her time between parenting, writing and protesting, and like Eisenberg she excels at sneaking in a joke when least expected. She's always got an elbow in the reader's side, nudging us to look closer at the world we live in." —Lily Meyer, Los Angeles Review of Books

"Bender is a master of the short story . . . Throughout The New Order, Bender manages to draw inspiration from her Jewish heritage, creating characters with whom the reader can relate no matter what their own background." —Andrea Geary, Winnipeg Free Press

"She articulates our new normal in terms both empathetic and terrifying. Bender shows an utter mastery of dialogue, including the conversations her characters have with themselves. These inner monologues never sink into simplistic political agitprop but break, twist, and unwind in ways that evoke the uncertainties we feel in the face of an unrecognizable world . . . You will think about some of these stories every day." —W. Scott Poole, PopMatters, 1 of the 80 Best Books of the Year

"National Book Award finalist Bender is back with more politically timely short fiction, in a collection that takes on school shootings, economic instability, campaigns for public office, sexual misconduct and beyond." —HuffPost, 1 of 34 Fall 2018 Books We Can't Wait to Read

"Bender's collection of short stories speaks to the here and now with an almost shocking degree of prescience . . . Bender's stories are unnerving—they track the slow warping of a mind pressured by threats of instability, danger, and falling without a net to catch them. Essentially, of us. Bender is an exquisite writer, and this book really will act as a brutally honest but empathetic guide to navigating the now." —Refinery29

"There are plenty of books that are well reviewed, but which don't reach nearly the readership they deserve. I suspect one title which falls into that category is Karen E. Bender's short story collection, The New Order, which so incisively and unnervingly captures the newest forms of tyranny." —Donna Seaman, Book Marks

"The dark undercurrents of our social climate—the threat of bigotry, violence, and misogyny—fuel the stories and central characters in Bender's sharp, thought–provoking and urgent collection." —Samantha Zabell, Apartment Therapy

"The New Order is one of the best collections of the year." —HelloGiggles

"The book shines a penetrating light on our current political moment without a whiff of sanctimony. If I were to describe these stories (always impossible with the best ones), the topics would sound as if lifted from a CNN news ticker: sexual harassment, school shootings, political campaigns, the emotional toll of living under constant threat. And yet, there's nothing preachy about the writing. Long after I finished the book, I found myself thinking less about the scenarios and more about the characters caught up in them. Bender renders her people with such precision and nuance, such warmth and compassion, that I cared about them as intensely as I do the people in my own life . . . Bender's elastic use of structure is reminiscent of Deborah Eisenberg and Joan Silber — all three wield a pace that's unexpected and undulating. They consistently surprise by speeding right past moments that would seem crucial in a more conventional story, only to linger in the quieter, less–explored precincts of a character's psyche . . . Karen Bender is, hands down, one of our best story writers — and for anyone who hasn't encountered her fiction, The New Order is the perfect place to start." —Molly Antopol, Electric Literature

"Karen E. Bender's new story collection is steeped in the present political moment, with an eye to our future. Our cultural corrosion—especially our denial of sexual assault and gun violence—impacts Bender's female narrators in quiet, resounding ways . . . The New Order delivers deceptively straightforward reflections on the mundane, as the reader is drawn into worlds much like our own." —The Arkansas International

"In what feels like the most timely release, The New Order is a new collection of stories that examines American culture over the past two years where violence, bigotry, sexual harassment, and negativity loomed over the country like a cancerous cloud." —Women.com

"Bender's previous collection of stories, Refund, was deservedly shortlisted for the National Book Award. Her latest, The New Order, is even better and more trenchant, a harrowing look into our present moment . . . Bender's writing is precise and exacting, and each story heartbreakingly cuts to the core of America's numerous tragedies." —Read It Forward

"Closed spaces—elevators, offices, an airplane, classrooms—amplify the inner dramas of Bender's watchful, anxious, feverishly expressive narrators in her second short story collection . . . In each of Bender's emotionally intimate tales, perplexed and traumatized girls and women confront the opacity of the thoughts and feelings of others, even those closest to them . . . With literary virtuosity, psychological authenticity, and breath–catching insight, Bender dramatizes gripping personal dilemmas compounded by a new order of social tyranny." —Booklist (starred review)

"[An] incisive collection . . . Bender's stories maintain a grounded, subdued realism. The great strength of the collection lies in her ability to examine the ramifications of violence and casual cruelty on individuals and communities . . . This is a thoughtful, timely collection." —Publishers Weekly

"What an amazing collection this is. Anyone who doubts that true art can be written in response to what's going on in America needs to read The New Order. The book kept surprising and dazzling me—junior–high treacheries, a woman's mean new job, and futile efficiencies in the face of danger are all turned into stories that read like legends." —Joan Silber, author of Improvement

"Karen E. Bender's stories are a marvel. This collection is profound and deeply humane, a moving portrait of a culture at a moment of anxiety, its faults on display and all too recognizable." —Daniel Alarcón, author of The King Is Always Above the People

"Karen Bender is a tremendous writer—bighearted and wise, witty and wry—and The New Order is a powerhouse of a book: each story brilliantly crafted, propulsive, and surprising, with characters I cared for deeply and endings that knocked me flat. It's a book that feels tailor–made for the current political moment, while still having the timeless feel of a classic. One of the best story collections I've read in years." —Molly Antopol, author of The UnAmericans

"I have found a new favorite writer and am a bit embarrassed I didn't know who Karen E. Bender was before this ARC fell into my lap. Elegant writing and powerfully packed stories with relevant topics, relatable inner dialogue, and powerful (sometimes funny) twists. Loved it!" —Elena Eustaquio, Books Inc. (San Francisco, CA)
Counterpoint, 9781640090996, 288pp.
Publication Date: November 6, 2018
About the Author
Karen E. Bender is the author of the novels Like Normal People and A Town of Empty Rooms. Her fiction has appeared in The New Yorker, Granta, Zoetrope, Ploughshares, Story, Harvard Review, The Iowa Review, and other magazines. Her stories have been anthologized in Best American Short Stories, Best American Mystery Stories, New Stories from the South: The Year's Best, and have won two Pushcart prizes. She has won grants from the Rona Jaffe Foundation and the NEA. She is also co–editor of the anthology Choice: True Stories of Birth, Contraception, Infertility, Adoption, Single Parenthood, and Abortion. She has taught creative writing at Antioch University Los Angeles, the University of North Carolina at Wilmington, and Tunghai University in Taiwan. She lives in North Carolina with her husband, novelist Robert Anthony Siegel, and their two children.
or
Not Currently Available for Direct Purchase