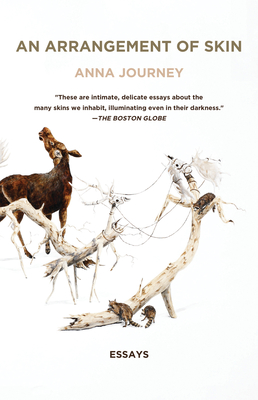 An Arrangement of Skin (Paperback)
Essays
Counterpoint LLC, 9781640091023, 224pp.
Publication Date: August 14, 2018
* Individual store prices may vary.
Description
"Reading the essays in Anna Journey's elegant, haunting new collection, An Arrangement of Skin, is like cracking open a closet door and peering in to see a tight and private collection of oddities, secrets, and skeletons . . . illuminating even in their darkness." --The Boston Globe
Anna Journey's lyrical and layered arrangement of essays dazzles with her reflections on our shifting selves--the many "skins" we inhabit in a life. An Arrangement of Skin is by turns beguiling, dark, carnal, and deeply personal. Journey revels in the flexibility and hybridity of the essay form, enriching her idiosyncratic anecdotes with literary and cultural meditations and electrifying the work with a poet's keen ear and canny eye.
These essays swerve artfully among topics--a recollection of a personal rupture and ensuing call to a suicide hotline opens into a consideration of taxidermy and lyric time; a mother's penchant for telling macabre stories at the dinner table connects to campfire songs and the cultural importance of American roots music; and a tattoo artist named after a pirate-themed rum reminds us how we inscribe our skins and spirits through the intimate gestures of ink.
About the Author
ANNA JOURNEY is the author of the poetry collections The Atheist Wore Goat Silk, Vulgar Remedies, and If Birds Gather Your Hair for Nesting, which won the National Poetry Series. She has received fellowships from the National Endowment for the Arts, the Academy of American Poets, Yaddo, and elsewhere. She is an assistant professor of English at the University of Southern California. Find more at annajourney.com.
Praise For An Arrangement of Skin: Essays…
Praise for An Arrangement of Skin

"Reading the essays in Anna Journey's elegant, haunting new collection, An Arrangement of Skin, is like cracking open a closet door and peering in to see a tight and private collection of oddities, secrets, and skeletons . . . These are intimate, delicate essays about the many skins we inhabit, illuminating even in their darkness." —The Boston Globe

"While reading Anna Journey's An Arrangement of Skin, I kept feeling as though I was riding on a boat, being toured through some beautiful places and some dark places, the person at the oars capably pushing ahead all the while with grace, curiosity, and persistence." —Maggie Nelson, author of The Argonauts

"'Done with the compass, done with the chart!' cried Emily Dickinson, tossing aside familiar ways of navigating the body's wild seas. Anna Journey's adventurous book traces what it is to be flesh in a surprising suite of essays that turns—like Ovid's poems, or Plath's—around images of dismemberment and metamorphosis. She might be our first Southern Gothic essayist, and she invigorates the form with both a poet's lyricism and the distinctive signature of her character: a vulnerable heart wedded to an acute, comic, unsparing eye." —Mark Doty, author of Deep Lane

"An Arrangement of Skin embodies what thrills me most in the essay form—an artist trying, over and over, to find the different paths into the subterranean realms of her subconscious. An early and unlikely image—taxidermy—contains the essence of the various tensions that connect these thoughts. For Journey, taxidermy 'evokes that ineffable spark of life: call it a soul, a personality, a sentience'. An Arrangement of Skin is by turns transformative and vital, and with it Journey takes her place alongside Biss, Jamison, and D'Ambrosio." —Nick Flynn, author of Another Bullshit Night in Suck City

"Zoos of antiquity, modern-day tattooed pirates, and ghost stories are all drawn together with Journey's poetic talent... This is a retrospective that does not alienate with its personal tone. Rather, the reader is invited to reflect on a life's many transitions and how they become part of the self." —Booklist, starred review

"Journey is a stunning writer . . . This brilliant collection shows us how the object, and the artistic interpretation laid across this object allows it, and the dangling strands of story and narrative that make it up, to stretch across time, generations, and family; to become something bigger—a single sliver of the greater public consciousness." —The East Bay Review

"Journey has the poet's eye for detail and knack for taut sentences, strong verbs, and arresting images…this is a fine volume and well worth reading." —Publishers Weekly

"Glorious prose, beautiful images and metaphors composed by a fine poet." —Kirkus Reviews

"Fractured, fragile, and fantastical, Journey uses etymology, odd acquired knowledge, and poetry to illuminate one dark year." —Ploughshares

Praise for The Atheist Wore Goat Silk

"I have been a big fan of Anna Journey's work for some time, and The Atheist Wore Goat Silk only deepens that poetry crush. Journey brings me surprise after surprise in language so vivid, peculiar, truthful, and moving, that I gulp the poems down, a glutton for their strange energies and observations. Journey's formal concision, intelligence, and decorum rub up against her speaker's slightly feral interiority. It's this instinctive wildness of soul that I think allows Journey to capture what others miss within seemingly ordinary moments and states of being. This is a terrific book by an important poet.'"—Erin Belieu, author of Slant Six

"Anna Journey is gloriously alive to the most poetic of occasions—and here I don't mean the sunset or the rosebud or the predictable nostalgia for first love—God no. Instead, she finds those unexpected snags in the fabric of living and with great skill pulls them back so we may perceive the humor, pathos, beauty, and grotesquerie there. She's a perceptive observer of both the human and non-human endeavor: a cokehead gravedigger 'waits / for that day's mourner's to leave. So he can jump / on the coffin to get it all the way down.' The speaker's grandparents prop up cushions for their cat who bounces off the walls, brain damaged from a crochet hook. And French bees that 'sipped the sugared waste // that dripped from an M&M's factory' returned to their hives and 'stoppered / the round cells with blue honey.' These poems are as sweet and warped as that blue honey, unexpected and unaccountably delicious."' —Beth Ann Fennelly, author of Unmentionables

Praise for If Birds Gather Your Hair For Nesting: Poems

"Many female poets address sex in tones of victimhood, but Journey is downright predatory. Indeed, she's all about ecstasy in the original sense, meaning to leave your state of being. But if living to the fullest requires ecstasy, then it also requires a dose of death. Journey has her misgivings about this, which hints at a kind of existential sanity. That makes If Birds Gather Your Hair for Nesting a fabulous little book, the work of a young poet (I kept hearing bits of Wallace Stevens and Maxine Kumin) wise beyond her years." —Los Angeles Times

"With these poems Journey flings the shop door wide open. She puts the needle on the record. She pumps up the bass." —Blackbird

"If Birds Gather Your Hair for Nesting is an audacious book written by a poet of wide erudition with a feverish and relentless imagination. Her experiments are actually new experiments. Her music will make your ear need to dance. And, on top of that, her poems make you want to read and read and read them!" —Thomas Lux, National Poetry Series judge

"In her spellbinding debut collection, Journey is the voice of that 'adorable siren' whose pleasurably startling images and exquisite perfect-pitch language recognize-no, bless that all 'cries want to be something else.' It is simply one of the most magnetic books I have read in a long time." —Beckian Fritz Goldberg author of The Book of Accident

"In digging up graves and rooting through the past, Anna Journey's rich lines assert the writing of poetry as the vehicle that can change one's luck, one's history and future." —The Rumpus

"Anna Journey has talent to burn: gothic, elegiac, and celebratory by turns, her poems possess a giddy imaginative dexterity that is exceedingly rare in a debut collection. More important, there is a gravity and heft to her poems; they are willing to confront the Big Issues and militantly resist the easy tour de force. Jarrell says somewhere that a certain helplessness before her material is one of the poet's principal tools. I hear that haunted helplessness in lines such as these: 'I can't stop― / the story // going like the tongue goes: // lit and loosed, moving, / like Lucifer, / down.' Anna Journey is on the threshold of a significant career." —David Wojahn, author of Interrogation Palace: New and Selected Poems 1982-2004

"The tropic foliage of Anna Journey's book is so lushly ashimmer with invitation and threat that it's difficult to tell the two apart. Which is just what this poet intends: the world seduces us to enter, and to enter again, and to do so is both to find pleasure and to perish into a field of ghosts. Sexy, baroque, and southern to the core, this is a full-tilt splash of a debut." —Mark Doty, author of Deep Lane

"To read even the table of contents of this audacious first book is to fall, I'm afraid, hopelessly in love. . . . By the end of the first poem. . . Anna Journey will have re-arranged the furniture in your brain, right down to the last, needless antimacassar." —Sarah Maclay, Poetry International