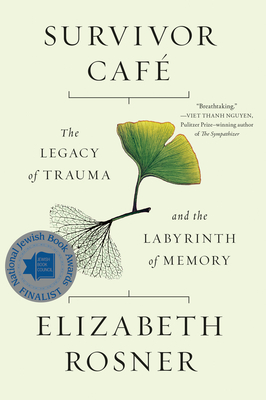 Survivor Café
The Legacy of Trauma and the Labyrinth of Memory
Paperback

* Individual store prices may vary.
Other Editions of This Title:
Hardcover (9/12/2017)
Compact Disc (1/2/2018)
Compact Disc (1/2/2018)
Description
As featured on NPR and in The New York Times, Survivor Cafe is a bold work of nonfiction that examines the ways that survivors, witnesses, and post-war generations talk about and shape traumatic experiences. As firsthand survivors of many of the twentieth century's most monumental events--the Holocaust, Hiroshima, the Killing Fields--begin to pass away, Survivor Caf addresses urgent questions: How do we carry those stories forward? How do we collectively ensure that the horrors of the past are not forgotten? Elizabeth Rosner organizes her book around three trips with her father to Buchenwald concentration camp--in 1983, in 1995, and in 2015--each journey an experience in which personal history confronts both commemoration and memorialization. She explores the echoes of similar legacies among descendants of African American slaves, descendants of Cambodian survivors of the Killing Fields, descendants of survivors of the bombing of Hiroshima and Nagasaki, and the effects of 9/11 on the general population. Examining current brain research, Rosner depicts the efforts to understand the intergenerational inheritance of trauma, as well as the intricacies of remembrance in the aftermath of atrocity. Survivor Caf becomes a lens for numerous constructs of memory--from museums and commemorative sites to national reconciliation projects to small-group cross-cultural encounters. Survivor Caf offers a clear-eyed sense of the enormity of our twenty-first-century human inheritance--not only among direct descendants of the Holocaust but also in the shape of our collective responsibility to learn from tragedy, and to keep the ever-changing conversations alive between the past and the present. "Survivor Caf --which combines moving personal narrative with illuminating research into the impact of mass trauma on a personal and cultural scale -- feels like the book Rosner was born to write. Each page is imbued with urgency, with sincerity, with heartache, with heart." --San Francisco Chronicle
Praise For Survivor Café: The Legacy of Trauma and the Labyrinth of Memory…
Praise for Survivor Café

A Best Book of 2017 (San Francisco Chronicle)
A Finalist for the National Jewish Book Award
A Most Notable Nonfiction by Bay Area Authors Selection (East Bay Times)

"Rosner's memoir, which combines moving personal narrative with illuminating research into the impact of mass trauma on a personal and cultural scale, is imbued with urgency, sincerity, heartache, and heart." —San Francisco Chronicle, 1 of 100 Best Books of 2017

"Mixing the personal with the historical and the literary with the scholarly, Rosner achieves a breathtaking overview of events as varied as the Holocaust, the Vietnam War, the Rwandan genocide, and Japanese American internment. Her impressive, highly readable Survivor Café takes on important issues of atrocity, trauma, and memory, rendering them all with such great clarity and intimacy that the reader will not soon forget them, or this powerful book." —Viet Thanh Nguyen, Pulitzer Prize–winning author of The Sympathizer

"Rosner demonstrates a rare blend of scholarly assessment and personal revelation, tempering her singular passion with an encompassing mercy. In this important and vital contribution to the conversation about legacy and responsibility, Rosner distills the magnitude of such burdens and defines the scope of memorialization with an elegance and eloquence that reverberates with both depth and nuance." —Booklist (starred review)

"A thoughtful, probing meditation on the fragility of memory and the indelible inheritance of pain." —Kirkus Reviews

"Novelist Rosner (Electric City) shines an unblinking light on the most horrific of 20th-century crimes and asks: What is the intergenerational legacy of trauma? . . . She considers art, anniversaries, memorials, and psychotherapy, but the most powerful technique she finds for dealing with trauma is simply telling the story behind it . . . Themes of memory, language, and the bodily imprint of trauma are powerful, as are Rosner's accounts of revisiting Buchenwald with her father . . . Rosner's conclusions—that powerful suffering must be communicated before healing can occur and that the most profound of human atrocities must be acknowledged so that their like does not happen again—open the door to understanding and, optimistically, show a path to peace." —Publishers Weekly

"This is the book that clinicians and patients alike have been waiting for. Rosner seamlessly integrates the latest research on intergenerational trauma with her own deeply moving personal account. The result is a true advancement in the field, a must-read that is rich, accessible, compelling, and informative." ––Joshua Simmons, Psy.D., Clinical Psychologist and Candidate in Analytic Training at the C.G. Jung Institute of San Francisco

"This is a personal exploration for Rosner, but also an exploration of the commonalities found in the children of survivors." —Read it Forward

"Survivor Café is an exercise in mapmaking, in identifying convergent paths in apparently disparate legacies left by the world's humanitarian disasters . . . [Rosner] asks us to look inside ourselves, to learn from the past, to forgive, and to understand the deep connections binding us to our past, our future, and to all other things." —Lilith Magazine

"Survivor Café is a beautifully expressed personal examination of how trauma is passed down through generations...An exquisite read." —The Daily Gazette

"In deep fissures and dark alleys having to do with multigenerational trauma, anti-Semitism, racism, terrorism, torture, death and loss, Berkeley writer Elizabeth Rosner uncovers, improbably, hope and connection." —The Mercury News

"There's been a slew of research examining the genetic effects of psychological trauma, but author Elizabeth Rosner is among the first to take a deep dive into the personal implications of such inheritance with her stunning new book, Survivor Café: The Legacy of Trauma and the Labyrinth of Memory." —Orange County Register

"Deeply moving." —Berkeleyside

"Rosner's writing is crafted like the poet she is, and her ability to meld and transcend her own story with those of survivors of wars, slavery, and genocide is nothing less than brilliant and more importantly, healing." —ACEs Connection

"Using her experiences as a child of Holocaust survivors, [Rosner] navigates the audience through the realms of epigenetics, psychotherapy, history, and philosophical struggles to bring something unique to the study of trauma . . . These personal recollections provide a dimension that softens some of the most indigestible theories and concepts that we have come to associate with memory, psychology, psychoanalysis, trauma, and history . . . paving the way for future studies." ––Ellis Spicer, Reviews in History, Institute of Historical Research

"Elizabeth Rosner's Survivor Café is about how we inherit, not just our histories, but the complexities of how we survive them. With the heart of a poet, Rosner unpeels the layers of trauma in a way that will stay with you long after you read the last page." —Emily Rapp Black, author of The Still Point of the Turning World

"In Survivor Café, Elizabeth Rosner brilliantly captures both the enormity of war and its enduring aftershocks—the devastating legacies for victims, perpetrators, and societies who suffer through and beyond it. A mixture of history, personal narrative, and research, the book expertly documents how atrocities are passed down through generations and how we may find ways to contain this pernicious inheritance. Survivor Café is a vital, living document that proves the end of war is far from the end of the battle." —Andrew Carroll, editor of the New York Times bestsellers War Letters and Behind the Lines

"Elizabeth Rosner explores how trauma infiltrates minds and bodies and language. In lyrical, luminous prose, she takes on the obligation to remember lives lost. Genocide, war, nuclear bombs, lynching—Rosner does not turn away from unceasing violence and its aftermath. Urgent and necessary, this book offers brave witness to the world we have made and must repair." —Sarah Sentilles, author of Draw Your Weapons

"A staggering work of intellectual vigor and raw emotion, Survivor Café mines the darkest recesses of our collective past, excavating both the hate and hope of human history. Rosner's intimate handling of intergenerational trauma, as well as the need to acknowledge and transcend it, reminds us of the power and mercy of stories. In our current age of hyper-immediacy, with increasingly short news cycles and even shorter memories, Rosner's work reminds us of our sacred duty to carry these stories forward like a lantern in the dark." —Aline Ohanesian, author of Orhan's Inheritance

"Using the Holocaust as a focal point, Survivor Café renders a profound and unflinching portrait of trauma and the memory of trauma, the consequences of inhumanity, atrocities that do not end with one generation but are inherited as nightmare, memory, and affliction, passed on to the next generation and the next and the next. With vivid stories and brilliant insights, this book must be required reading for those who want to understand not just our collective history but the present moment." —Susan Griffin, award-winning author of A Chorus of Stones

"In this haunting and poetic book, Elizabeth Rosner summons her readers to a deep and abiding commemoration of genocide. The daughter of Holocaust survivors, Rosner describes scientific evidence that deep trauma persists not only emotionally but also physically through generations. This is an inspired, illuminated book—the fruit of hard experience and deep study. I salute Elizabeth Rosner's Survivor Café, a work of wisdom and, ultimately, hope." —Elizabeth Farnsworth, author of A Train Through Time

Praise for Electric City

"Rosner beautifully bridges past and present in the dynamism of her historical depictions, capturing the dangers and excitement of invention, the complex play between generations of America's immigrant populations and its native peoples, the wonder of young love, and the insatiable spark of curiosity that is a calling card of scientific inquiry, and a hallmark of the human heart." —Elle Magazine

"Rosner's lyrical new novel chronicles the rise and fall of this company town, following several generations of immigrants and the Native American people who watched them come...Through layers of time 'sticky like amber,' Rosner etches images of family, community, and the electric power of love." —Jane Ciabattari, BBC

"This beautiful book joins the compression, vivid intensity, and imaginative connectivity of poetry to the deep character work of the novel. Rosner handles with effortless assurance both the small, intimate stories and the great impersonal worlds of science, nature, and history that combine to make us who we are." —Karen Joy Fowler, We Are All Completely Beside Ourselves, Winner of the 2014 PEN/Faulkner Award

"A heady mix of world-changing history (Thomas Edison and Charles Steinmetz) coupled against a bewitching love triangle ignites Rosner's gorgeously written exploration of the way inventions transform cities, hearts, and lives, sometimes with a terrible cost, and the way light nudges inroads in the darkness. Electrifyingly original." —Caroline Leavitt, New York Times bestselling author of Is This Tomorrow and Pictures of You

"Reminiscent of In the Skin of a Lion and set in a 1960s New York manufacturing town once founded by Thomas Edison, Electric City is a love story made incandescent by Rosner's prose. The triangle she creates between Sophie Levine and her two admirers is as tangled, tragic, and beautiful as the history of their fundamentally American city." —Maria Hummel, author of Motherland

"At the heart of this gripping novel is the brilliant mathematician Charles Proteus Steinmetz, whose ability to capture lightning in a bottle electrifies a city and animates the lives of friends and strangers. Rosner achieves something just as powerful and thrilling in this marvelous book." —Ann Packer, author of The Dive from Clausen's Pier

"Electric City is the gripping narrative of an ever-changing America seen through the prism of one town caught between the past and the future, and the tangled tragic love triangle set within it. Compelling, beautiful, important, and timeless, Electric City is as much a thoughtful look at our changing past as it is a metaphor for the present. Elizabeth Rosner is a bright literary light." —Jennifer Gilmore, author of The Mothers

"At once a subtly nuanced love story, a celebration of American invention, and a critique of the juggernaut of 'progress' in the twentieth century, Electric City is a compelling, deeply moving novel about the heyday and decline of Schenectady (the titular "Electric City") as an industrial power. The novel moves between the twenties and sixties, deftly interweaving the historical and fictional in a way that illuminates the tension between western ideas of progress and Native American rhythms and sensibilities. But the real incandescence in this story comes from Rosner's luminous, eloquent prose. Simply a beautiful novel." —Marjorie Darraugh, Pegasus Books

"Rosner's richly imagined historical novel conveys an abiding sense of time and place. A deeply evocative paean to the wonders of science, the perils of technology, and the sacrifices of people in thrall to their power." —Booklist

"With deft descriptions, Rosner sketches the bustling city, on land long cherished by aboriginal culture, which grew and flourished as whites invaded and industrialized...offers a gentle meditation on love and loss." —Kirkus

"…remarkable, lyrical… It's a wondrous thing to watch the deepening and unfurling of a writer's talent over one book and another and another. Electric City is Elizabeth Rosner at her best yet, a book that leaves the reader hungering for her next." —Chicago Tribune

"Rich and poignant…The provenance of each character is thematically and dramatically significant…and the novel beautifully explores the ways we attach ourselves to a place, the ways we might escape it, and how these things, like the Hudson River, often flow both ways." —San Francisco Chronicle

"Rosner skillfully captures the city's conflicts between science and nature, history and progress. From immigrant experience to coming-of-age story, Electric City is a luminous tale." —San Jose Mercury News

"…there is also a great affection in this novel, for a place at once as old as lightning and as young as the latest invention. All the characters in this book—and, I suppose, this reviewer—are just molecules passing through the Electric City." —Historical Novel Society

Praise for Blue Nude

"An elegiac story of an emotionally and creatively starved artist and his muse..The present diverges to the past, and Rosner develops her protagonists as though they are pieces of art, slowly becoming unveiled. Although their backgrounds are divergent, their interior lives are similar. Rosner's multilayered composition is rendered in beautiful, spare prose and will resonate long after the last page." —Publishers Weekly

"We watch, spellbound, as the story seems to levitate midair, as the characters seamlessly unfold a plot that is no less than fascinating. Using the rhythms of poetry, Elizabeth Rosner has created a lyrical tour de force." —Linda Gray Sexton, Half in Love: Surviving the Legacy of Suicide

"Rosner has a painter's eye and a poet's ear. Blue Nude is a luminous book about painful histories—both private and global—and how they stay with us even as they travel through to become something else—quite possibly art. A book both heady and tangible, both unflinching and generous, but always beautiful to read." —Karen Joy Fowler, The Jane Austen Book Club

"Through German artist, Danzig, and Israeli muse, Merav, Elizabeth Rosner builds a bridge from loss to reconciliation, from anger to understanding. Blue Nude is a lyrical exploration of how we -- as individuals and as a society—move past our separate histories and toward a shared redemption. This is truly a lovely book." —Meg Waite Clayton, The Wednesday Sisters

"Blue Nude is a novel which spans time and continents, from post war Germany to California to Israeli kibbutzim, a novel which explores the big questions of history, fate, art, how we choose to live the lives we're given–and yet it's also wonderfully intimate as well in its exploration of the hearts of its individual characters. Elizabeth Rosner has written a thought provoking, moving and original book." —Dan Chaon, Await Your Reply and Stay Awake

"Rosner takes on complexity with a brilliant poet's insistence that the body can never surrender cultural legacy. Blue Nude is easy to pick up and, in its suspense, hard to put down. Its sensitivity to detail acts as a love letter to the world." —Edie Meidav, Crawl Space

"What I like especially about Elizabeth Rosner's Blue Nude is its patience and careful pace, both utterly appropriate to a story of troubled reconciliation. In its insistence that sweetness (honeyed, not saccharine) can come out of violence, Blue Nude resembles the astonishing Israeli film Walk on Water which also takes on the contemporary legacy of German-Jewish relations. It helps that Ms. Rosner has a poet's eye and an enviable ability to allow both her lapidary sentences and her deeply complex characters space to breathe." —Jonathan Wilson

Praise for The Speed of Light

2002 Harold U. Ribalow Prize
Great Lakes
Selected for the Hadassah National Book Club 2003
Book Sense 76 Pick in 2001

"The Speed of Light is an elegant, meticulous, and quite subtle novel about lives lived at a remove from, but forever connected to, tragedy—the camps. Ms. Rosner's imaginative aim, of course, is to show us great human importance where we might've thought it didn't reside, and to change us with this knowledge. She certainly succeeds." —Richard Ford

"A resonating novel about silence and sharing, about the mystery and pain of the past and how it must be reclaimed. Beautifully written, in images that sing in our ears long after we've put the book down." —Chitra Ranerjee Divakaruni, author of The Mistress of Spices and The Unknown Errors of Our Lives

"Rilke memorably defined art as exactness, a hatred of the vague, and by that definition The Speed of Light is poetry sustained. The precision of the language here, the structural arrangements and the deft evocation of character in history all herald a genuine talent--not so much emerging as achieved. Ms. Rosner's debut novel turns sorrow into song." —Nicholas Delbanco, What Remains

"With its symphony of voices, The Speed of Light tells a haunting story of loss and redemption. It is beautifully written and utterly affecting." —Tova Mirvis, The Ladies Auxiliary

"Elizabeth Rosner touches a chord deep down where our fears are buried, then makes that chord vibrate and hum until magic happens and it sings. I loved this book. It entered my dreams." —Beverly Donofrio, Riding in Cars with Boys and Looking For Mary

"Elizabeth Rosner has written a lyrical and absorbing novel whose power is enriched by its understatement. This uncommon story not only probes how children wrestle with the silence handed down to them by a silent father cursed with inexhaustible sorrow, but it also tells us of the healing magic of love and does so through a marvelous and unusual character—a Latino housekeeper—who will find an enduring spot in readers' hearts." —Joseph Berger, author of Displaced Persons: Growing Up American After the Holocaust

"[An]impressive debut... As witnesses, [Rosner's] characters move forward, healed or not. They tell the truth, share their pain, and prop each other up. It seems there's a lesson there for us all." —San Francisco Chronicle

"An affirmation of the goodness of life... The author of The Speed of Light possess[es] the soul of a poet, so rich is the texture of her language, so filled with music [and] and imagery." —The Jewish Review

"A haunting tale of timeless secrets and timely salvation... A spellbinding tribute to the revelations that redeem us and the emotions that ennoble us." —Booklist, boxed and starred review
Counterpoint LLC, 9781640091078, 288pp.
Publication Date: September 4, 2018
About the Author
ELIZABETH ROSNER is the author of three novels and a poetry collection. The Speed of Light was translated into nine languages and won several awards in the US and in Europe, including being shortlisted for the prestigious Prix Femina. Blue Nude was named among the best books of 2006 by the San Francisco Chronicle. Electric City was named among the best books of 2014 by NPR. Her essays and reviews have appeared in the New York Times Magazine, Elle, the San Francisco Chronicle and others. She lives in Berkeley, CA.