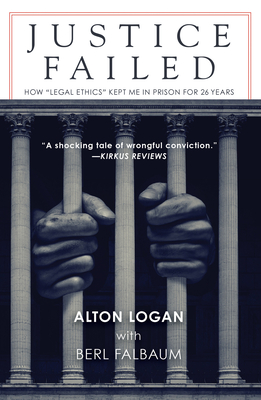 Justice Failed (Paperback)
How Alegal Ethicsa Kept Me in Prison for 26 Years
Counterpoint LLC, 9781640091092, 224pp.
Publication Date: October 9, 2018
Other Editions of This Title:
Hardcover (10/10/2017)
* Individual store prices may vary.
Description
An Official Junior Library Guild Selection, Adult Crossover Nonfiction
Justice Failed is the story of Alton Logan, an African American man who served twenty-six years in prison for a murder he did not commit. In 1983, Logan was falsely convicted of fatally shooting an off-duty Cook County corrections officer, Lloyd M. Wickliffe, at a Chicago-area McDonald's, and sentenced to life in prison. While serving time for unrelated charges, Andrew Wilson--the true murderer--admitted his guilt to his own lawyers, Dale Coventry and Jamie Kunz. However, bound by the legal code of ethics known as the absolutism of client-attorney privilege, Coventry and Kunz could not take action. Instead, they signed an affidavit proclaiming Logan's innocence and locked the document away. It wasn't until after Wilson's death in 2007 that his lawyers were able to come forward with the evidence that would eventually set Logan free.
Written in collaboration with veteran journalist Berl Falbaum, Justice Failed explores the sharp divide that exists between common sense morality--an innocent man should be free--and the rigid ethics of the law that superseded that morality. Throughout the book, in-depth interviews and legal analyses give way to Alton Logan himself as he tells his own story, from his childhood in Chicago to the devastating impact that the loss of a quarter century has had on his life.
About the Author
ALTON LOGAN served 26 years of a life sentence in prison for a crime he did not commit. He was formally declared innocent on April 17, 2009. Alton currently lives with his wife, Terry, in Chicago. BERL FALBAUM's career includes ten years as a political reporter for The Detroit News, four years in state politics as administrative aide to Michigan's lieutenant governor, and fifteen years in corporate public relations. He also taught journalism part-time at Wayne State University in Detroit for 45 years. He is the author of eight books, including Shanghai Remembered, the story of how 20,000 Jews escaped to Shanghai from Nazi Europe during World War II, which received an award from the Independent Publishers Association.