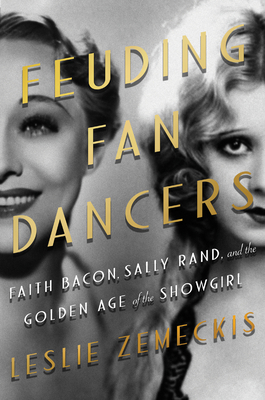 Feuding Fan Dancers
Faith Bacon, Sally Rand, and the Golden Age of the Showgirl
Hardcover

* Individual store prices may vary.
Other Editions of This Title:
Paperback (10/8/2019)
Compact Disc (10/2/2018)
Compact Disc (10/2/2018)
MP3 CD (10/2/2018)
Description
"Detailed, deeply researched, and compelling." --Chicago Tribune
Historian Leslie Zemeckis reveals the lost stories of Sally Rand and Faith Bacon--icons who each claimed to be the inventor of the notorious fan dance. Nearly one hundred years later, both women come alive again.
Praise For Feuding Fan Dancers: Faith Bacon, Sally Rand, and the Golden Age of the Showgirl…
Praise for Goddess of Love Incarnate
"The Goddess of Love Incarnate is a thorough and captivating account of a fascinating woman. Lili comes alive not only through Zemeckis' words, but also the stunning photographs included in the book. Her story reminds us to live life wholly and in the moment, because a life well lived has both tragedy and fulfillment at its peak." —Susan Cohn Rockefeller, Huffington Post
"In her dazzling new book, Leslie Zemeckis captures the life and times of one of burlesque's true legends. A magnificent portrait of a complicated woman who once captured the fascination of America." —Karen Abbott, New York Times bestselling author of Liar, Temptress, Soldier, Spy: Four Women Undercover in the Civil War
"I remember hearing my mother, who had seen many beautiful women working for my father, saying that Lili St. Cyr had the most beautiful body of any woman on stage. She did indeed." —Barbara Walters
"What's most resonant in Leslie Zemeckis's biography of Lili St. Cyr is how utterly human this Goddess of Love truly was. This is the story of a disciplined artist, a deeply generous woman, a girl who loved and lost (and loved and lost again and again), and a lady committed to living a determined life. This book, like its subject, is seductive and absolutely captivating." —Jill Alexander Essbaum, New York Times bestselling author of Hausfrau
"Ah, Lili St. Cyr! Finally, climbing beyond Gypsy Rose Lee we arrive at the glories of the exquisite Lili St. Cyr, the stripper who dressed, the classy woman who stripped, and who, with her movie-star beauty, sparkling glamour, and poignant vulnerability, was the real Beauty among the stars of the glorious Golden Age of burlesque. With her erudition, passion, and most of all love, Leslie Zemeckis has done her subject proud." —Toni Bentley, bestselling author of Sisters of Salome and The Surrender
"The book is well-written and loaded with photos." —Kirkus Reviews
"With tireless detail, Zemeckis brings an enigmatic and forgotten star back in the limelight and raises tough questions about beauty, sex, womanhood, and success in this fascinating, lavishly (and racily) illustrated biography." —Booklist
"Leslie Zemeckis has written a definitive biography on the life of the legendary burlesque star Lili St. Cyr (1917-1999) and also an informative insight into the history of the times that helped shape and create the star. Goddess of Love Incarnate is thoroughly researched and documented (the end notes run more than 20 pages), you will feel like you've danced in Lili's heels, sipped champagne with her onboard a luxury liner to Europe, and heard the applause of the standing room only audiences . . . Leslie Zemeckis brings a wealth of burlesque history to Goddess of Love Incarnate; a fascinating tale of love and life lived in front of the spotlight. There is something in this book for everyone including how to succeed in burlesque by working your beautiful ass off!" —Burlesque Beat
Praise for Behind the Burly Q
"Charming . . . often entertaining . . . The present-day interviews with these women are a delight and also poignant, partly because of the contrast between their older and younger selves, though mostly because of the lives they lived . . . It's great that she immortalized these women." —Manohla Dargis, New York Times
"The hefty book . . . allows Zemeckis to go beyond the first-person accounts of the movie and get into the social history that led burlesque to evolve from a satirical theatrical format into the kind of activity that many modern culture-lovers think belongs in a strip club." ––Time Magazine
"…many creatively named burlesque stars — Tempest Storm, Candy Cotton, Blaze Starr, Candy Barr, Val Valentine, Tee Tee Red, the list goes on — interviewed at poignant, amusing and enlightening length in a new book, Behind the Burly Q: The Story of Burlesque in America." —Rick Kogan, Chicago Tribune
"A privileged front-row seat to the history of burlesque! Glorious ladies in their heyday . . . their long-ago stripteases still pack a sensual, sassy, what-the-hell punch, while juicy anecdotes run from raunchy to touching to funny to flat-out incredible." —Ronnie Scheib, Variety
"Intriguing…fans of theatrical history are well advised to check it out." ––New York Magazine
"Behind the Burly Q takes you back . . . to burlesque's last hurrah in the 1960s." —Bob Mondello, NPR.org
"Utterly entertaining Behind the Burly Q is a painstakingly researched love letter to the women and men who once made up the community of burlesque performers…its treasure trove of vintage photographs and performance footage is enough to make historians and fans of classic erotica swoon…insightful, fascinating." —Ernest Hardy, The Village Voice
"Taps into a world of burlesque as we've never seen it before." ––Linnea Covington, New York Press
"This entertaining, and often poignant . . . Each life story in this book is compelling, and most of the women don't regret their careers, despite hardships on the road, being jailed occasionally, and perhaps not as much time for a normal family life as they might have wanted." ––Liz Smith
"Zemeckis offers a rich, colorful narrative that provides a vivid sense of the era." —Library Journal
"This rich history, rife with vibrant quotes and first-hand insights from burlesque's biggest dancers, is indispensable for fans of the ribald pastime." ––Publishers Weekly
"The salty reminiscences of participants in the classic age of burlesque enliven this companion volume to a documentary film directed by the author. An affectionate and historically valuable document." ––Kirkus Reviews
"A well-researched, intimate portrait of burlesque and the women who teased and seduced their ways into the hearts of the American public." ––Shelf Awareness
"Zemeckis does a masterful job in capturing the feelings, struggles, behavior, living conditions and behind the stage activities of these women." ––Book Pleasures.com
Counterpoint LLC, 9781640091146, 336pp.
Publication Date: October 2, 2018
About the Author
LESLIE ZEMECKIS is an actress, filmmaker, and the author of Goddess of Love Incarnate and Behind the Burly Q, the definitive history of burlesque. She wrote, produced, and directed the critically acclaimed documentary based on the book. Her most recent documentary is Mabel, Mabel, Tiger Trainer. Learn more at lesliezemeckis.com.